Levenhuk TT25 Tabletop Tripod
Height: 25cm (10in). Load capacity: 5kg (11lbs)
Universal Levenhuk TT25 Tabletop Tripod is perfect for mounting any optical tool with a standard 1/4" thread: you can mount binoculars, spotting scope, monocular, camera, rangefinder, and more. The tripod is irreplaceable during observations with optical tools at high magnification: it reduces the natural shaking of hands and provides comfortable stationary observations.
The load capacity of the mounted optical tool is up to 5kg (11lbs). The mounting pad and tripod legs are made of metal. There is a special lever for quickly moving the optical tool along the vertical and horizontal axes. The height of a standing tripod is 25cm (10in) and its contraction height is 33cm (13in).
Before your purchase, make sure that your optical tool is compatible with the Levenhuk TT25 Tabletop Tripod.
Features:
Compact metal tripod
Pan and tilt head
Standard 1/4" thread
Load capacity is 5kg (11lbs)
Bright gift box
Specifications
Tripod type
tabletop
Pitch number
1
The largest pipe diameter, mm
15.7
Height, cm
25
in
10
Load capacity, kg
5
lbs
11
Tripod material
metal
Head (mount) material
metal
Head
pan & tilt
Thread
1/4"
Contraction height, cm
33
in
13
Levenhuk TT25 Tabletop Tripod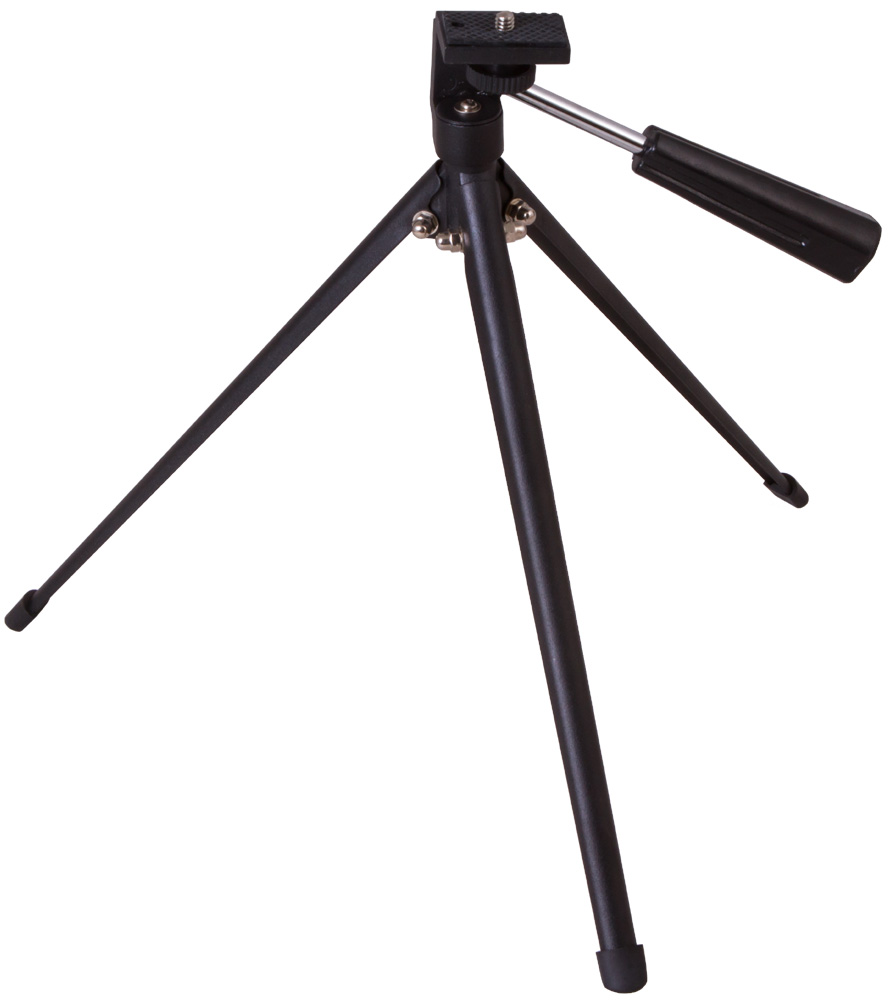 Universal Levenhuk TT25 Tabletop Tripod is perfect for mounting any optical tool with a standard 1/4" thread: you can mount binoculars, spotting scope, monocular, camera, rangefinder, and more. The tripod is irreplaceable during observations with optical tools at high magnification: it reduces the natural shaking of hands and provides comfortable stationary observations.The load capacity of the mounted optical tool is up to 5kg (11lbs). The mounting pad and tripod legs are made of metal. There is a special lever for quickly moving the optical tool along the vertical and horizontal axes. The height of a standing tripod is 25cm (10in) and its contraction height is 33cm (13in).Before your purchase, make sure that your optical tool is compatible with the Levenhuk TT25 Tabletop Tripod.Features:Compact metal tripodPan and tilt headStandard 1/4" threadLoad capacity is 5kg (11lbs)Bright gift boxSpecificationsTripod typetabletopPitch number1The largest pipe diameter, mm15.7Height, cm25in10Load capacity, kg5lbs11 Tripod materialmetalHead (mount) materialmetalHeadpan & tiltThread1/4"Contraction height, cm33in13