Levenhuk Level BASE TR30 Tripod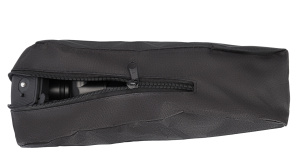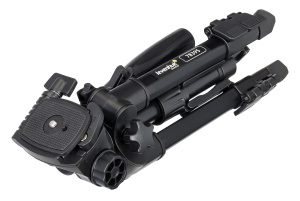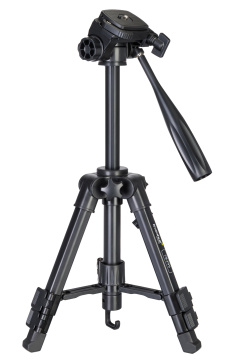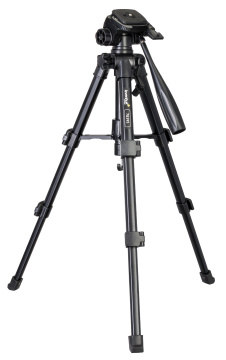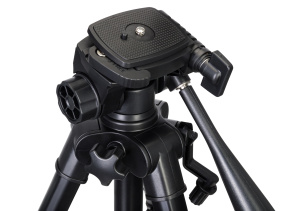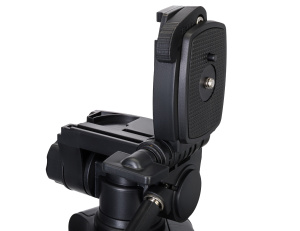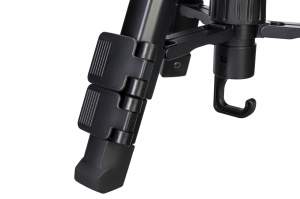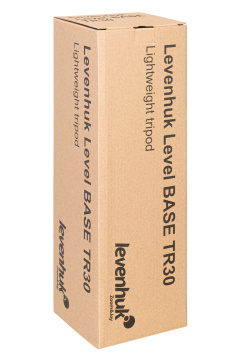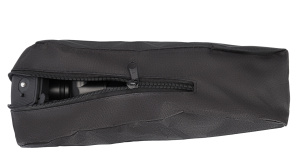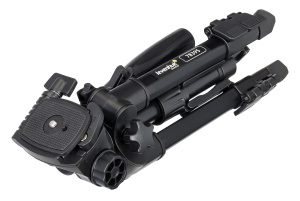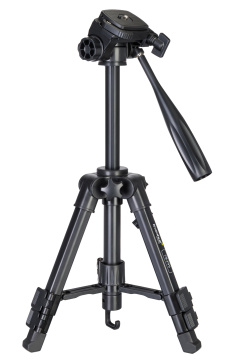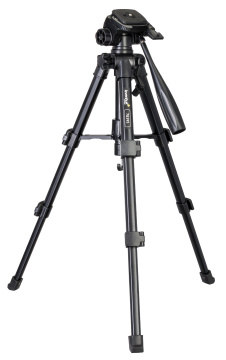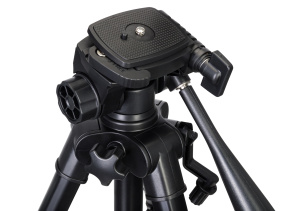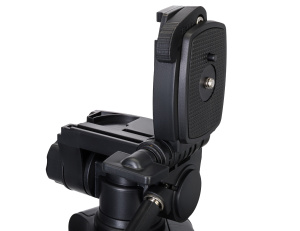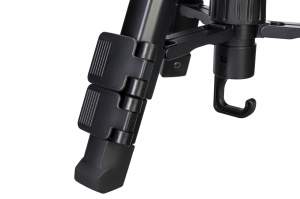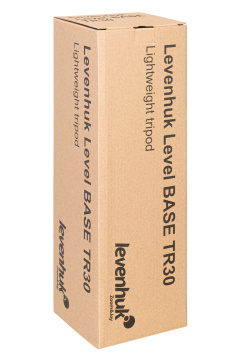 Floor stand. Metal. Height: 300–700mm. Load capacity: 8kg
The Levenhuk Level BASE TR30 tripod is suitable for a carrying weight up to 8kg. This allows for installing quite heavy devices, e.g. oversized binoculars. The tripod is compatible with photo and video equipment, different accessories, and gadgets with a 1/4" thread. Please note that some devices can be installed on a tripod without an adapter, while others may require an adapter (not included).
The head features a classic design: can be rotated 360° as well as raised or lowered. You can lock it in the preferred position using the pan locking knobs on both axes. The pan bar handle is used for the head rotation. The platform position can also be changed. To flip the platform 90°, loosen the 90° locking knob. Then, tighten the knob by turning it clockwise.
This three-section tripod floor stand is made of aluminum. Each leg features the flip lock that allows you to adjust their height separately. You can raise or lower the center column with the special locking knob. The height of the tripod is 700mm. The center column features a hook. To achieve maximum stability, you can hang a load on it. The bubble level allows for setting a camera parallel to the ground.
The kit includes a pouch for carrying and storing.
Features:
Floor stand tripod; maximum height: 700mm; load capacity: 8Kg
Pan & tilt head: 360° horizontal rotation as well as up and down movement
The platform can be flipped up to 90°.
Standard 1/4" thread
Bubble level, flip lock system, locking knobs, and pan bar handle
Ideal for mounting spotting scopes and binoculars
The kit includes:
Tripod
Pouch
User manual and lifetime warranty
| Specifications | |
| --- | --- |
| Tripod type | floor stand |
| Section (pitch number) | 3 |
| Lock | flip lock |
| Height, mm | 300–700 |
| Load capacity, kg | 8 |
| Tripod material | aluminum |
| Head (mount) material | plastic |
| Head | pan & tilt |
| Quick release plate | yes |
| Thread | 1/4'' |
| Bubble level | yes |
| Length (folded), mm | 570 |
Levenhuk Level BASE TR30 Tripod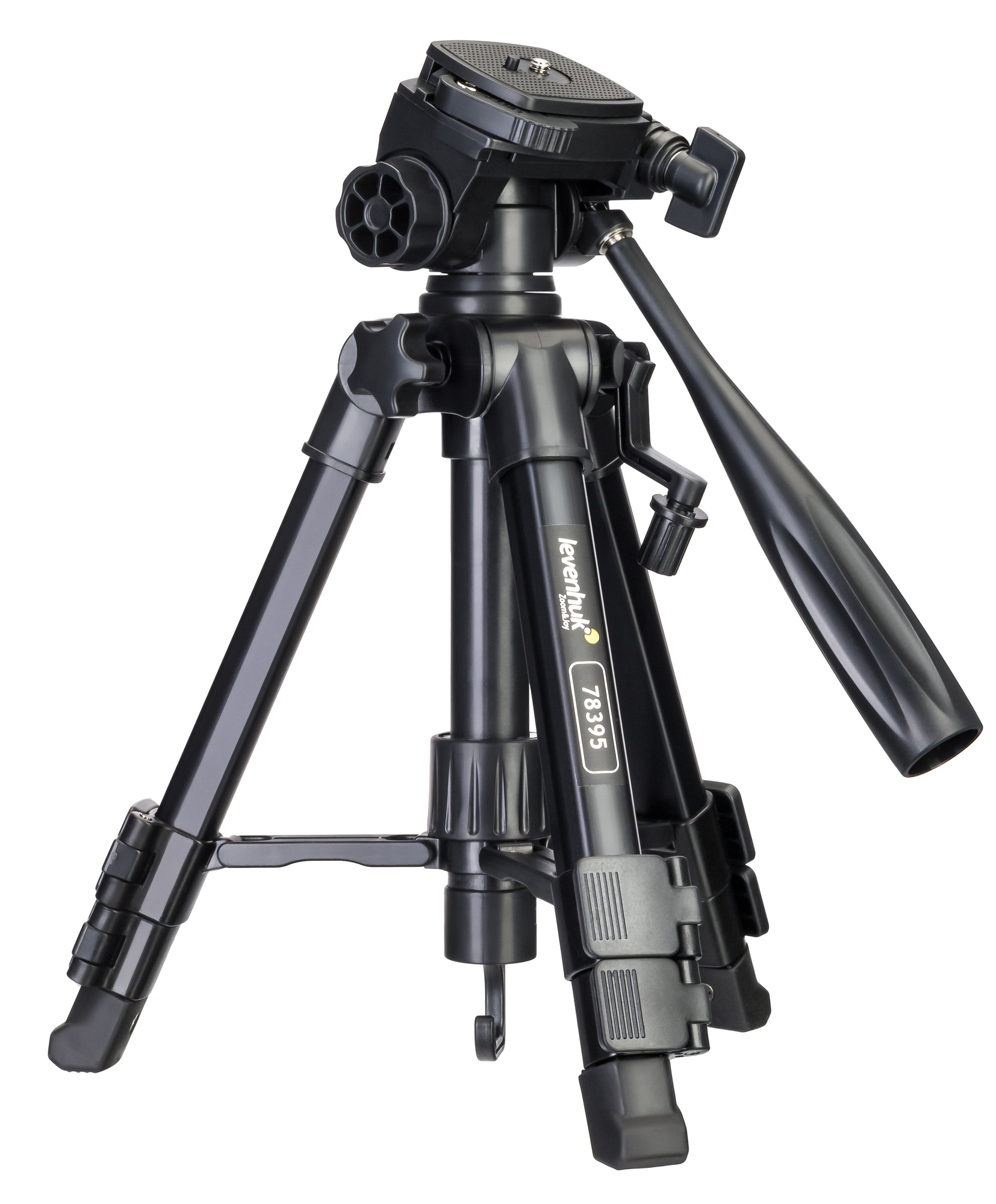 The Levenhuk Level BASE TR30 tripod is suitable for a carrying weight up to 8kg. This allows for installing quite heavy devices, e.g. oversized binoculars. The tripod is compatible with photo and video equipment, different accessories, and gadgets with a 1/4" thread. Please note that some devices can be installed on a tripod without an adapter, while others may require an adapter (not included). The head features a classic design: can be rotated 360° as well as raised or lowered. You can lock it in the preferred position using the pan locking knobs on both axes. The pan bar handle is used for the head rotation. The platform position can also be changed. To flip the platform 90°, loosen the 90° locking knob. Then, tighten the knob by turning it clockwise. This three-section tripod floor stand is made of aluminum. Each leg features the flip lock that allows you to adjust their height separately. You can raise or lower the center column with the special locking knob. The height of the tripod is 700mm. The center column features a hook. To achieve maximum stability, you can hang a load on it. The bubble level allows for setting a camera parallel to the ground. The kit includes a pouch for carrying and storing. Features: Floor stand tripod; maximum height: 700mm; load capacity: 8Kg Pan & tilt head: 360° horizontal rotation as well as up and down movement The platform can be flipped up to 90°. Standard 1/4" thread Bubble level, flip lock system, locking knobs, and pan bar handle Ideal for mounting spotting scopes and binoculars The kit includes: Tripod Pouch User manual and lifetime warranty Specifications Tripod type floor stand Section (pitch number) 3 Lock flip lock Height, mm 300–700 Load capacity, kg 8 Tripod material aluminum Head (mount) material plastic Head pan & tilt Quick release plate yes Thread 1/4'' Bubble level yes Length (folded), mm 570