Levenhuk Zongo 20 Telescope Case; Small, Black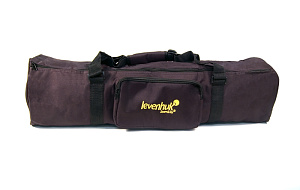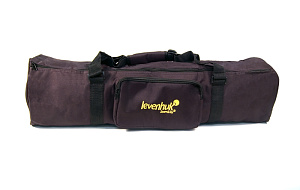 A telescope case for storing and moving your telescope
The Levenhuk Zongo 20 Telescope Case is a simple yet efficient way to transport your telescope. If you often travel away from the city for celestial observations, this case will be indispensable for you. Levenhuk LabZZ D1, Skyline BASE 50T, Strike 50 NG, and many other similar models will fit inside with ease.
Thanks to the padded divider inside Levenhuk Zongo 20, you can store the telescope tube and the tripod separately. For even more protection, counterweights are held in place with hook-and-loop fasteners. Any and all accessories you may have will easily fit inside a pocket in front. When packing the tripod, we recommend that you place its upper part in the case first, then insert the tripod legs – one by one.
You can carry it in your hands by the handles, or sling it over your shoulder with a wide strap.
Bag size: 76x21x21cm / 29.9x8.3x8.3in
This bag will protect your telescope from any impacts while transported, and from dust and moisture while stored. The Levenhuk Zongo 20 Telescope Case is made of durable black nylon, with orange elements and Levenhuk logos sewn in.
Usage: General use product. May be used by kids over 3 years old.
This bag is suitable for the following telescopes:
Levenhuk telescopes
Levenhuk LabZZ D1 Telescope
Levenhuk Skyline BASE 50T Telescope
Levenhuk Strike 50 NG Telescope
Levenhuk Strike 60 NG Telescope
Bresser telescopes
Bresser Junior 60/700 AZ1 Telescope
Coronado telescopes
Coronado PST Personal Solar Telescope
Coronado SolarMax II 60mm Solar Telescope with RichView System and BF15
Coronado SolarMax II 60mm Double Stack Solar Telescope with RichView System and BF10
Coronado PST 0.5 Angstrom Personal Solar Telescope
Levenhuk Zongo 20 Telescope Case; Small, Black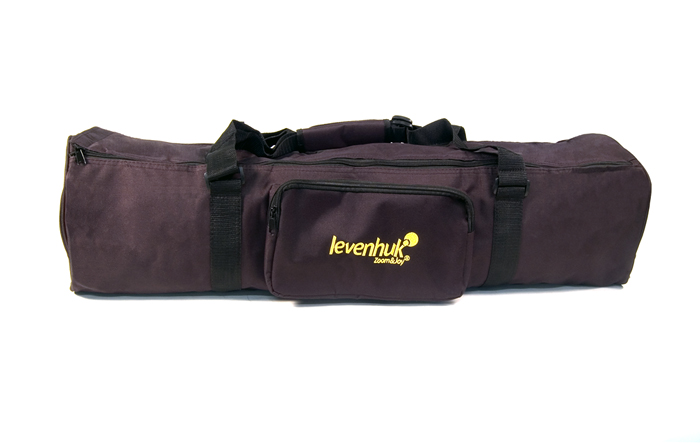 The Levenhuk Zongo 20 Telescope Case is a simple yet efficient way to transport your telescope. If you often travel away from the city for celestial observations, this case will be indispensable for you. Levenhuk LabZZ D1, Skyline BASE 50T, Strike 50 NG, and many other similar models will fit inside with ease. Thanks to the padded divider inside Levenhuk Zongo 20, you can store the telescope tube and the tripod separately. For even more protection, counterweights are held in place with hook-and-loop fasteners. Any and all accessories you may have will easily fit inside a pocket in front. When packing the tripod, we recommend that you place its upper part in the case first, then insert the tripod legs – one by one. You can carry it in your hands by the handles, or sling it over your shoulder with a wide strap. Bag size: 76x21x21cm / 29.9x8.3x8.3in This bag will protect your telescope from any impacts while transported, and from dust and moisture while stored. The Levenhuk Zongo 20 Telescope Case is made of durable black nylon, with orange elements and Levenhuk logos sewn in. Usage: General use product. May be used by kids over 3 years old. This bag is suitable for the following telescopes: Levenhuk telescopes
Levenhuk LabZZ D1 Telescope
Levenhuk Skyline BASE 50T Telescope
Levenhuk Strike 50 NG Telescope
Levenhuk Strike 60 NG Telescope
Bresser telescopes
Bresser Junior 60/700 AZ1 Telescope
Coronado telescopes
Coronado PST Personal Solar Telescope
Coronado SolarMax II 60mm Solar Telescope with RichView System and BF15
Coronado SolarMax II 60mm Double Stack Solar Telescope with RichView System and BF10
Coronado PST 0.5 Angstrom Personal Solar Telescope