Levenhuk Rainbow D50L PLUS 2M Digital Microscope, Moonstone
Modern technologies, wide possibilities, user-friendly design. Digital camera and experiment kit included. Magnification: 64–1280x
Modern technologies that enter the optical equipment market significantly increase our possibilities. With Levenhuk Rainbow D50L PLUS 2M Digital Microscope, Moonstone you can not only observe plant and animal cells or microorganisms, but also save the results of your studies by making pictures and videos of observed samples. The kit includes everything needed for conducting interesting experiments with the microscope. You can easily share your discoveries with others by posting received images or videos on Facebook, Instagram, and other social websites.
Quality optics
The kit includes three objective lenses: 4x, 10x, and 40xs. The most powerful objective has a special spring-loaded mechanism that protects the optics from mechanical damage. Even if you, while focusing, accidently lower the objective too far, the spring-loaded lens will slightly retract, preventing any damage to the optics or sample. 2x Barlow lens doubles the magnification of any objective you use. The microscope maximum magnification power is 1280x!
The optics are made of quality optical glass coated with special anti-reflective coating for better light transition. The produced images are always contrast and highly detailed.
Digital camera
The microscope comes with a modern 2Mpx digital camera. The camera should be installed in place of an eyepiece and then connected to the computer. The magnified images will be displayed on your PC monitor. A child can show some especially interesting samples to parents and friends. A teacher can show all the steps of an experiment to pupils. And, of course, the camera allows you to make beautiful images and videos of observed objects.
Combined illumination
The microscope is equipped with two LED illumination sources. The lower lighting is used to observe transparent samples such as the thinnest slices of animal and plant tissues or microorganisms in a drop of aquarium water. Opaque objects, for example cloth or paper, should be observed with upper illumination. To study semi-transparent samples you will need both upper and lower illumination. You can also adjust the brightness to achieve the best possible view of a particular sample.
Durable and convenient body
The microscope body is made of metal – that's why the microscope is highly reliable and suitable for frequent use. For the user's convenience, the head is inclined at an angle of 45 degrees and also rotates 360 degrees around its axis. This feature comes in very handy when working in a group – you don't need to move the microscope itself; just turn the head.
The microscope can run on AC power, as well as on standard batteries. The camera is powered via USB cable.
Caution: Please refer to the specifications table for the correct mains voltage and never attempt to plug a 110V device into 220V outlet and vice versa without using a converter. Remember that mains voltage in the U.S. and Canada is 110V and 220-240V in most European countries.
Experiment Kit
Levenhuk K50 Experiment Kit will be especially useful for those just taking the first steps into the wonderful world of the Microcosm. The kit includes ready-to-use slides, special tools for making your own samples, and a very helpful user guide with recommendations, tips, and experiment descriptions.
Protective case
The plastic case included in the package allows you to keep the microscope and all the accessories in one place so that nothing gets lost. It also protects the instrument during transportation.
Features:
Digital microscope with 64–1280x magnification
2Mpx digital camera included
2x Barlow lens included
Sturdy and durable body made of metal
Upper and lower LED illumination systems
Experiment kit included
Comes with a handy plastic case
The kit includes:
Microscope
Objectives: 4x, 10x and 40xs
Eyepiece: WF16x
2x Barlow lens
Stage with clips
Diaphragm disk
Condenser
Built-in upper and lower LED illuminations
AC adapter
Plastic case
Levenhuk K50 Experiment Kit
2Mpx digital camera
Levenhuk software for Windows, Mac OS, Linux
USB cable
User manual and lifetime warranty
Levenhuk K50 Experiment Kit includes:
"Attractive Microscope. Scrutinizing the Microcosm" User Guide
Forceps
Hatchery for Artemia (brine shrimp, or sea-monkeys)
Microtome
Flask with yeast
Flask with pitch
Flask with sea salt
Flask with brine shrimp
5 ready-to-use specimens
5 blank slides
Dropper
Dust cover
Some things you can see under a microscope:
Levenhuk Rainbow D50L PLUS 2M Digital Microscope is also compatible with Levenhuk digital cameras (additional cameras are purchased separately). Levenhuk cameras are installed in the eyepiece tube instead of an eyepiece.
Microscopes Comparison Table
| | Levenhuk Rainbow D2L 0.3M Digital Microscope, Moonstone | Levenhuk Rainbow D50L PLUS 2M Digital Microscope, Moonstone | Levenhuk D70L Digital Biological Microscope |
| --- | --- | --- | --- |
| Head | monocular | monocular | monocular |
| Head | rotatable | rotatable | not rotatable |
| Eyepieces | WF10х | WF16x | WF10x |
| Objectives | 4х, 10х, 40х | 4х, 10х, 40хs | 4х, 10х, 40х |
| Barlow lens | no | 2x | no |
| MAX magnification, x | 400 | 1280 | 1600 |
| Stage, mm | 90x90, with stage clips | 90x90, with stage clips | 90x95, coordinate moving stage with clips |
| Stage moving range, mm | from 0 to 15 | from 0 to 11 | from 0 to 10 |
| Brightness adjustment | yes | yes | yes |
| Dust cover | yes | yes | yes |
| Case | no | yes | yes |
| Upper illumination | fixed | fixed | fixed |
| Lower illumination | fixed | fixed | fixed |
| Illumination power supply | AC adapter, batteries | AC adapter, batteries | AC adapter, batteries |
| Camera power supply | USB cable | USB cable | USB cable |
| Body | plastic | metal | metal |
| Eyepiece tube | metal | metal | plastic (LCD display) |
| Megapixels | 0.3 | 2 | 2 |
| Video recording | yes | yes | yes |
| Maximum resolution | 640x480 | 1600х1200 | 1600x1200 |
| Levenhuk K50 Experiment Kit | yes | yes | yes |
Levenhuk Rainbow D50L PLUS 2M Digital Microscope, Moonstone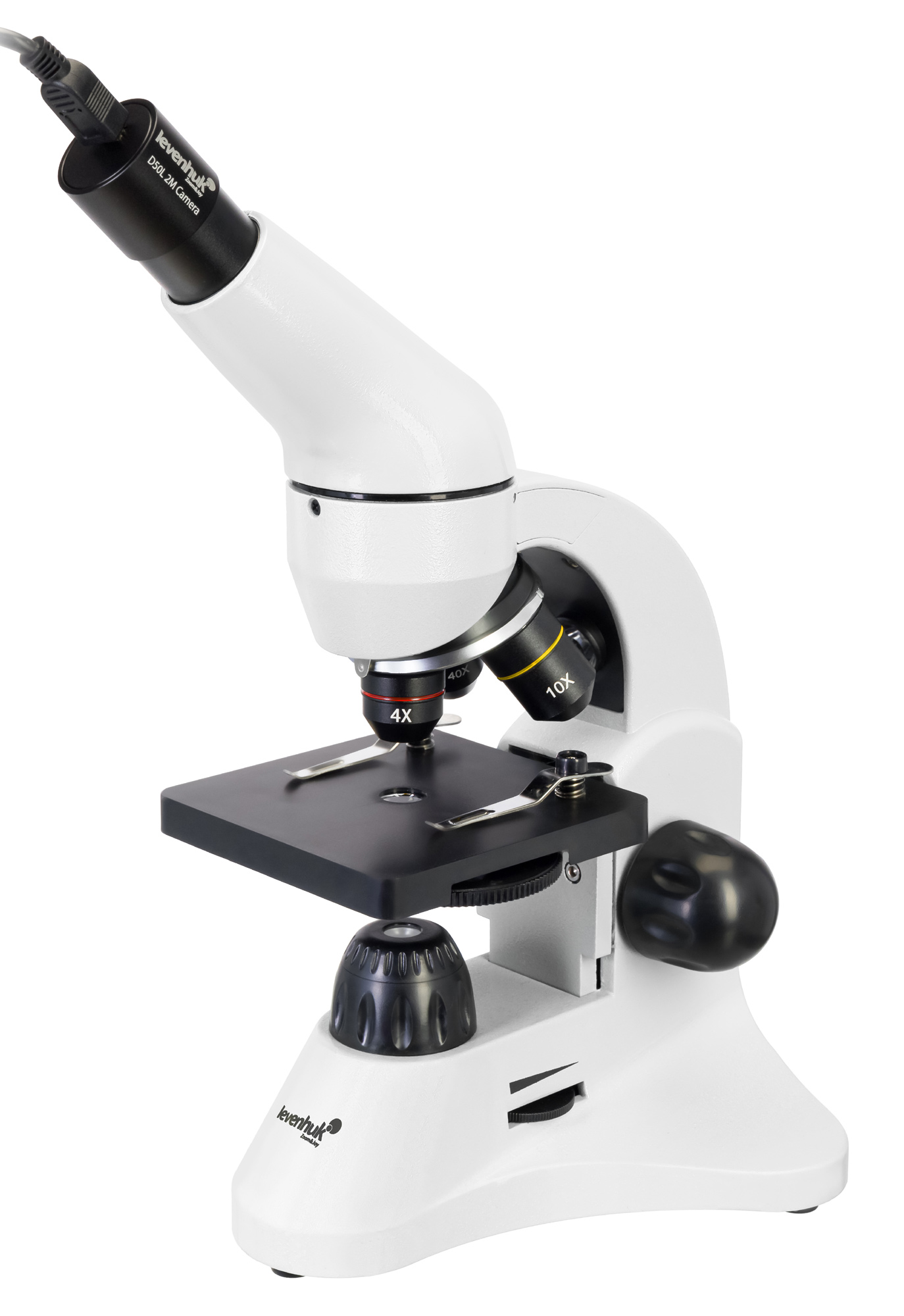 Modern technologies that enter the optical equipment market significantly increase our possibilities. With Levenhuk Rainbow D50L PLUS 2M Digital Microscope, Moonstone you can not only observe plant and animal cells or microorganisms, but also save the results of your studies by making pictures and videos of observed samples. The kit includes everything needed for conducting interesting experiments with the microscope. You can easily share your discoveries with others by posting received images or videos on Facebook, Instagram, and other social websites. Quality optics The kit includes three objective lenses: 4x, 10x, and 40xs. The most powerful objective has a special spring-loaded mechanism that protects the optics from mechanical damage. Even if you, while focusing, accidently lower the objective too far, the spring-loaded lens will slightly retract, preventing any damage to the optics or sample. 2x Barlow lens doubles the magnification of any objective you use. The microscope maximum magnification power is 1280x! The optics are made of quality optical glass coated with special anti-reflective coating for better light transition. The produced images are always contrast and highly detailed. Digital camera The microscope comes with a modern 2Mpx digital camera. The camera should be installed in place of an eyepiece and then connected to the computer. The magnified images will be displayed on your PC monitor. A child can show some especially interesting samples to parents and friends. A teacher can show all the steps of an experiment to pupils. And, of course, the camera allows you to make beautiful images and videos of observed objects. Combined illumination The microscope is equipped with two LED illumination sources. The lower lighting is used to observe transparent samples such as the thinnest slices of animal and plant tissues or microorganisms in a drop of aquarium water. Opaque objects, for example cloth or paper, should be observed with upper illumination. To study semi-transparent samples you will need both upper and lower illumination. You can also adjust the brightness to achieve the best possible view of a particular sample. Durable and convenient body The microscope body is made of metal – that's why the microscope is highly reliable and suitable for frequent use. For the user's convenience, the head is inclined at an angle of 45 degrees and also rotates 360 degrees around its axis. This feature comes in very handy when working in a group – you don't need to move the microscope itself; just turn the head. The microscope can run on AC power, as well as on standard batteries. The camera is powered via USB cable. Caution: Please refer to the specifications table for the correct mains voltage and never attempt to plug a 110V device into 220V outlet and vice versa without using a converter. Remember that mains voltage in the U.S. and Canada is 110V and 220-240V in most European countries. Experiment Kit Levenhuk K50 Experiment Kit will be especially useful for those just taking the first steps into the wonderful world of the Microcosm. The kit includes ready-to-use slides, special tools for making your own samples, and a very helpful user guide with recommendations, tips, and experiment descriptions. Protective case The plastic case included in the package allows you to keep the microscope and all the accessories in one place so that nothing gets lost. It also protects the instrument during transportation. Features: Digital microscope with 64–1280x magnification 2Mpx digital camera included 2x Barlow lens included Sturdy and durable body made of metal Upper and lower LED illumination systems Experiment kit included Comes with a handy plastic case The kit includes: Microscope Objectives: 4x, 10x and 40xs Eyepiece: WF16x 2x Barlow lens Stage with clips Diaphragm disk Condenser Built-in upper and lower LED illuminations AC adapter Plastic case Levenhuk K50 Experiment Kit 2Mpx digital camera Levenhuk software for Windows, Mac OS, Linux USB cable User manual and lifetime warranty Levenhuk K50 Experiment Kit includes: "Attractive Microscope. Scrutinizing the Microcosm" User Guide Forceps Hatchery for Artemia (brine shrimp, or sea-monkeys) Microtome Flask with yeast Flask with pitch Flask with sea salt Flask with brine shrimp 5 ready-to-use specimens 5 blank slides Dropper Dust cover Some things you can see under a microscope: Levenhuk Rainbow D50L PLUS 2M Digital Microscope is also compatible with Levenhuk digital cameras (additional cameras are purchased separately). Levenhuk cameras are installed in the eyepiece tube instead of an eyepiece. Microscopes Comparison Table
Levenhuk Rainbow D2L 0.3M Digital Microscope, Moonstone
Levenhuk Rainbow D50L PLUS 2M Digital Microscope, Moonstone
Levenhuk D70L Digital Biological Microscope
Head monocular monocular monocular Head rotatable rotatable not rotatable Eyepieces WF10х WF16x WF10x Objectives 4х, 10х, 40х 4х, 10х, 40хs 4х, 10х, 40х Barlow lens no 2x no MAX magnification, x 400 1280 1600 Stage, mm 90x90, with stage clips 90x90, with stage clips 90x95, coordinate moving stage with clips Stage moving range, mm from 0 to 15 from 0 to 11 from 0 to 10 Brightness adjustment yes yes yes Dust cover yes yes yes Case no yes yes Upper illumination fixed fixed fixed Lower illumination fixed fixed fixed Illumination power supply AC adapter, batteries AC adapter, batteries AC adapter, batteries Camera power supply USB cable USB cable USB cable Body plastic metal metal Eyepiece tube metal metal plastic (LCD display) Megapixels 0.3 2 2 Video recording yes yes yes Maximum resolution 640x480 1600х1200 1600x1200
Levenhuk K50 Experiment Kit
yes yes yes