Levenhuk LabZZ DM200 LCD Digital Microscope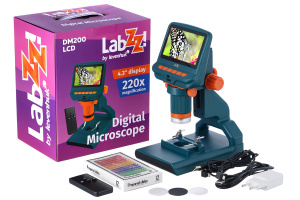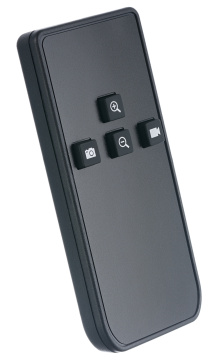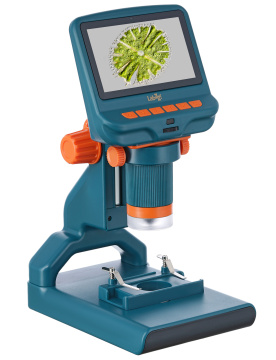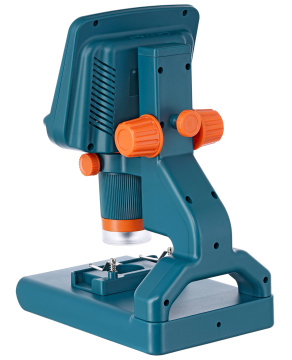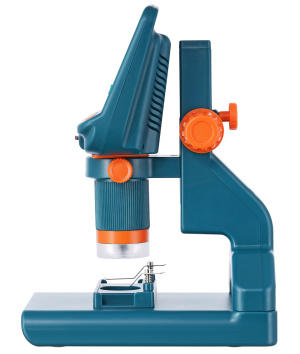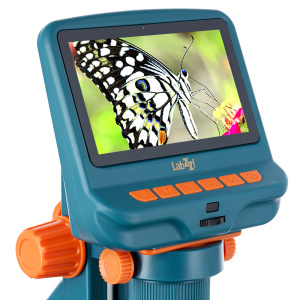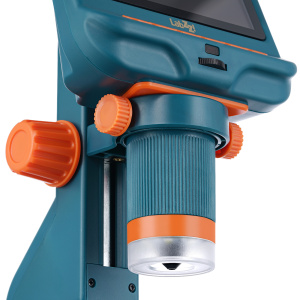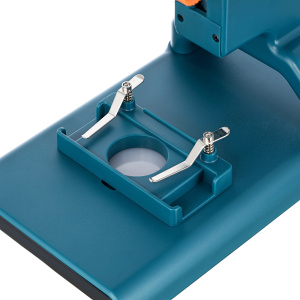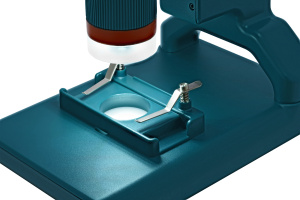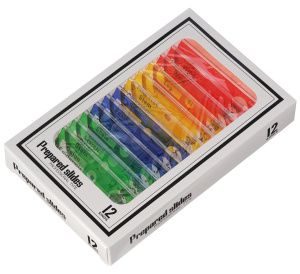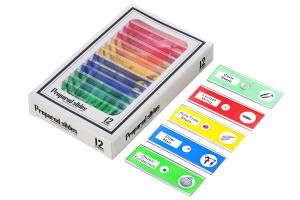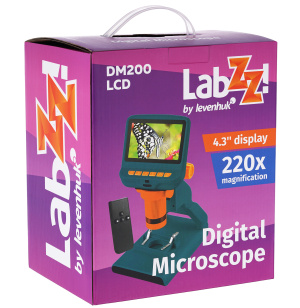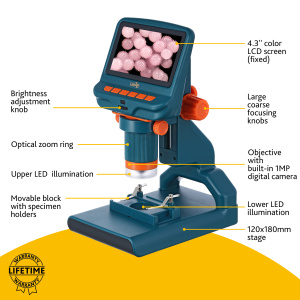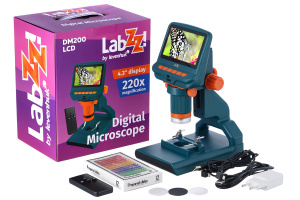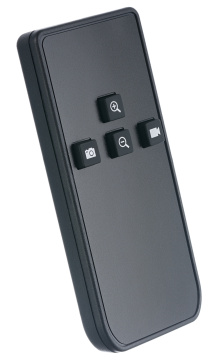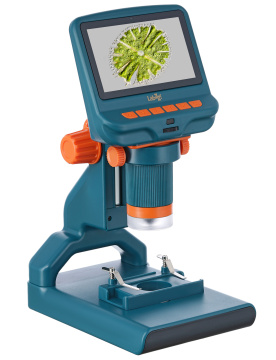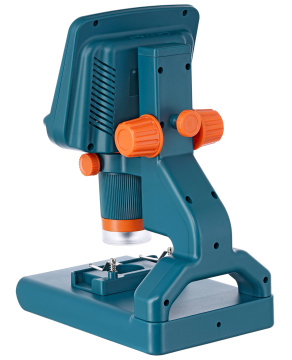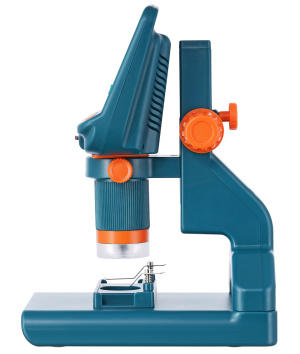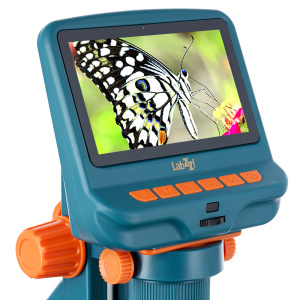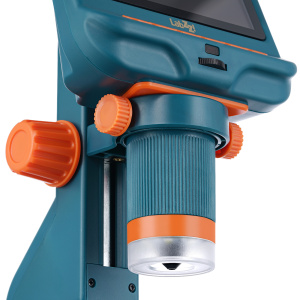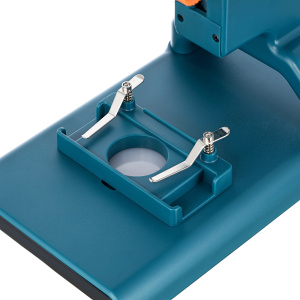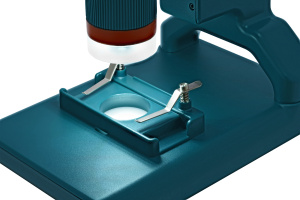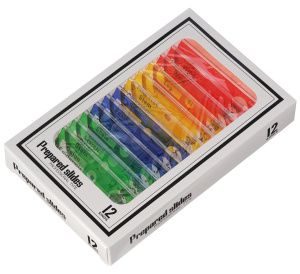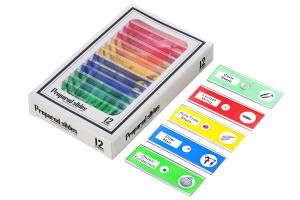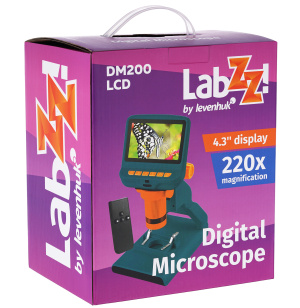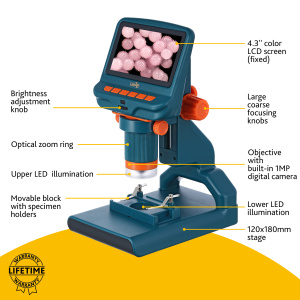 Remote controlled. Magnification: 17–220 (digital), 17–55 (optical)
Levenhuk LabZZ DM200 LCD is a digital microscope with a bright and interesting design. A child will appreciate not only the optical but also the digital capabilities of this microscope. It allows you to photograph specimens, record videos of research, and display an image on a computer screen. You can use the microscope to study anything: ready-to-use microscope slides, stones, fabrics, insects, leaves, electronics, and small mechanisms. The microscope is a great assistant in a scientific hobby and studies.
The microscope features a color LCD screen. Its diagonal is 4.3 inches. The displayed image is colorful, contrast, and bright. The magnification varies from 17 to 220 times, the optical part provides magnification in the range from 17 to 55 times. You can display images on a computer monitor by connecting via a USB cable and using screen capture software. The microscope features two light sources: upper and lower LED lights. That allows you to examine samples of any degree of transparency. There is a brightness adjustment.
Images and videos are saved to a memory card (purchased separately). The image quality is high: you get up to 12Mpx images and Full HD videos. It is convenient that you can start capturing images and recording videos using a wireless remote control.
The microscope can be powered by a built-in battery, so it can be used away from a power outlet.
Features:
4.3" color LCD screen
Image quality: 12Mpx, video quality: Full HD
Dual LED light with brightness adjustment
Can run on battery for 2.5 hours
Remote control allows for capturing images and starting video recording
The kit includes ready-to-use microscope slides
Bright body is designed especially for children
The kit includes:
Microscope with an LCD screen
Stage with clips and blank slides
Infrared remote control
Ready-to-use microscope slides:

Locust wing
Honeybee wing
Honeybee leg
Laver
Pine tree stem
Carnation stem
Canary feather
Cow hair
Goldfish scale
Potato starch
Corn stem
Onion epidermis

Power cable
Network adapter
USB cable
User manual and lifetime warranty
Levenhuk LabZZ DM200 LCD Digital Microscope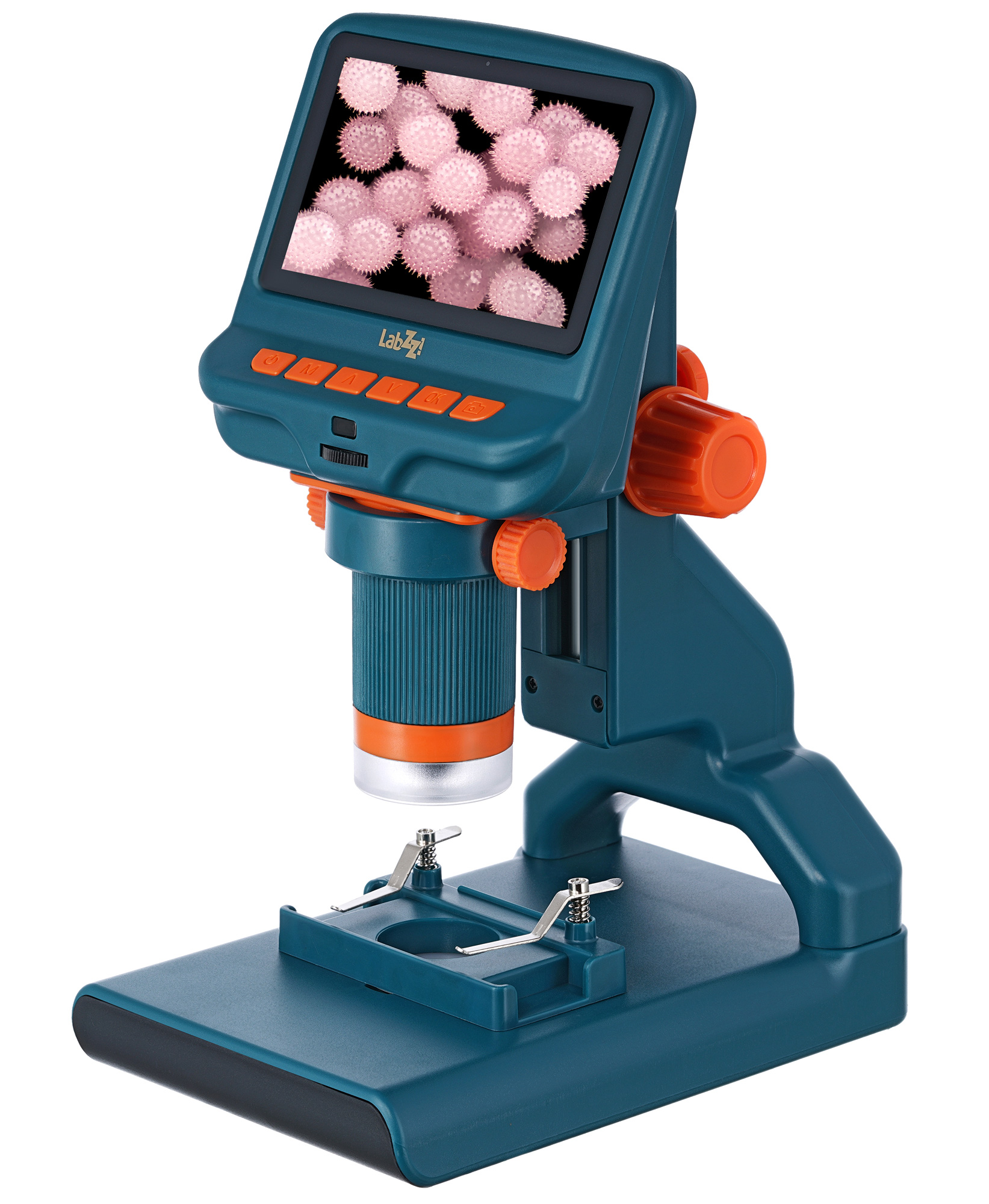 Levenhuk LabZZ DM200 LCD is a digital microscope with a bright and interesting design. A child will appreciate not only the optical but also the digital capabilities of this microscope. It allows you to photograph specimens, record videos of research, and display an image on a computer screen. You can use the microscope to study anything: ready-to-use microscope slides, stones, fabrics, insects, leaves, electronics, and small mechanisms. The microscope is a great assistant in a scientific hobby and studies. The microscope features a color LCD screen. Its diagonal is 4.3 inches. The displayed image is colorful, contrast, and bright. The magnification varies from 17 to 220 times, the optical part provides magnification in the range from 17 to 55 times. You can display images on a computer monitor by connecting via a USB cable and using screen capture software. The microscope features two light sources: upper and lower LED lights. That allows you to examine samples of any degree of transparency. There is a brightness adjustment. Images and videos are saved to a memory card (purchased separately). The image quality is high: you get up to 12Mpx images and Full HD videos. It is convenient that you can start capturing images and recording videos using a wireless remote control. The microscope can be powered by a built-in battery, so it can be used away from a power outlet. Features: 4.3" color LCD screen Image quality: 12Mpx, video quality: Full HD Dual LED light with brightness adjustment Can run on battery for 2.5 hours Remote control allows for capturing images and starting video recording The kit includes ready-to-use microscope slides Bright body is designed especially for children The kit includes: Microscope with an LCD screen Stage with clips and blank slides Infrared remote control Ready-to-use microscope slides: Locust wing Honeybee wing Honeybee leg Laver Pine tree stem Carnation stem Canary feather Cow hair Goldfish scale Potato starch Corn stem Onion epidermis Power cable Network adapter USB cable User manual and lifetime warranty