Levenhuk 400B Binocular Microscope
Magnification: 40–1000x. Binocular head, achromatic objectives, LED light with a collector
Levenhuk 400B is a binocular laboratory microscope for professional work for a microbiologist, medical worker, veterinarian, ornithologist, ecologist, or biochemist. This universal model can be used for bright field research as well as for research using oil immersion. This microscope features a reliable metal body, high-quality achromatic optics and bright LED light with a collector.
A binocular head is optimal for lengthy work with a microscope as it reduces eyestrain. It can be rotated 360° around its axis; a visual part is inclined at 30°. Wide-field eyepieces provide 10x magnification; achromatic objectives come pre-installed in a revolving nosepiece: they provide 4x, 10x, 40x, and 100x magnification. Total microscope magnification varies in the range from 40x to 1000x. The 40xs and 100xs objectives are equipped with protective spring-loaded frames of the front lens. A 100xs objective can be used for oil immersion.
The stage is equipped with a mechanical scale; under the stage there is an Abbe condenser with an iris diaphragm and a filter holder. Below, there is a lighting unit: an LED light with a collector. The light brightness is adjustable. As it is possible to use batteries to power the microscope, it is easy to use the device when you are away from a power outlet.
Features:
Binocular laboratory microscope, rotatable angled head
Observations in the bright field in incident light, oil immersion
Achromatic wide-field optics, magnification from 40x to 1000x
LED light with a collector and brightness adjustment
Metal body, standard eyepiece barrel diameter
Power supply is variable: by batteries or AC power supply
The kit includes:
Microscope
4x, 10x, 40xs, 100xs (oil) achromatic objectives
WF10x/18mm eyepieces (2 pcs)
Abbe condenser N.A. 1.25 with an iris diaphragm and a filter holder
Charging power cord
Vial of immersion oil
Filters: blue, green, yellow
Dust cover
User manual and lifetime warranty
Levenhuk 400B Binocular Microscope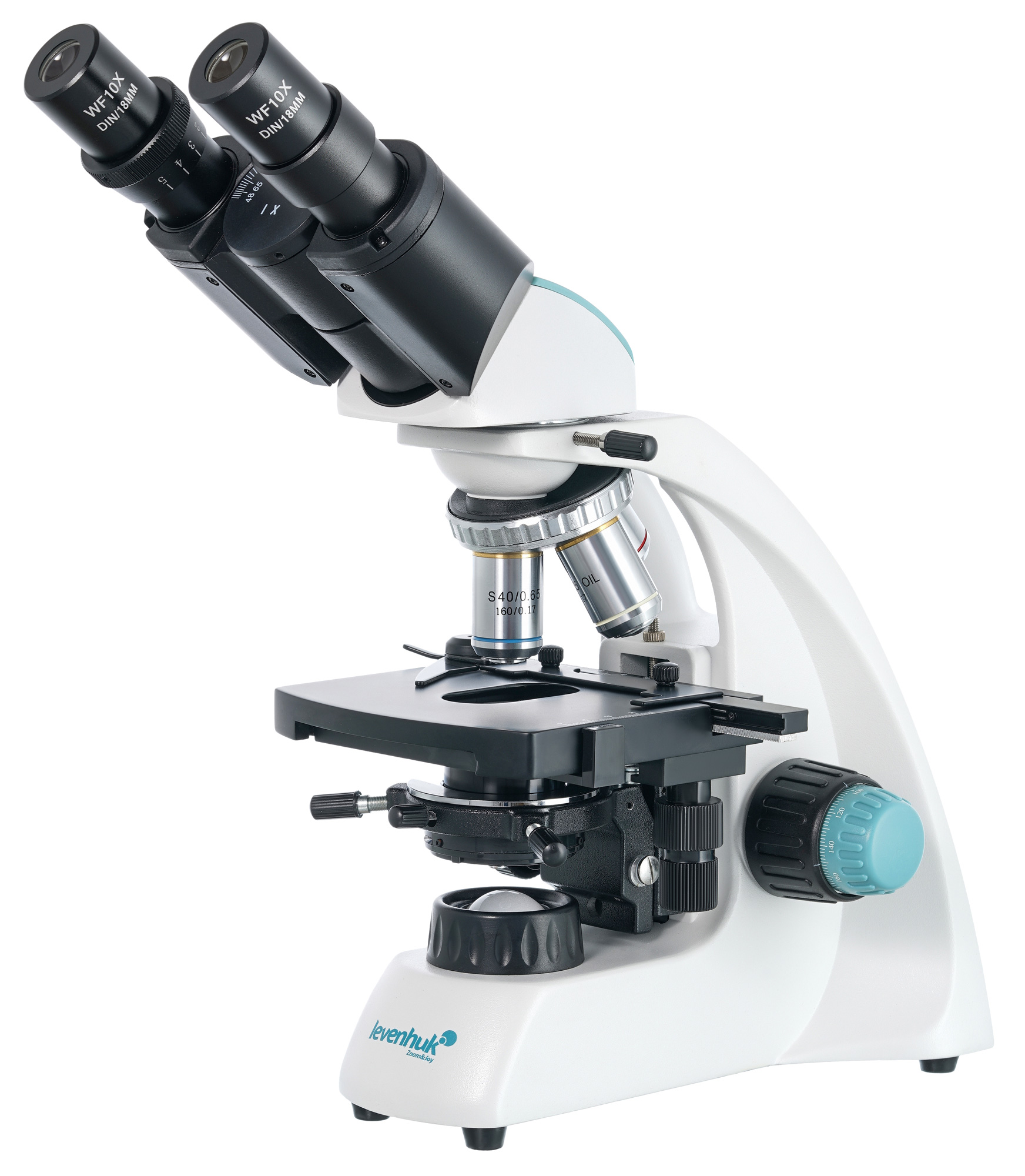 Levenhuk 400B is a binocular laboratory microscope for professional work for a microbiologist, medical worker, veterinarian, ornithologist, ecologist, or biochemist. This universal model can be used for bright field research as well as for research using oil immersion. This microscope features a reliable metal body, high-quality achromatic optics and bright LED light with a collector. A binocular head is optimal for lengthy work with a microscope as it reduces eyestrain. It can be rotated 360° around its axis; a visual part is inclined at 30°. Wide-field eyepieces provide 10x magnification; achromatic objectives come pre-installed in a revolving nosepiece: they provide 4x, 10x, 40x, and 100x magnification. Total microscope magnification varies in the range from 40x to 1000x. The 40xs and 100xs objectives are equipped with protective spring-loaded frames of the front lens. A 100xs objective can be used for oil immersion. The stage is equipped with a mechanical scale; under the stage there is an Abbe condenser with an iris diaphragm and a filter holder. Below, there is a lighting unit: an LED light with a collector. The light brightness is adjustable. As it is possible to use batteries to power the microscope, it is easy to use the device when you are away from a power outlet. Features: Binocular laboratory microscope, rotatable angled head Observations in the bright field in incident light, oil immersion Achromatic wide-field optics, magnification from 40x to 1000x LED light with a collector and brightness adjustment Metal body, standard eyepiece barrel diameter Power supply is variable: by batteries or AC power supply The kit includes: Microscope 4x, 10x, 40xs, 100xs (oil) achromatic objectives WF10x/18mm eyepieces (2 pcs) Abbe condenser N.A. 1.25 with an iris diaphragm and a filter holder Charging power cord Vial of immersion oil Filters: blue, green, yellow Dust cover User manual and lifetime warranty