Discovery Pico Polar Digital Microscope with book
Achromatic. Rotatable head. LED illumination. Fine focusing. Magnification: 40–400x. 1.3MP Digital camera in the kit
Discovery Channel informs, entertains and inspires its audiences around the globe about the world in all its wonder, diversity and amazement. Offering millions of people the chance to discover, and satisfy their curiosity, Discovery offers a compelling mix of stories across genres including science and technology, exploration, adventure, history and in depth behind-the-scenes glimpses at the people, places and organisations that shape and share the world we live in.
We proudly present the Discovery optics series that is produced by Levenhuk and endorsed by Discovery.
---
Check out a brief comparison of the Discovery microscope series »
The Discovery Pico Polar digital microscope is a biological microscope with a 1.3MP digital camera. It can be used not only for visual observations of the microbial world, but also for capturing research in photo and video formats. This microscope will come in handy in your studies, it will be a good choice for your hobby. It is user-friendly; even a beginner can easily use it. The microscope comes with a knowledge book about the microbial world.
Achromatic Optics and Fine Focusing
The monocular head can be rotated 360° horizontally. It can also be tilted 30°. This is useful for long-term and group observations, as it makes working with the microscope more convenient. The optics, including achromatic objectives and a wide-field eyepiece, are made of glass. The 40x objective is equipped with a protective spring-loaded frame that protects the front lens from damage. The microscope magnification range is from 40x to 400x. Coarse focusing can be adjusted with the side coarse focus knobs.
Adjusting LED illumination system
The microscope features a LED Illumination system with brightness adjustment. It is powered by batteries (not included) or AC power supply (included). The stage features sample holding clips. The diaphragm disk is placed under the stage.
1.3MP digital camera for photo and video recording is included
The 1.3MP digital camera enables you to display the image under the objective on an external screen, take pictures, and record video. Everything that is placed on the stage comes into its field of view. The camera is installed directly into the eyepiece tube (you must first remove the standard eyepiece) and it is connected via a USB cable to the computer. You also need to install the software that is included in the kit. The frame resolution is 1280x1024 pixels. Video recording is possible at 30 frames per second, which allows you to shoot very smooth videos. You can carry out simple editing of photos (adjust brightness, change the size of the picture, etc.).
"Invisible World" Knowledge Book is included
The "Invisible World" knowledge book is a nice addition to the microscope, as this educational guide is colorfully illustrated and well written. It contains the history of microscopy, a description of scientific experiments that you can conduct on your own, a list of the most interesting inhabitants of the microbial world, and much more.
Features:
Monocular head can be rotated 360°
Achromatic, 40–400x magnification, 1.3MP digital camera
Adjusting dual LED illumination system
Powered by standard batteries or AC
Stage with clips; coarse and fine focusing
Comes with a colorful knowledge book
The kit includes:
Microscope
WF10x eyepiece
Achromatic objectives: 4x, 10x, 40xs
Digital camera: 1.3MP
USB 2.0
Software CD
AC adapter with a power cable
Dust cover
"Invisible World" knowledge book
User manual and warranty card
Discovery Pico Polar Digital Microscope with book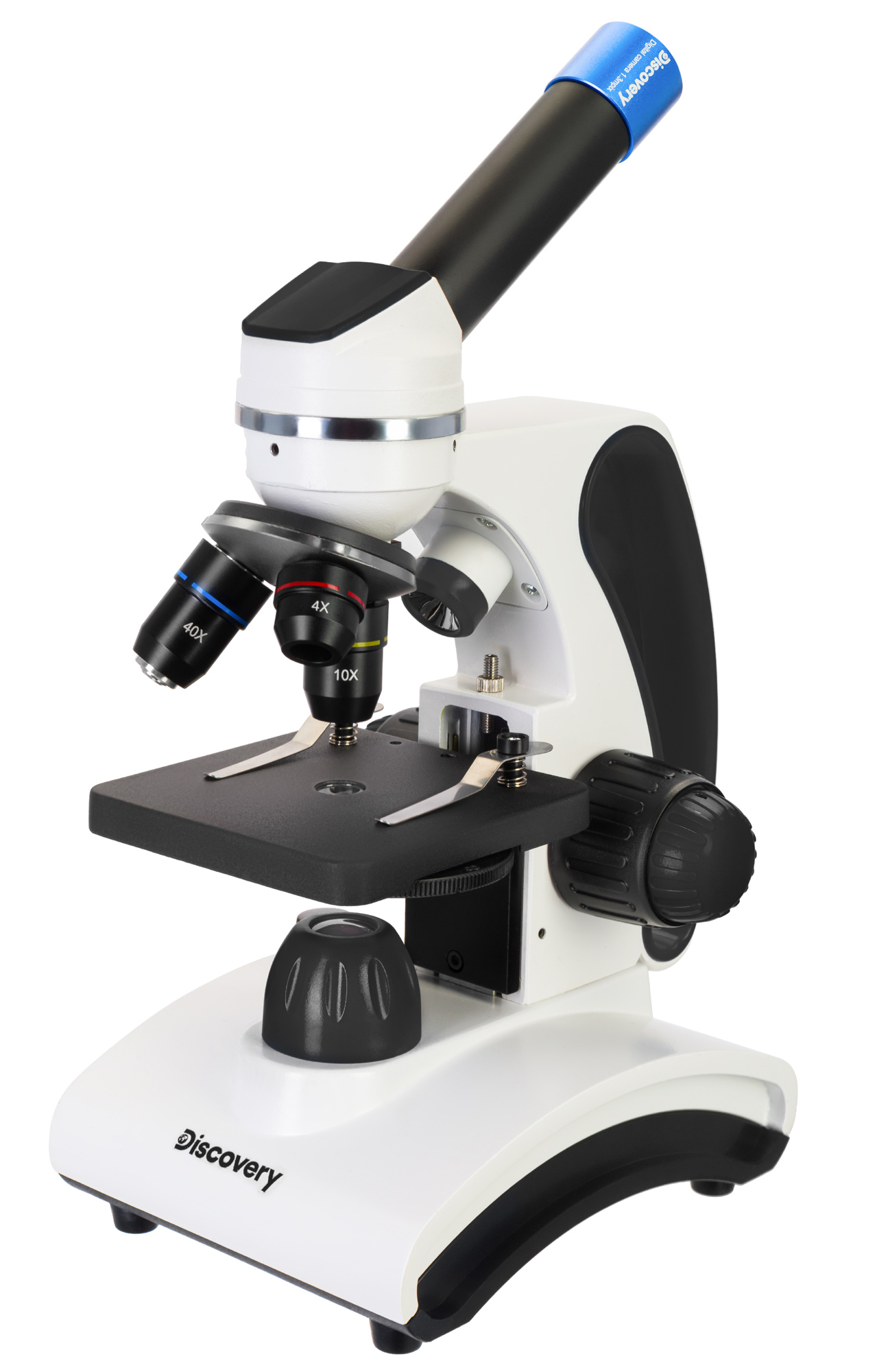 {: style="border:0px; margin-bottom: -5px; width:15%;" } Discovery Channel informs, entertains and inspires its audiences around the globe about the world in all its wonder, diversity and amazement. Offering millions of people the chance to discover, and satisfy their curiosity, Discovery offers a compelling mix of stories across genres including science and technology, exploration, adventure, history and in depth behind-the-scenes glimpses at the people, places and organisations that shape and share the world we live in. We proudly present the Discovery optics series that is produced by Levenhuk and endorsed by Discovery. Check out a brief comparison of the Discovery microscope series » The Discovery Pico Polar digital microscope is a biological microscope with a 1.3MP digital camera. It can be used not only for visual observations of the microbial world, but also for capturing research in photo and video formats. This microscope will come in handy in your studies, it will be a good choice for your hobby. It is user-friendly; even a beginner can easily use it. The microscope comes with a knowledge book about the microbial world. Achromatic Optics and Fine Focusing The monocular head can be rotated 360° horizontally. It can also be tilted 30°. This is useful for long-term and group observations, as it makes working with the microscope more convenient. The optics, including achromatic objectives and a wide-field eyepiece, are made of glass. The 40x objective is equipped with a protective spring-loaded frame that protects the front lens from damage. The microscope magnification range is from 40x to 400x. Coarse focusing can be adjusted with the side coarse focus knobs. Adjusting LED illumination system The microscope features a LED Illumination system with brightness adjustment. It is powered by batteries (not included) or AC power supply (included). The stage features sample holding clips. The diaphragm disk is placed under the stage. 1.3MP digital camera for photo and video recording is included The 1.3MP digital camera enables you to display the image under the objective on an external screen, take pictures, and record video. Everything that is placed on the stage comes into its field of view. The camera is installed directly into the eyepiece tube (you must first remove the standard eyepiece) and it is connected via a USB cable to the computer. You also need to install the software that is included in the kit. The frame resolution is 1280x1024 pixels. Video recording is possible at 30 frames per second, which allows you to shoot very smooth videos. You can carry out simple editing of photos (adjust brightness, change the size of the picture, etc.). "Invisible World" Knowledge Book is included The "Invisible World" knowledge book is a nice addition to the microscope, as this educational guide is colorfully illustrated and well written. It contains the history of microscopy, a description of scientific experiments that you can conduct on your own, a list of the most interesting inhabitants of the microbial world, and much more. Features: Monocular head can be rotated 360° Achromatic, 40–400x magnification, 1.3MP digital camera Adjusting dual LED illumination system Powered by standard batteries or AC Stage with clips; coarse and fine focusing Comes with a colorful knowledge book The kit includes: Microscope WF10x eyepiece Achromatic objectives: 4x, 10x, 40xs Digital camera: 1.3MP USB 2.0 Software CD AC adapter with a power cable Dust cover "Invisible World" knowledge book User manual and warranty card