Discovery Pico Microscope
Achromatic. Rotatable Head. LED Illumination. Fine focusing. Magnification: 40–400x
Discovery Channel informs, entertains and inspires its audiences around the globe about the world in all its wonder, diversity and amazement. Offering millions of people the chance to discover, and satisfy their curiosity, Discovery offers a compelling mix of stories across genres including science and technology, exploration, adventure, history and in depth behind-the-scenes glimpses at the people, places and organisations that shape and share the world we live in.
We proudly present the Discovery optics series that is produced by Levenhuk and endorsed by Discovery.
---
Check out a brief comparison of the Discovery microscope series »
Discovery Pico Microscope is a monocular microscope with achromatic optics and a rotatable head. It is an excellent choice for conducting basic research on the microbial world, studying biology, and conducting simple experiments. The microscope is useful for a student as well as a person interested in science. The magnification range is from 40x to 400x, there is a dual LED illumination with adjustable brightness, and coarse and fine focusing is available. It has glass optics and a metal body. The microscope is powered by an AC power cord (included) or batteries (not included). The kit includes the "Invisible World" knowledge book about the microbial world. The series includes microscopes in different body colors.
Features:
Achromatic optics with 40–400x magnification
Monocular head can be rotated 360°
Fine focusing; stage with clips
2 LED Lights; adjustable brightness; powered by AC or batteries
Optimal optical instrument for studying biology at school or college
Comes with a colorful knowledge book
Discovery Pico Microscope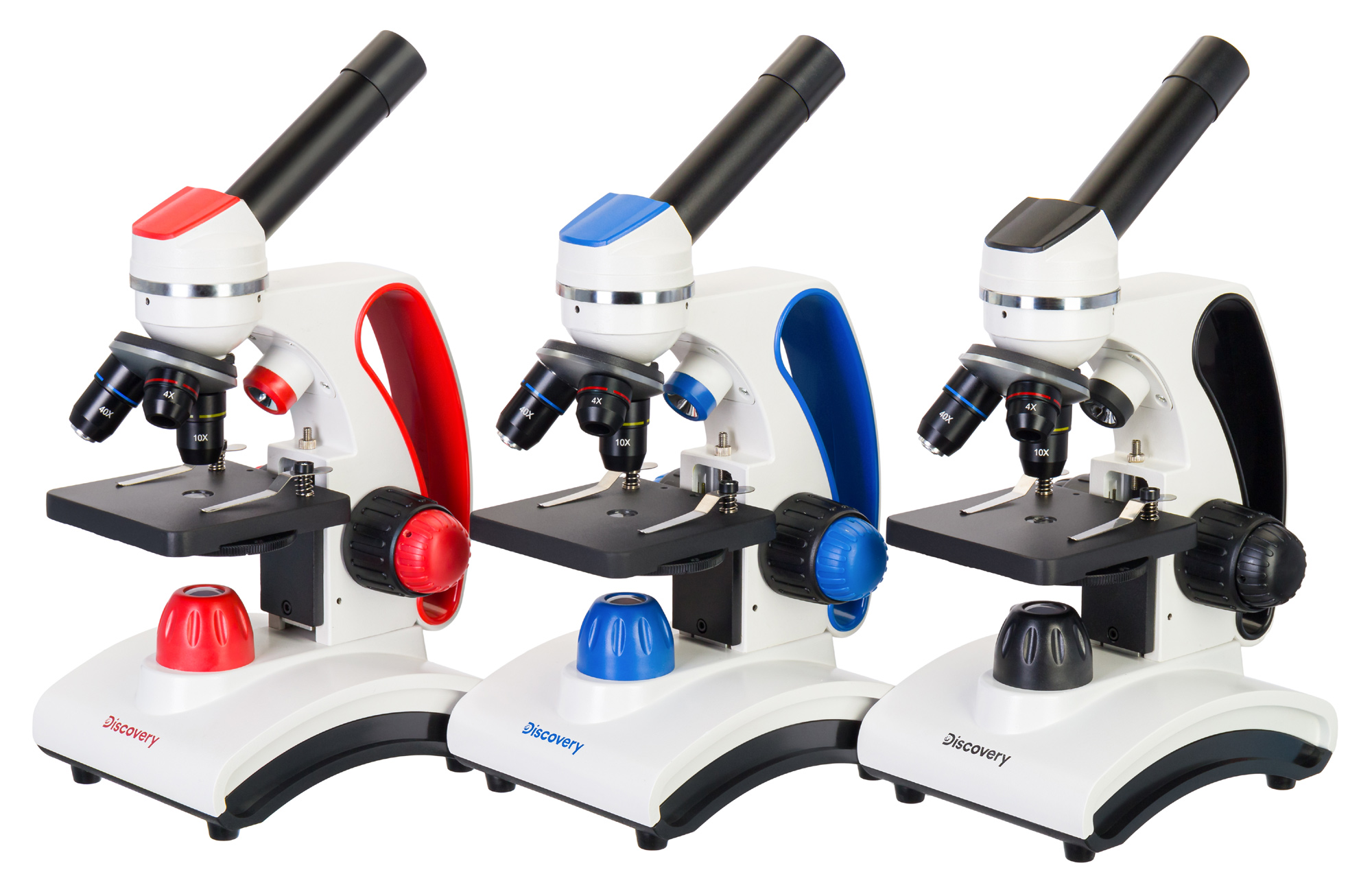 {: style="border:0px; margin-bottom: -5px; width:15%;" } Discovery Channel informs, entertains and inspires its audiences around the globe about the world in all its wonder, diversity and amazement. Offering millions of people the chance to discover, and satisfy their curiosity, Discovery offers a compelling mix of stories across genres including science and technology, exploration, adventure, history and in depth behind-the-scenes glimpses at the people, places and organisations that shape and share the world we live in. We proudly present the Discovery optics series that is produced by Levenhuk and endorsed by Discovery. Check out a brief comparison of the Discovery microscope series » Discovery Pico Microscope is a monocular microscope with achromatic optics and a rotatable head. It is an excellent choice for conducting basic research on the microbial world, studying biology, and conducting simple experiments. The microscope is useful for a student as well as a person interested in science. The magnification range is from 40x to 400x, there is a dual LED illumination with adjustable brightness, and coarse and fine focusing is available. It has glass optics and a metal body. The microscope is powered by an AC power cord (included) or batteries (not included). The kit includes the "Invisible World" knowledge book about the microbial world. The series includes microscopes in different body colors. Features: Achromatic optics with 40–400x magnification Monocular head can be rotated 360° Fine focusing; stage with clips 2 LED Lights; adjustable brightness; powered by AC or batteries Optimal optical instrument for studying biology at school or college Comes with a colorful knowledge book