Discovery Atto Polar digital microscope with book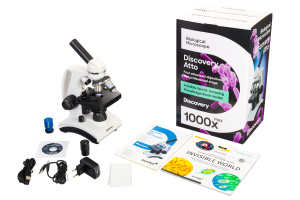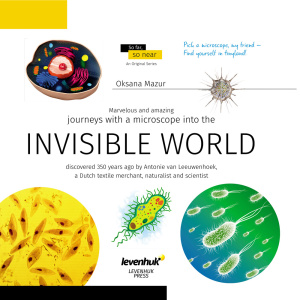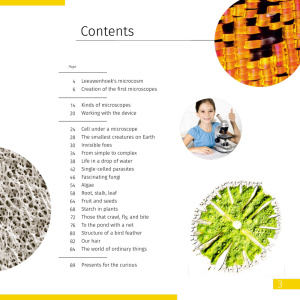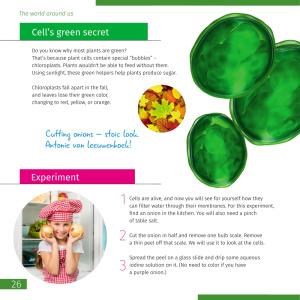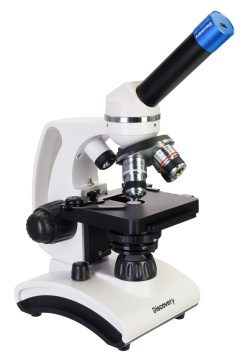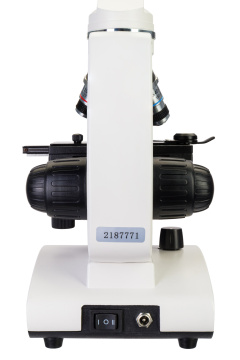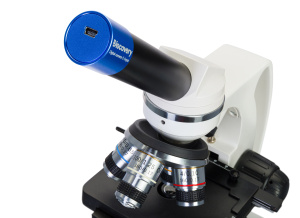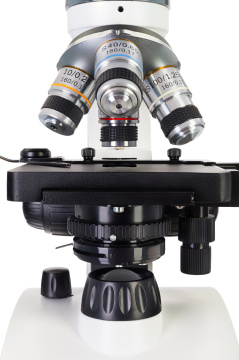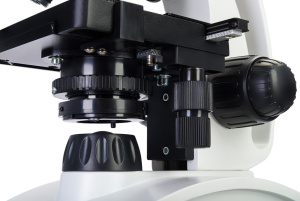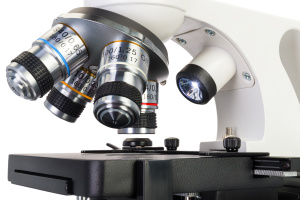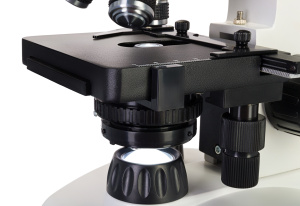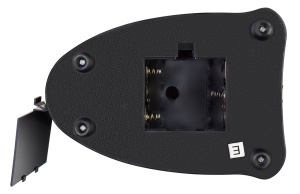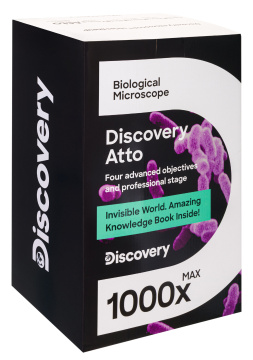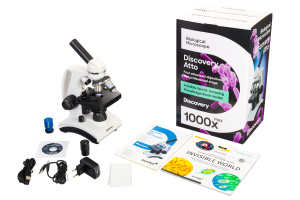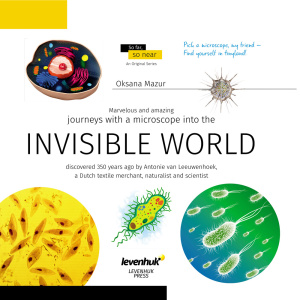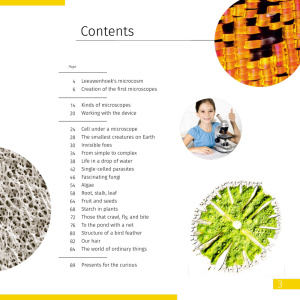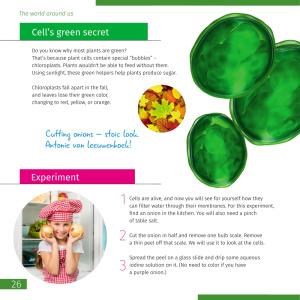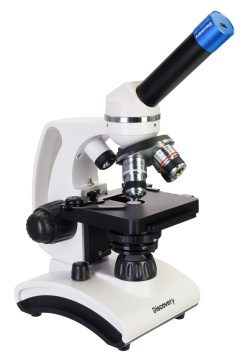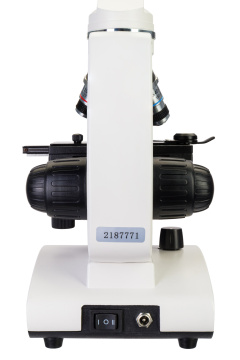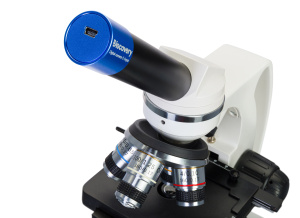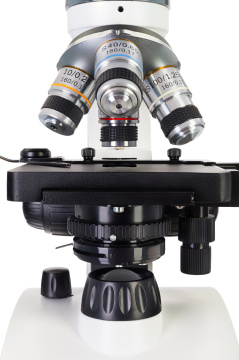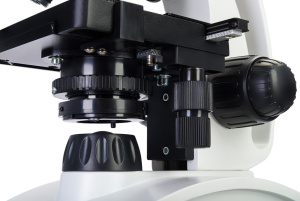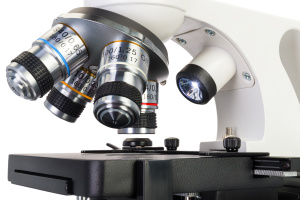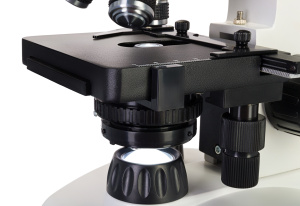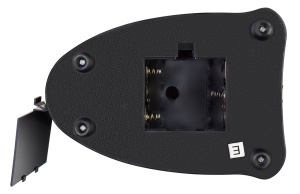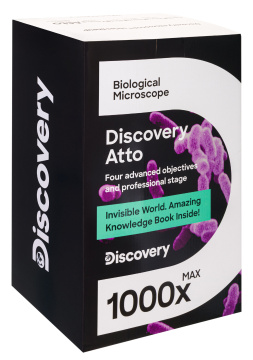 Achromatic. Inclined head, fine focusing, Abbe condenser, LED illumination. Magnification: 40x-1000x. 5Mpx digital camera included
Discovery Channel informs, entertains and inspires its audiences around the globe about the world in all its wonder, diversity and amazement. Offering millions of people the chance to discover, and satisfy their curiosity, Discovery offers a compelling mix of stories across genres including science and technology, exploration, adventure, history and in depth behind-the-scenes glimpses at the people, places and organisations that shape and share the world we live in.
We proudly present the Discovery optics series that is produced by Levenhuk and endorsed by Discovery.
---
Check out a brief comparison of the Discovery microscope series »
The Discovery Atto Polar digital microscope is a biological light microscope with a 5 Mpx digital camera. It can be used to visualize the microbial world as well as save specimen images in picture or video format. The microscope comes with magnification levels of 40x to 1000x enabling detailed study regardless of transparency level, even when conducting experiments with immersion oil. A knowledge book about the microbial world is included in the kit.
Achromatic optics, magnification levels of 40x to 1000x
The monocular head can be rotated 360° on the horizontal plane. The head's 45° incline ensures comfort even during long observations. The optical system includes a wide-field 10x eyepiece with a center field pointer and four achromatic objectives with magnification settings of 4x, 10x, 40x and 100x. The 40x and 100x objective lenses are spring-loaded for additional protection. The device comes with both coarse and fine focusing.
Dual LED illumination
The microscope stage is complete with a mechanical stage for optimal use of micro preparation techniques. The illumination system consists of two LED illumination and variable intensity. The upper illumination above and lower illumination below. Both illuminations can be battery (not included) or AC powered (AC adapter in kit). The microscope comes with an Abbe condenser with iris diaphragm and a filter holder.
A 5Mpx digital camera for pictures and video recordings
The 5 Mpx camera gives this module an edge over its competitors. The camera can be installed in the ocular tube in place of the eyepiece and connected to a computer via USB cable. Software installation is required using the provided CD. The camera is capable of loading images onto a computer screen in 2592x1944 resolution as well as taking pictures and recording videos. Basic image processing function is available for both pictures and videos.
The book, "The Invisible World", is included in the kit
The book, "The Invisible World", enables fast learning of operating microscopes and navigating the diverse microbial world. This knowledge book is written with easy to understand language, vivid illustrations, and tells about theories as well as prepares students to apply knowledge in practice. Simple scientific experiments can be conducted in a home setting with the help of this scholastic.
Features:
Achromatic optics, magnification levels of 40x to 1000x
Coarse and fine focusing, stage with mechanical stage
Dual LED illumination with variable intensity
AC plug-in or battery power supply
5 Mpx digital camera and illustrated knowledge book in kit
For observations of any difficulty level in Brightfield
The kit includes:
One microscope
One eyepiece WF 10x with reticle
Four achromatic objectives 4x, 10x, 40x spring and 100x spring (immersion oil)
One 5 Mpx digital camera
One USB 2.0 cable
Software CD
One squeeze bottle with immersion oil
One AC adapter and power cord
One dust cover
Illustrated knowledge, "The Invisible World"
User manual and warranty card
Discovery Atto Polar digital microscope with book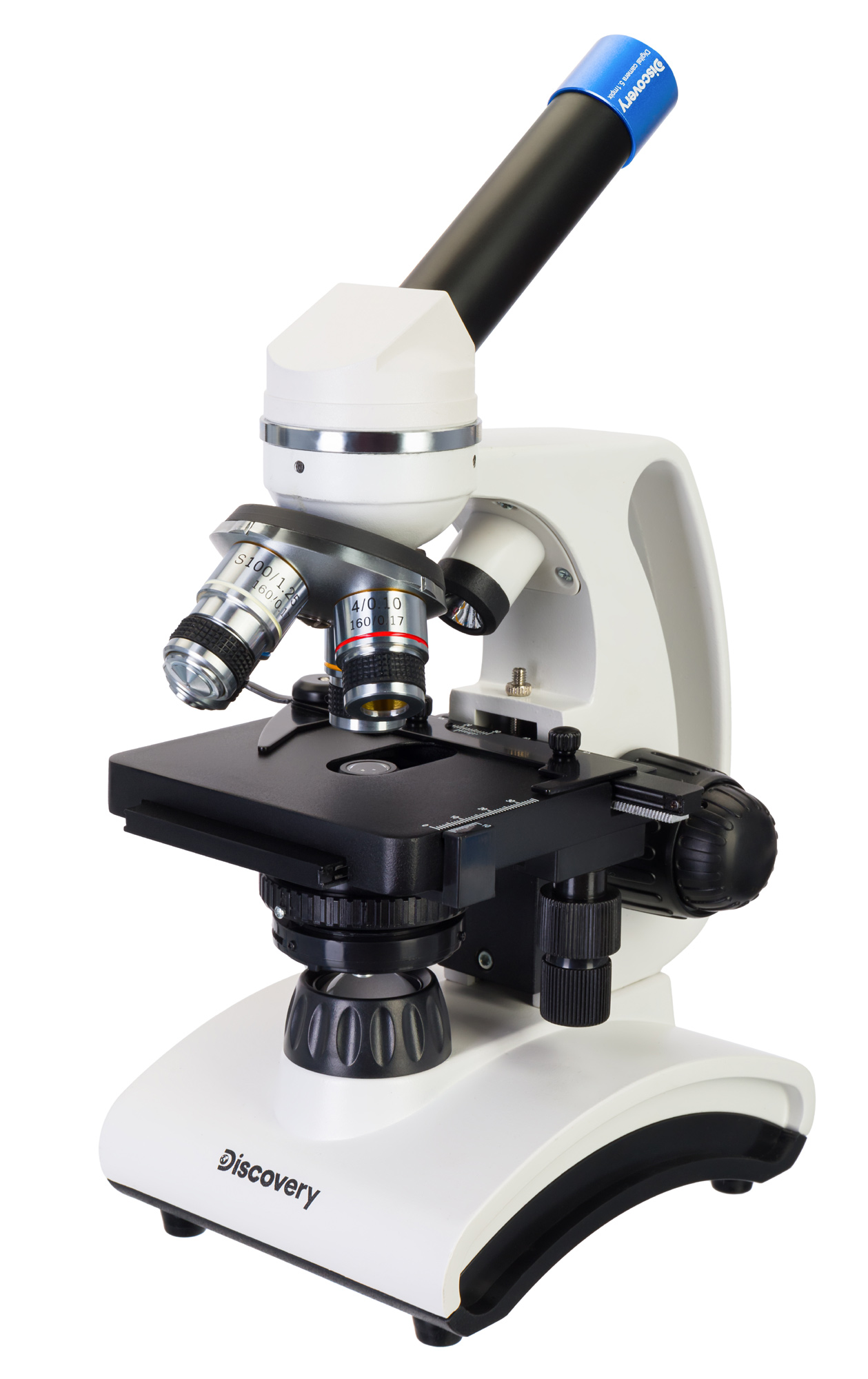 Discovery Channel informs, entertains and inspires its audiences around the globe about the world in all its wonder, diversity and amazement. Offering millions of people the chance to discover, and satisfy their curiosity, Discovery offers a compelling mix of stories across genres including science and technology, exploration, adventure, history and in depth behind-the-scenes glimpses at the people, places and organisations that shape and share the world we live in. We proudly present the Discovery optics series that is produced by Levenhuk and endorsed by Discovery. Check out a brief comparison of the Discovery microscope series » The Discovery Atto Polar digital microscope is a biological light microscope with a 5 Mpx digital camera. It can be used to visualize the microbial world as well as save specimen images in picture or video format. The microscope comes with magnification levels of 40x to 1000x enabling detailed study regardless of transparency level, even when conducting experiments with immersion oil. A knowledge book about the microbial world is included in the kit. Achromatic optics, magnification levels of 40x to 1000x The monocular head can be rotated 360° on the horizontal plane. The head's 45° incline ensures comfort even during long observations. The optical system includes a wide-field 10x eyepiece with a center field pointer and four achromatic objectives with magnification settings of 4x, 10x, 40x and 100x. The 40x and 100x objective lenses are spring-loaded for additional protection. The device comes with both coarse and fine focusing. Dual LED illumination The microscope stage is complete with a mechanical stage for optimal use of micro preparation techniques. The illumination system consists of two LED illumination and variable intensity. The upper illumination above and lower illumination below. Both illuminations can be battery (not included) or AC powered (AC adapter in kit). The microscope comes with an Abbe condenser with iris diaphragm and a filter holder. A 5Mpx digital camera for pictures and video recordings The 5 Mpx camera gives this module an edge over its competitors. The camera can be installed in the ocular tube in place of the eyepiece and connected to a computer via USB cable. Software installation is required using the provided CD. The camera is capable of loading images onto a computer screen in 2592x1944 resolution as well as taking pictures and recording videos. Basic image processing function is available for both pictures and videos. The book, "The Invisible World", is included in the kit The book, "The Invisible World", enables fast learning of operating microscopes and navigating the diverse microbial world. This knowledge book is written with easy to understand language, vivid illustrations, and tells about theories as well as prepares students to apply knowledge in practice. Simple scientific experiments can be conducted in a home setting with the help of this scholastic. Features: Achromatic optics, magnification levels of 40x to 1000x Coarse and fine focusing, stage with mechanical stage Dual LED illumination with variable intensity AC plug-in or battery power supply 5 Mpx digital camera and illustrated knowledge book in kit For observations of any difficulty level in Brightfield The kit includes: One microscope One eyepiece WF 10x with reticle Four achromatic objectives 4x, 10x, 40x spring and 100x spring (immersion oil) One 5 Mpx digital camera One USB 2.0 cable Software CD One squeeze bottle with immersion oil One AC adapter and power cord One dust cover Illustrated knowledge, "The Invisible World" User manual and warranty card