Bresser National Geographic 40–640x Microscope with smartphone adapter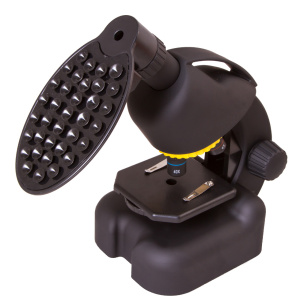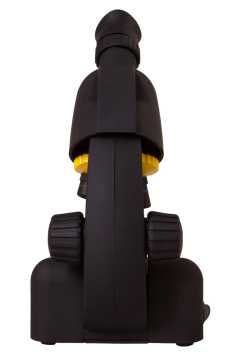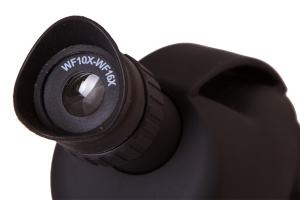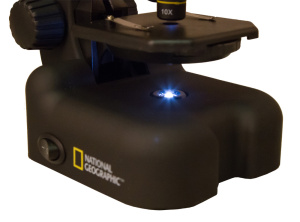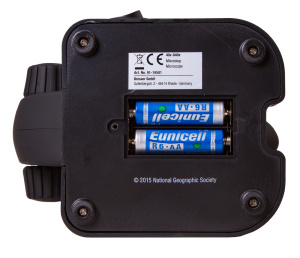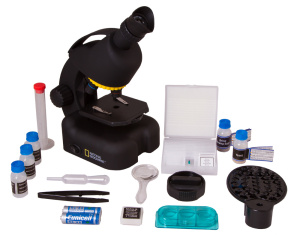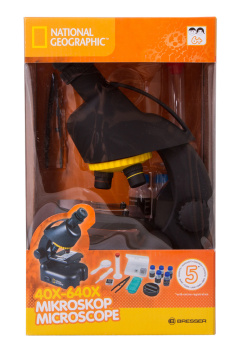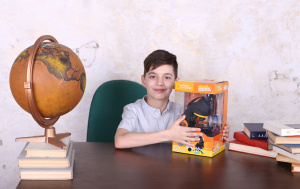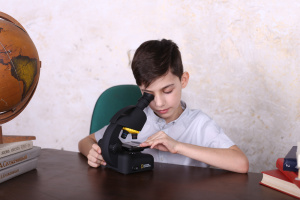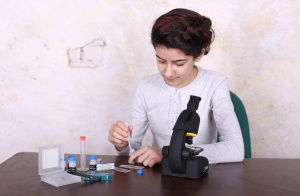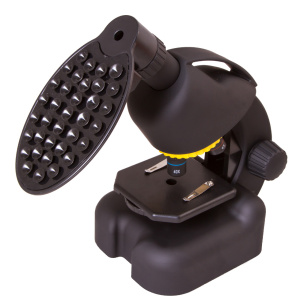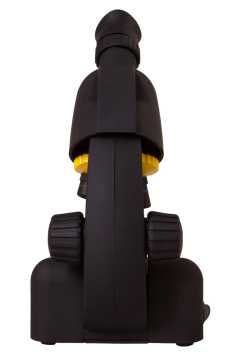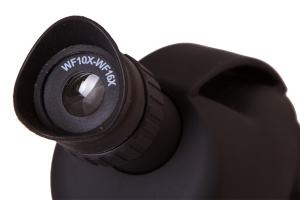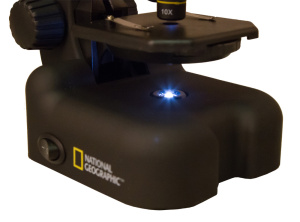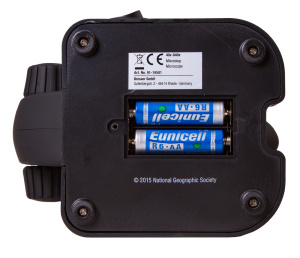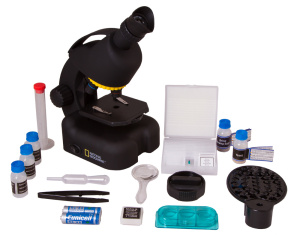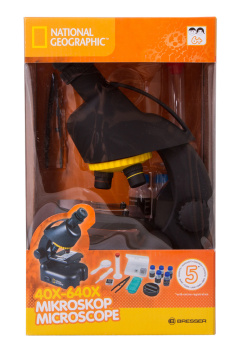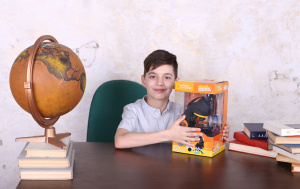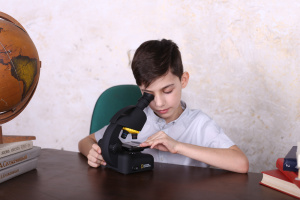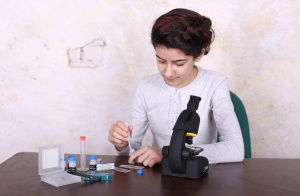 Microscope for kids. Experiment kit included. For studying samples in transmitted light. Magnification: 40–640х
Bresser National Geographic 40–640x Microscope is made specifically for young explorers. The microscope is equipped with a revolving nosepiece, and by rotating it, you can switch between three fixed magnifications in the 40–640x range. The lower LED illumination powered by batteries (included in the kit) is used for studying samples in transmitted light.
A smartphone adapter allows your little scientists to make exclusive photos and videos of their observation results! The assembly process is very easy – install the adapter on the eyepiece of your optical instrument, and then install your smartphone onto the adapter. All you have to do is turn on the smartphone camera, center it, and adjust the focus of your optical device to get clear and sharp views of observed objects. Now you can take pictures, record videos and share it with your friends!
Bresser National Geographic 40–640x Microscope comes with an interesting experiment kit. A kid will be able to observe ready-to-use microscope slides and watch Artemia's growth in a hatchery. The kit also includes special tools for independent preparation of microscope samples. Kids can manage the instrument independently and explore amazing structures of everyday things.
Features:
Magnification up to 640x
LED illumination
Battery operation makes outdoor use possible
Extensive range of included accessories
Smartphone adapter
Experiment kit included
The kit includes:
Objectives: 4x, 10x and 40x
Eyepiece: WF10x–WF16x
Bresser Junior 40–640x Microscope
3 ready-to-use specimens
Flask with yeast
Flask with brine shrimp
8 blank slides
8 cover slips
Hatchery for Artemia (brine shrimp)
Flasks
Microtome
Forceps
Dropper
Loupe
Measuring cup
Smartphone adapter
2 AA batteries
User manual
Bresser National Geographic 40–640x Microscope with smartphone adapter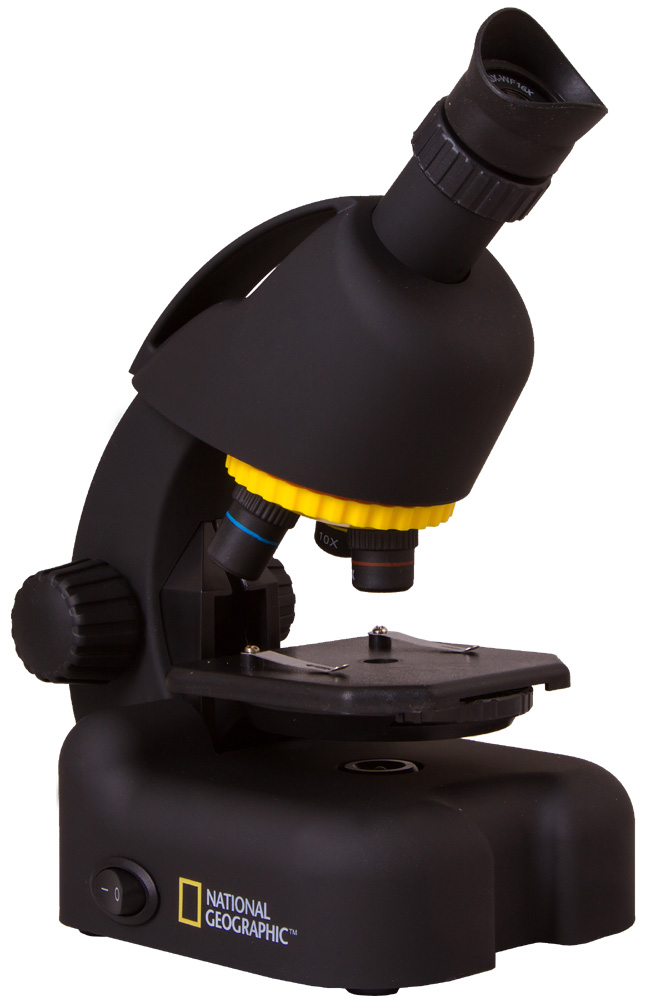 Bresser National Geographic 40–640x Microscope is made specifically for young explorers. The microscope is equipped with a revolving nosepiece, and by rotating it, you can switch between three fixed magnifications in the 40–640x range. The lower LED illumination powered by batteries (included in the kit) is used for studying samples in transmitted light. A smartphone adapter allows your little scientists to make exclusive photos and videos of their observation results! The assembly process is very easy – install the adapter on the eyepiece of your optical instrument, and then install your smartphone onto the adapter. All you have to do is turn on the smartphone camera, center it, and adjust the focus of your optical device to get clear and sharp views of observed objects. Now you can take pictures, record videos and share it with your friends! Bresser National Geographic 40–640x Microscope comes with an interesting experiment kit. A kid will be able to observe ready-to-use microscope slides and watch Artemia's growth in a hatchery. The kit also includes special tools for independent preparation of microscope samples. Kids can manage the instrument independently and explore amazing structures of everyday things. Features: Magnification up to 640x LED illumination Battery operation makes outdoor use possible Extensive range of included accessories Smartphone adapter Experiment kit included The kit includes: Objectives: 4x, 10x and 40x Eyepiece: WF10x–WF16x Bresser Junior 40–640x Microscope 3 ready-to-use specimens Flask with yeast Flask with brine shrimp 8 blank slides 8 cover slips Hatchery for Artemia (brine shrimp) Flasks Microtome Forceps Dropper Loupe Measuring cup Smartphone adapter 2 AA batteries User manual