Omegon Nightstar 2.1x42 wide-field binoculars for star field observing
Galileic binoculars. Magnification: 2.1x. Objective lens diameter: 42mm
Constellations, star fields, star clusters - observed at low magnification
These mini-binoculars let you observe the night sky as if your eyes were suddenly much more capable. You can observe entire constellations and star fields, but the stars are brighter and clearer and you can make out much more than just with the naked eye - as if you suddenly had a 'super eye', just for the night sky.
The advantages in a nutshell:
Like a pair of glasses that you can observe the stars through
Extremely 'fast' - 42mm aperture and 2.1X magnification
Super wide field of view - observe entire constellations
Clearly more stars seen than with the naked eye - even with light pollution
Comfortable observing, even with glasses
As though you were seeing the stars somewhat brighter
No telescope or normal binoculars can offer you what this special instrument seems to conjure up before your very eyes. Looking through these binoculars shows you complete constellations with a 26° field of view. It almost seems as if you are standing on a very high mountain in absolute darkness.
2.1X magnification and 42mm lens aperture
With a magnification of 2.1 times, you are seeing objects about twice as large as with the naked eye. The 'fast' lenses used ensure that a large amount of light enters the eyes. And, suddenly, you can observe not just the main stars in a constellation, but many you have probably never even seen before.
The perfect complement to a telescope
How would you like to sit comfortably in a chair and 'stroll' through the Milky Way? The clouds in our galaxy look even more impressive. And, of course, you will also discover star clusters and nebulae.
Also discover the Andromeda Galaxy, the h and Chi Persei open star clusters or the Lagoon Nebula in a whole new way. They all look absolutely fantastic through these star field binoculars.
Observe with or without spectacles
These star filed binoculars have large eyepieces and a comfortable viewing. You can enjoy the entire field of view, without restriction, even if you wear spectacles.
These star field binoculars come with a wrist strap to ensure that they stay securely in your grip at all times. And a soft nylon bag provides the appropriate protection for your binoculars.
The kit includes:
Star field binoculars
Lens and eyepiece covers
Wrist strap
Nylon bag with strap
1/4 inch camera thread (for connection to a camera tripod with adapter)
Omegon Nightstar 2.1x42 wide-field binoculars for star field observing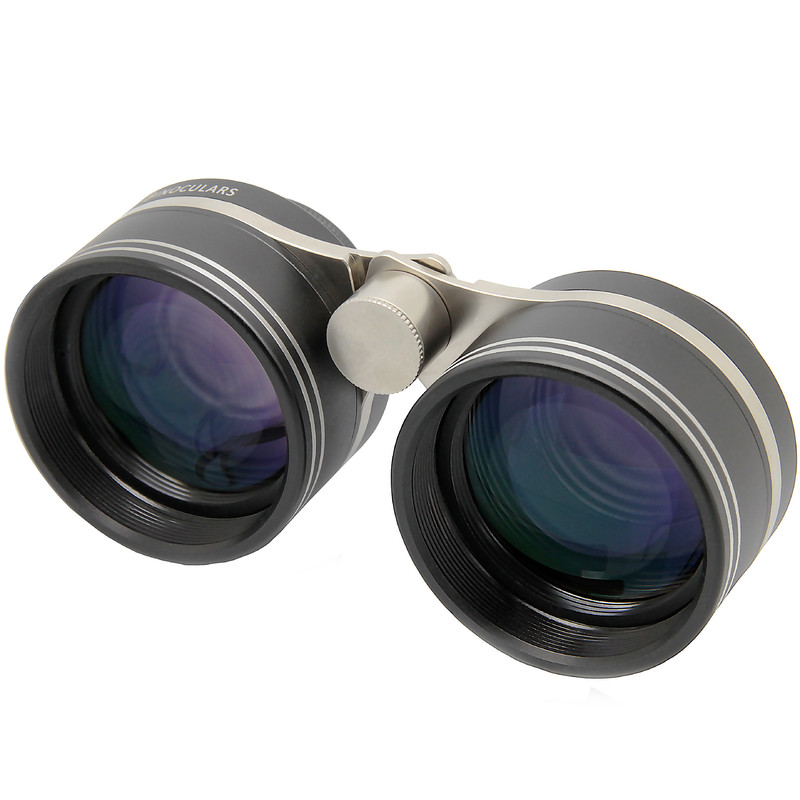 Constellations, star fields, star clusters - observed at low magnification These mini-binoculars let you observe the night sky as if your eyes were suddenly much more capable. You can observe entire constellations and star fields, but the stars are brighter and clearer and you can make out much more than just with the naked eye - as if you suddenly had a 'super eye', just for the night sky. The advantages in a nutshell: Like a pair of glasses that you can observe the stars through Extremely 'fast' - 42mm aperture and 2.1X magnification Super wide field of view - observe entire constellations Clearly more stars seen than with the naked eye - even with light pollution Comfortable observing, even with glasses As though you were seeing the stars somewhat brighter No telescope or normal binoculars can offer you what this special instrument seems to conjure up before your very eyes. Looking through these binoculars shows you complete constellations with a 26° field of view. It almost seems as if you are standing on a very high mountain in absolute darkness. 2.1X magnification and 42mm lens aperture With a magnification of 2.1 times, you are seeing objects about twice as large as with the naked eye. The 'fast' lenses used ensure that a large amount of light enters the eyes. And, suddenly, you can observe not just the main stars in a constellation, but many you have probably never even seen before. The perfect complement to a telescope How would you like to sit comfortably in a chair and 'stroll' through the Milky Way? The clouds in our galaxy look even more impressive. And, of course, you will also discover star clusters and nebulae. Also discover the Andromeda Galaxy, the h and Chi Persei open star clusters or the Lagoon Nebula in a whole new way. They all look absolutely fantastic through these star field binoculars. Observe with or without spectacles These star filed binoculars have large eyepieces and a comfortable viewing. You can enjoy the entire field of view, without restriction, even if you wear spectacles. These star field binoculars come with a wrist strap to ensure that they stay securely in your grip at all times. And a soft nylon bag provides the appropriate protection for your binoculars. The kit includes: Star field binoculars Lens and eyepiece covers Wrist strap Nylon bag with strap 1/4 inch camera thread (for connection to a camera tripod with adapter)