Frequently Asked Questions – Binoculars
"How to choose the appropriate magnification?"
The binoculars go with a set of numbers. The first number indicates their magnification (7x50, 8x25, 10x42, and so on). If you see two numbers divided by a hyphen, it means that the binoculars feature variable magnification (for example, 7–25x42). If two numbers are divided by a slash, the binoculars feature different eyepieces for various magnifications (for example, 7/25x42).
Higher magnification creates magnified images of the objects, but it cuts the observed field of view. This way, low magnification is useful in some situations. Magnification in the range of 2x to 5x is suitable for monoculars. For example, almost all night vision monoculars feature magnification in this range. Magnifications between 7x and 10x are perfect for a lot of applications including long walks, hunting, and observing wildlife. These binoculars are often called "universal" because they create a good quality image regardless of observation conditions. The classic examples of these binoculars are Levenhuk Sherman PLUS 8x42 Binoculars and Levenhuk Heritage BASE 8x30 Binoculars. Spyglasses feature higher magnifications, approximately 20x.
Astronomy binoculars normally feature 10–20x magnification. Perhaps you should also take a look at the telescopes or binoculars with 20–30x magnifications or higher. Some models feature magnification up to 160x (and higher) using different eyepieces, but it is impossible to perform handheld observations. Such binoculars are installed on a tripod or on a special mount.
"How to choose objective lenses of an appropriate size?"
The larger an objective is, the more light it gathers and that makes binoculars or any other optical instrument more effective in poor illumination conditions, for example, on a cloudy or foggy day or in twilight. However, large objectives are heavier and more expensive. The largest ones may require a tripod. 20mm objectives are suitable for daytime observations of natural landscapes or hunting, while 60mm, 80mm, or even 100mm objectives are more effective for astronomy observations and studying celestial objects.
Binoculars for daytime observations:
Astronomy binoculars:
"Which binoculars to choose: with Porro prisms or with roof prisms?"
Binoculars with Porro prisms are designed using Z-shape prisms. These prisms are of a large volume and, therefore, their objectives are located at a comparatively long distance from each other. This type of binoculars is usually bulkier but it works well and comes at inexpensive price. They create a better stereoscopic image and a wider field of view but have more chances to break down when they experience impact or falling. Roof prisms binoculars have a straight-lined shape, they are compact and lightweight but require special prism coatings to work properly. They are more durable, less prone to fogging or allowing dust inside the binoculars.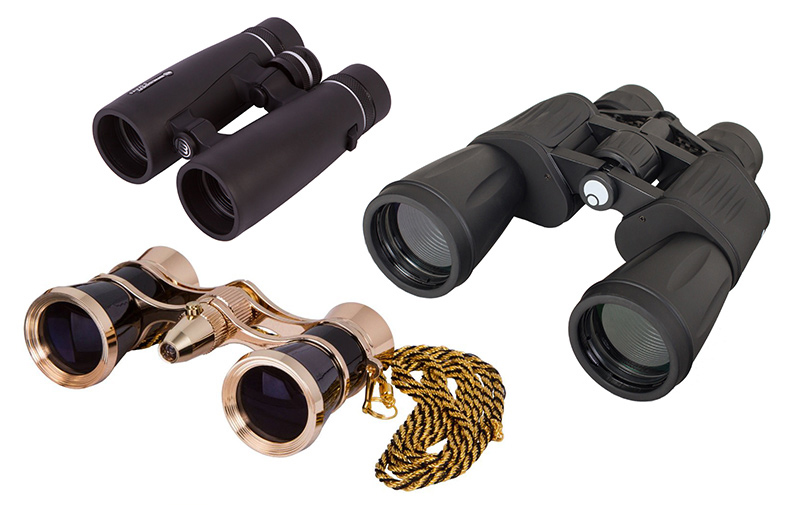 The choice of Porro prisms is justified if you want to have an inexpensive reliable optical instrument. If you are going to use binoculars for hunting, hiking, or trips out on the water, we recommend that you consider purchasing binoculars with roof prisms. They are more lightweight and compact and will shortly live up to your expectations. These binoculars are worth their cost. Anyway, both types if prisms are able to create bright and sharp images: that mostly depends on objectives size and other parts of binoculars than on differences in prisms design. Binoculars with Porro prisms may be compact, field, and may be used for stationary observations. The binoculars with roof prisms are rarely mounted on a tripod (these models exist, however) and are mostly designed for everyday use. It is worth mentioning that there are powerful large-aperture models among roof prisms binoculars.
"What is a field of view?"
A field of view is an area visible through an optical tool. It shows the width of a field of view at a 1000m (0.6mi) distance. The wide-angle optics show a wide field of view.
"What is an eye relief?"
This is a distance between the eyes and binoculars or a spotting scope, at which you should hold an optical tool during observations. A long eye relief means you will be able to use the binoculars while wearing glasses.
"What is an exit pupil?"
An exit pupil is an imaginary cut of eyepiece lenses through which the light travels. An exit pupil should be nearly as large as a pupil of the observer; otherwise, some light will get lost.
Binoculars for twilight observations and binoculars designed especially for astronomy observations feature an enlarged exit pupil that corresponds to the pupil in the dark.
"What is a phase change?"
A phase change is a specific problem for tools with prisms. The light goes through a prism and may cause a phase change of light wave that leads to contrast and resolution loss. The resulting image is dim and blurred.
High-quality roof prisms use a special phase coating that adjust light waves phases thus providing a sharp and contrast image.
"What do BaK-4 glass and BK-7 glass mean?"
BaK-4 and BK-7 are widespread types of glass used for prisms manufacturing. Both types relate to crown glass, but BaK-4 glass features a higher refraction index than BK-7 glass. BaK-4 is more expensive to manufacture, but it is preferable to use because it creates a sharper image and features a round exit pupil.
"Why do binoculars have coating?"
Every time the light travels through the air and strikes the glass, a small part of it reflects from the glass boundaries. The optical system in binoculars has many glass surfaces, lenses and prisms. Thus, the light loss could have been significant but for anti-reflective coatings. This is especially important for roof prisms binoculars that cannot work properly without special coatings.
The first binoculars did not have anti-reflective coatings and suffered from the diffused light inside the optical tube that made images look blurry and low-contrast. Although it can be partially compensated with an objective of a larger size, you will receive a heavy and bulky instrument, while thin lens coatings are almost weightless. These days, almost 95% of light stays in the base ray path if the coatings are good enough. Roof prisms, for example, create a more contrast image if they have a special coating that prevents a phase change.
The manufacturers use the same words for describing coatings:
"Coated" means at least one surface has a coating.
"Fully coated" means all air-glass surfaces have coatings except for plastic lenses.
"Multi-coated" means at least one surface has a multi-layer coating.
"Fully multi-coated" means all air-glass surfaces have a multi-layer coating.
"How to choose an optical tool that will be comfortable to use?"
You should hold binoculars or a spotting scope in a retail store to learn more about its weight, body material, eyecups, and so on. Soft eyecups and the focusing mechanism are especially important if you are going to use an optical instrument frequently. If you are going to perform handheld observations, the binoculars should not be heavier than 1-1.5kg (2.2-3.3lbs); otherwise, you will need to mount them on a tripod or a stand. In general, binoculars are more practical than monoculars or spotting scopes because they have two tubes for holding during observations.
"Should I purchase wide angle binoculars?"
When observing through an optical instrument, e.g. binoculars, you observe a certain area. This area is called a field of view. Wide angle optics provide a wider field of view than regular binoculars. This is achieved due to use of specially optimized lenses and prisms. For example, ordinary binoculars show a 115m (377ft) field of view at a 1km (0.6mi) distance, while wide angle binoculars may show 160m (525ft) at a 1km (0.6mi) distance. This may be especially useful for sky observations or watching car race if you need to observe a large area at once.
"What are the additional accessories for binoculars?"
There is a great variety of accessories for binoculars – various pouches and straps, special clamps, eyecups, interchangeable eyepieces, cleaning tools sets, and more. If you have to carry binoculars, ensure to use reliable straps to wear them comfortably. A sturdy tripod is required for star observations.
The interchangeable eyepieces are commonly used for binocular telescopes to achieve various magnifications. Since components for variable magnification are still not perfect, interchangeable eyepieces are very useful accessories. Always make sure the eyepieces are compatible with your binoculars.
The optics cleaning tools will come in useful for powerful binoculars or telescopes.