Omegon Nightstar 15x70 Binoculars
Porro prisms. Magnification: 15x. Objective lens diameter: 70mm
Omegon 15x70 Nightstar - Lightweight Astronomy and Nature Binoculars.
These powerful Omegon 15x70 Nightstar binoculars are the 'little brother' of the 20x80 model, and are lighter and more compact. Even so, these 15x70s are perfect for roaming through the night sky. With an exit pupil of 4.7mm, the view through the binoculars is very bright so making them also suitable for nature watching in the twilight.
All the lens elements are multi-coated, providing an improved optical image. The binoculars provide an impressively bright image and a sharp field of view which is crisp right out to the edge. The rubber eyecups seat snugly in the eye sockets to increase observer comfort. Spectacle wearers also get their money's worth: The rubber eyecups may be folded down and, with 18mm of eye relief, almost any spectacle wearers can see the entire field of view.
The 70mm aperture optics offer around twice as much light as binoculars with a 50mm aperture. Even so, the dimensions and weight are not significantly more than those of smaller aperture binoculars.
The advantages in a nutshell:
Bright image from 70mm aperture
18mm eye relief
4.7mm exit pupil
Full multi-coating of all optical elements
Rubber eyecups
Not significantly heavier than other binoculars with smaller apertures
10 metre close focus distance
Tripod connection thread
Omegon Nightstar 15x70 Binoculars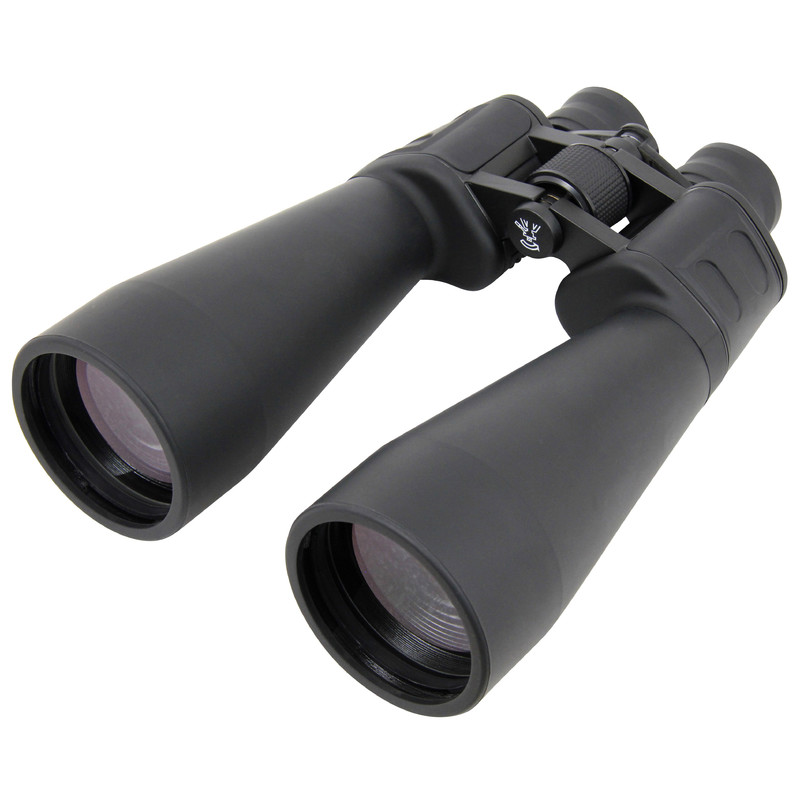 Omegon 15x70 Nightstar - Lightweight Astronomy and Nature Binoculars. These powerful Omegon 15x70 Nightstar binoculars are the 'little brother' of the 20x80 model, and are lighter and more compact. Even so, these 15x70s are perfect for roaming through the night sky. With an exit pupil of 4.7mm, the view through the binoculars is very bright so making them also suitable for nature watching in the twilight. All the lens elements are multi-coated, providing an improved optical image. The binoculars provide an impressively bright image and a sharp field of view which is crisp right out to the edge. The rubber eyecups seat snugly in the eye sockets to increase observer comfort. Spectacle wearers also get their money's worth: The rubber eyecups may be folded down and, with 18mm of eye relief, almost any spectacle wearers can see the entire field of view. The 70mm aperture optics offer around twice as much light as binoculars with a 50mm aperture. Even so, the dimensions and weight are not significantly more than those of smaller aperture binoculars. The advantages in a nutshell: Bright image from 70mm aperture 18mm eye relief 4.7mm exit pupil Full multi-coating of all optical elements Rubber eyecups Not significantly heavier than other binoculars with smaller apertures 10 metre close focus distance Tripod connection thread