Levenhuk Broadway 325C Opera Glasses with Chain
Binoculars with a chain. Magnification: 3x. Objective lens diameter: 25mm
Lightweight and compact Levenhuk Broadway 325C Opera Glasses are a good choice for attending concerts and theater performances. These opera glasses will become your reliable assistant in the Mariinsky Theatre, Bolshoi Theatre, La Scala or the Metropolitan Opera. A colourful body with inlaid gold elements adds to an evening outfit.
The optical elements are made of BaK-4 glass. The lenses fully coated with multi-layered coating minimize light loss. The transmitted image is bright, with sharp contours and correct color rendering. A wide field of view and 3x magnification are useful for indoor observations. Close focus of 3.5m allows for observing all the details on a stage even at a close distance.
These binoculars feature a central focusing system: both optical tubes are focused simultaneously with a small focusing wheel located between the eyepieces. This optical tool features a lightweight and durable metal body. The interpupillary distance is adjustable in a range from 55 to 70mm. A golden chain is attached to the body for wearing the glasses around your neck or over a shoulder.
Features:
Lightweight opera glasses with central focusing
Useful 3x magnification
Wide field of view
BaK-4 glass optics
Colorful design and excellent optical features
Useful removable chain for wearing it around the neck
The kit includes:
Levenhuk Broadway 325C Opera Glasses
Pouch
Sueded cleaning cloth
User guide and warranty card
Levenhuk Broadway 325C Opera Glasses with Chain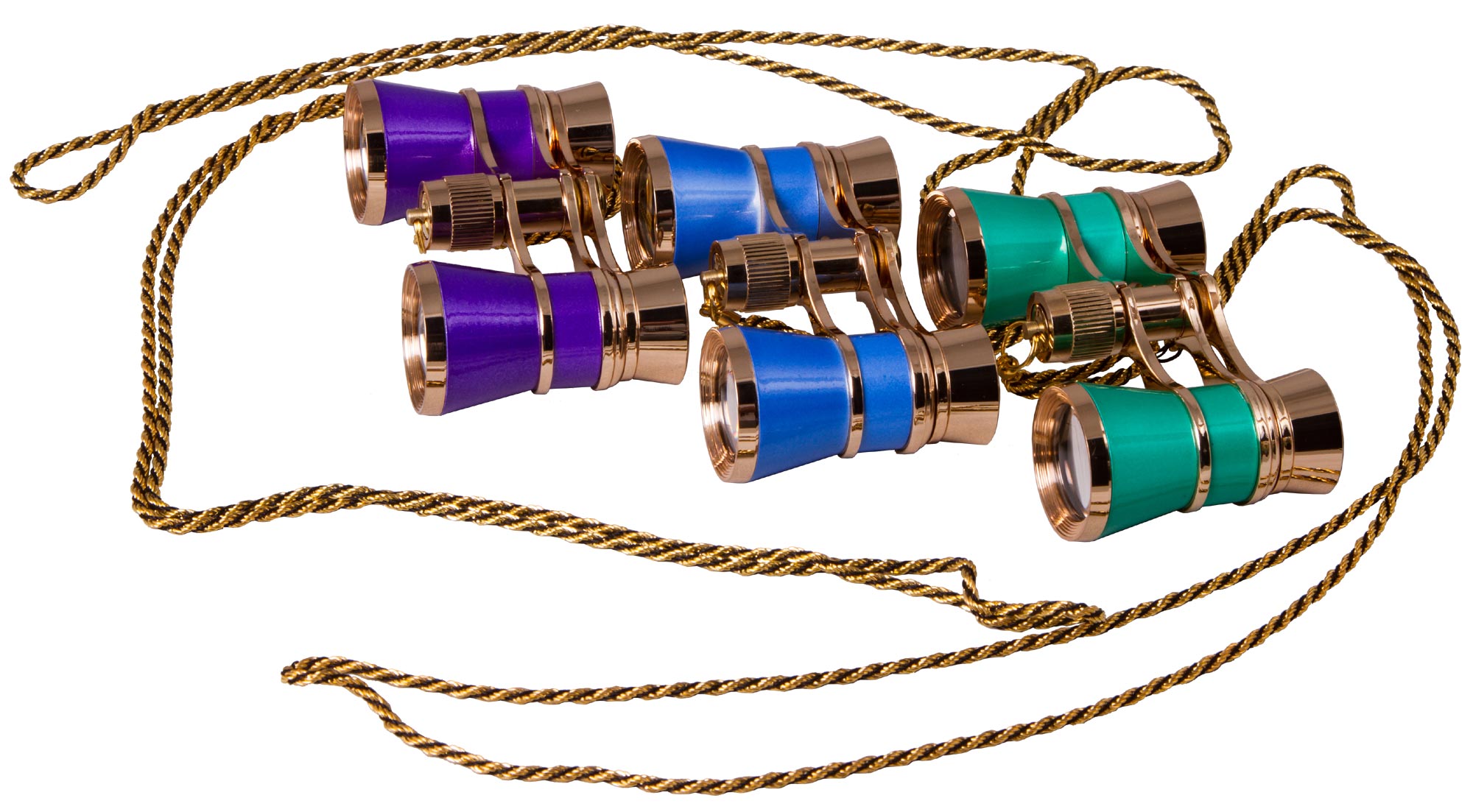 Lightweight and compact Levenhuk Broadway 325C Opera Glasses are a good choice for attending concerts and theater performances. These opera glasses will become your reliable assistant in the Mariinsky Theatre, Bolshoi Theatre, La Scala or the Metropolitan Opera. A colourful body with inlaid gold elements adds to an evening outfit.The optical elements are made of BaK-4 glass. The lenses fully coated with multi-layered coating minimize light loss. The transmitted image is bright, with sharp contours and correct color rendering. A wide field of view and 3x magnification are useful for indoor observations. Close focus of 3.5m allows for observing all the details on a stage even at a close distance.These binoculars feature a central focusing system: both optical tubes are focused simultaneously with a small focusing wheel located between the eyepieces. This optical tool features a lightweight and durable metal body. The interpupillary distance is adjustable in a range from 55 to 70mm. A golden chain is attached to the body for wearing the glasses around your neck or over a shoulder.Features:Lightweight opera glasses with central focusing Useful 3x magnification Wide field of view BaK-4 glass optics Colorful design and excellent optical features Useful removable chain for wearing it around the neck The kit includes:Levenhuk Broadway 325C Opera Glasses Pouch Sueded cleaning cloth User guide and warranty card