Discovery Gator 8x40 Binoculars
Field binoculars. Water-resistant. Porro prisms. Magnification: 8x. Objective lens diameter: 40mm
Discovery Channel informs, entertains and inspires its audiences around the globe about the world in all its wonder, diversity and amazement. Offering millions of people the chance to discover, and satisfy their curiosity, Discovery offers a compelling mix of stories across genres including science and technology, exploration, adventure, history and in depth behind-the-scenes glimpses at the people, places and organisations that shape and share the world we live in.
We proudly present the Discovery optics series that is produced by Levenhuk and endorsed by Discovery.
---
These binoculars offer the classic combination of the 8x magnification and 40mm lenses. Considered a "gold standard" among many binoculars due to the features that make it multifunctional. On the one hand, it zooms in perfectly. On the other hand, it offers a wide field of view. The Discovery Gator 8x40 binoculars are an excellent choice for hunting, hiking, bird and animal watching, territory protection, and other outdoor activities.
The design is based on Porro prisms. The optics are made of glass and fully covered. The binoculars provide a bright, vivid, and high contrast image with a good definition of fine details. The central focusing and the diopter adjustment, located on the right eyepiece, help regulate sharpness. The interpupil distance is adjustable as well. The simple rubber eyecups ensure maximum comfort during extended observation periods.
The non-slip rubber protects the optics and mechanics against moisture, dust, and dirt. It also secures the grip, especially when held with one hand. Mountable on a tripod
.
Key features:
Classic Porro prisms, 8x magnification
Fully coated optics made of BK-7 glass
Diopter adjustment, rubber eyecups
Rubberized water-resistant body
Mountable on a tripod
The kit includes:
Binoculars
Eyepiece and objective lens caps
Strap
Cleaning wipe
Pouch
User manual and warranty card
Discovery Gator 8x40 Binoculars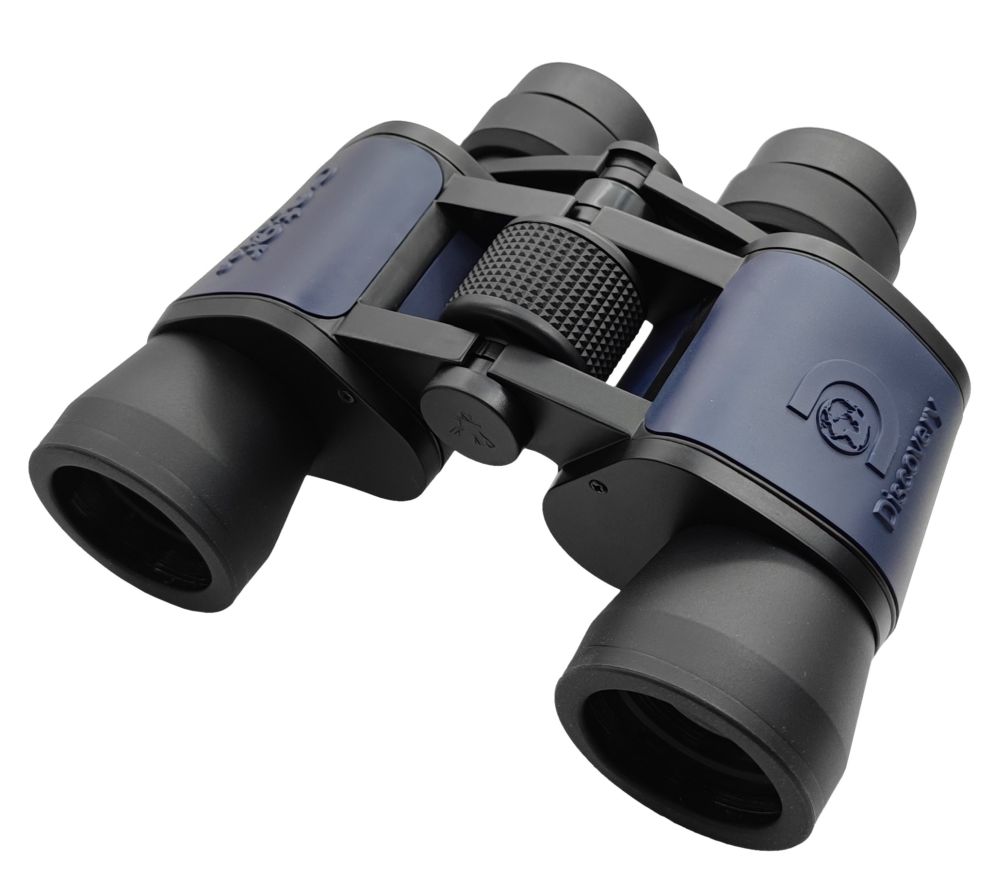 {: style="border:0px; margin-bottom: -5px; width:15%;" } Discovery Channel informs, entertains and inspires its audiences around the globe about the world in all its wonder, diversity and amazement. Offering millions of people the chance to discover, and satisfy their curiosity, Discovery offers a compelling mix of stories across genres including science and technology, exploration, adventure, history and in depth behind-the-scenes glimpses at the people, places and organisations that shape and share the world we live in. We proudly present the Discovery optics series that is produced by Levenhuk and endorsed by Discovery. These binoculars offer the classic combination of the 8x magnification and 40mm lenses. Considered a "gold standard" among many binoculars due to the features that make it multifunctional. On the one hand, it zooms in perfectly. On the other hand, it offers a wide field of view. The Discovery Gator 8x40 binoculars are an excellent choice for hunting, hiking, bird and animal watching, territory protection, and other outdoor activities. The design is based on Porro prisms. The optics are made of glass and fully covered. The binoculars provide a bright, vivid, and high contrast image with a good definition of fine details. The central focusing and the diopter adjustment, located on the right eyepiece, help regulate sharpness. The interpupil distance is adjustable as well. The simple rubber eyecups ensure maximum comfort during extended observation periods. The non-slip rubber protects the optics and mechanics against moisture, dust, and dirt. It also secures the grip, especially when held with one hand. Mountable on a tripod . Key features: Classic Porro prisms, 8x magnification Fully coated optics made of BK-7 glass Diopter adjustment, rubber eyecups Rubberized water-resistant body Mountable on a tripod The kit includes: Binoculars Eyepiece and objective lens caps Strap Cleaning wipe Pouch User manual and warranty card