Omegon Pro Astrograph N 200/640 OTA
Apochromatic refractor. Aperture: 200mm. Focal length: 640mm
Omegon 200mm f/3.2 Newtonian Astrograph
The compact and portable Newtonian Astrograph has been developed for the dedicated astrophotographer who wants a powerful telescope with very good sharpness over a large field of view. The Astrograph has been developed for modern sensors with high resolution and large diameters up to full format.
The extremely fast aperture ratio of f/3.2 allows you to take very deep shots of deep-sky objects in just one night, while maintaining very high magnification. Images of extended nebula objects or galaxy clusters are thus possible.
The highlights at a glance:

Parabolic primary mirror with a 200mm, f/3.2 aperture
3" corrector with 0.85 reduction built into the focuser
90mm diameter secondary mirror (minor axis) for full illumination up to full format
Large 3" rack and pinion focuser with reduction and M48 adapter
Tilting possibility at the focuser
Adjustable and stable holder for primary mirror and secondary mirror
Fully illuminated and corrected image field of 44mm diameter
Working distance of 55mm from the M48x0.75 thread
Omegon Pro Astrograph N 200/640 OTA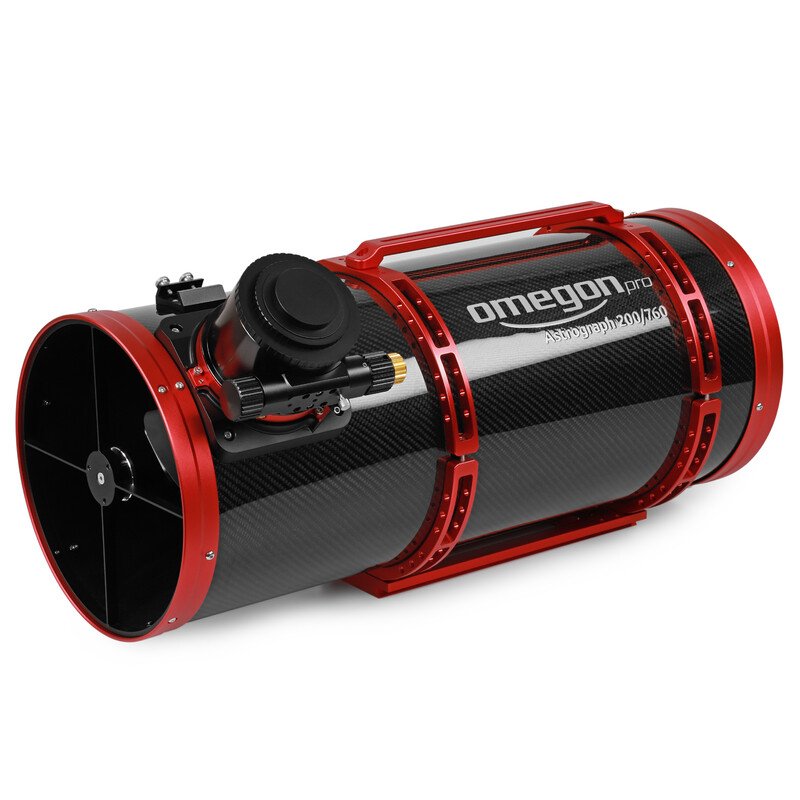 Omegon 200mm f/3.2 Newtonian Astrograph The compact and portable Newtonian Astrograph has been developed for the dedicated astrophotographer who wants a powerful telescope with very good sharpness over a large field of view. The Astrograph has been developed for modern sensors with high resolution and large diameters up to full format. The extremely fast aperture ratio of f/3.2 allows you to take very deep shots of deep-sky objects in just one night, while maintaining very high magnification. Images of extended nebula objects or galaxy clusters are thus possible. The highlights at a glance: Parabolic primary mirror with a 200mm, f/3.2 aperture 3" corrector with 0.85 reduction built into the focuser 90mm diameter secondary mirror (minor axis) for full illumination up to full format Large 3" rack and pinion focuser with reduction and M48 adapter Tilting possibility at the focuser Adjustable and stable holder for primary mirror and secondary mirror Fully illuminated and corrected image field of 44mm diameter Working distance of 55mm from the M48x0.75 thread