Omegon Pro APO AP 72/400 Quintuplet Refractor OTA
Apochromatic refractor. Aperture: 72mm. Focal length: 400mm
Five lenses, double ED and a flat field of view to marvel at
What is it that drives astrophotographers time and again? The desire to capture objects and the sky in high quality. With this apochromat, you can do just that. The specially selected ED glass and a colour-pure image result in observations displaying fine details that would not be possible with basic optics. Experience a new standard of quality for yourself.
The highlights at a glance:

72mm quintuplet ED Apo with five lenses, two of which are made of ED glass for an even more brilliant image
A two-lens integrated corrector ensures a flat and illuminated field, also suitable for full-frame cameras with an image circle of up to 44mm
3" focuser with a 1:10 reduction ratio: Easily focus larger and heavier cameras with high precision
140mm back focus
Camera rotates 360° so you can find the right orientation
Why these optics reveal more details
No more images without contrast. This apochromat shows what is really possible: pure-colour and high-contrast observations and astrophotos. The key is a sophisticated optical design with premium ED glass for a crystal-clear image. Compared to most mirror systems, the better-defined optics allow you to see more and finer details when observing the planets, for example. All surfaces of the lens elements are treated with an effective multi-coating to prevent reflections. Enjoy memorable observations and shots.
Large focuser with gearing and ball bearings
Full-frame enthusiasts need space: That is precisely what the geared focuser offers. It beautifully complements the premium optics and produces great illumination and images without shading. Hybrid Crayford and gear technology combines perfectly smooth focusing with high load-bearing capacity. A 1:10 reduction gearing makes precise focusing a breeze. Astrophotographers around the world value precisely these features.
360° rotation for framing the perfect photo
You found the object and focused on it, but with the wrong orientation? Save yourself the trouble of having to start over again at night to align an elongated object with the sensor. This is easy to do in seconds thanks to the 360° rotating focuser.
CNC tube designed for the best optics
The tube of the Omegon Apo consists of a CNC machined metal construction with a sophisticated anti-reflective aperture system. The entire tube is lined with a velvet-like, black fabric.
Extending and fixing the dew cap
The Apo's dew cap can be extended and fixed with a screw. It can be retracted for transport.
A camera adaptor is included: male M48x0.75
Omegon Pro APO AP 72/400 Quintuplet Refractor OTA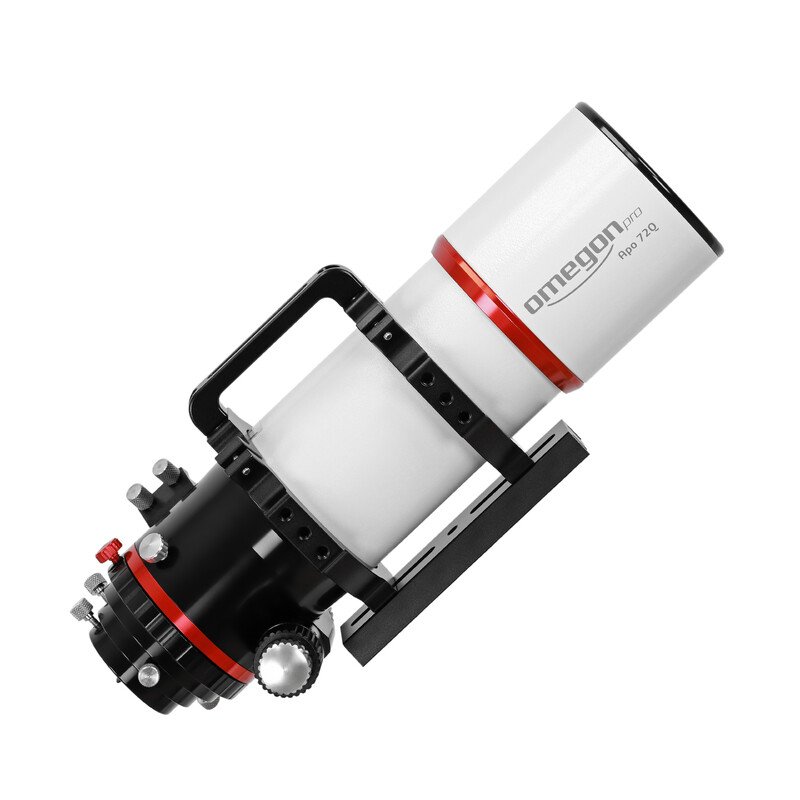 Five lenses, double ED and a flat field of view to marvel atWhat is it that drives astrophotographers time and again? The desire to capture objects and the sky in high quality. With this apochromat, you can do just that. The specially selected ED glass and a colour-pure image result in observations displaying fine details that would not be possible with basic optics. Experience a new standard of quality for yourself.The highlights at a glance:72mm quintuplet ED Apo with five lenses, two of which are made of ED glass for an even more brilliant imageA two-lens integrated corrector ensures a flat and illuminated field, also suitable for full-frame cameras with an image circle of up to 44mm3" focuser with a 1:10 reduction ratio: Easily focus larger and heavier cameras with high precision140mm back focusCamera rotates 360° so you can find the right orientationWhy these optics reveal more detailsNo more images without contrast. This apochromat shows what is really possible: pure-colour and high-contrast observations and astrophotos. The key is a sophisticated optical design with premium ED glass for a crystal-clear image. Compared to most mirror systems, the better-defined optics allow you to see more and finer details when observing the planets, for example. All surfaces of the lens elements are treated with an effective multi-coating to prevent reflections. Enjoy memorable observations and shots.Large focuser with gearing and ball bearingsFull-frame enthusiasts need space: That is precisely what the geared focuser offers. It beautifully complements the premium optics and produces great illumination and images without shading. Hybrid Crayford and gear technology combines perfectly smooth focusing with high load-bearing capacity. A 1:10 reduction gearing makes precise focusing a breeze. Astrophotographers around the world value precisely these features.360° rotation for framing the perfect photoYou found the object and focused on it, but with the wrong orientation? Save yourself the trouble of having to start over again at night to align an elongated object with the sensor. This is easy to do in seconds thanks to the 360° rotating focuser.CNC tube designed for the best opticsThe tube of the Omegon Apo consists of a CNC machined metal construction with a sophisticated anti-reflective aperture system. The entire tube is lined with a velvet-like, black fabric.Extending and fixing the dew capThe Apo's dew cap can be extended and fixed with a screw. It can be retracted for transport.A camera adaptor is included: male M48x0.75