Levenhuk Blaze BASE 80 Spotting Scope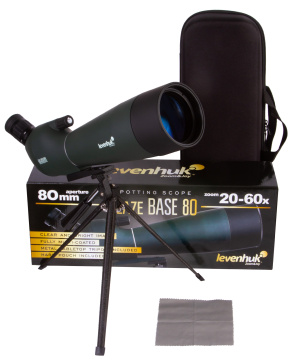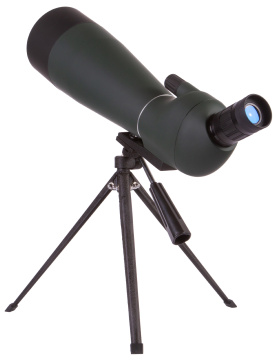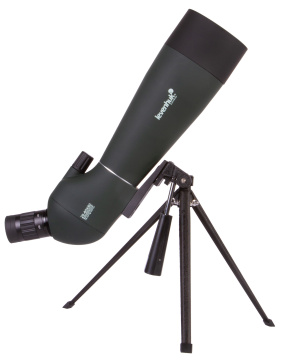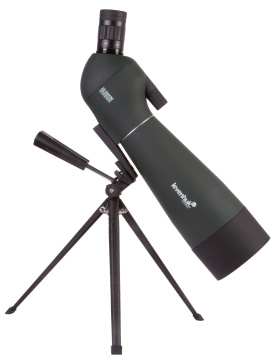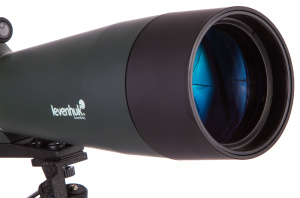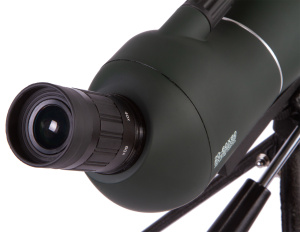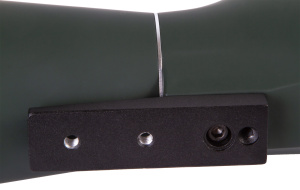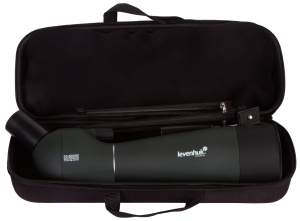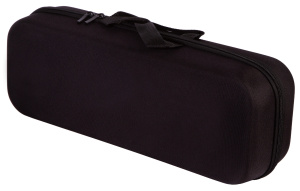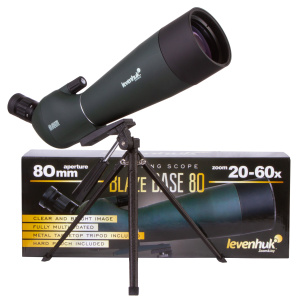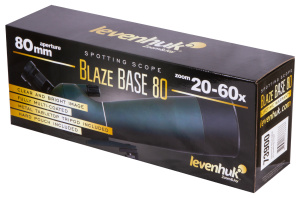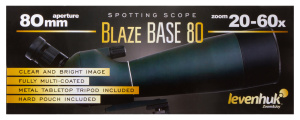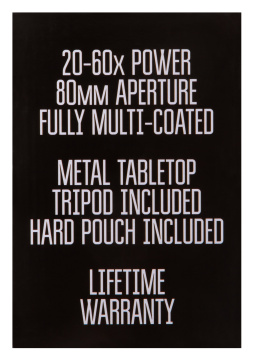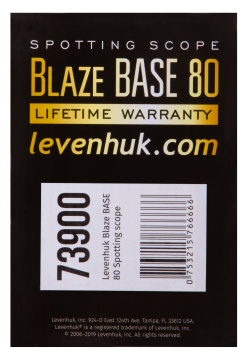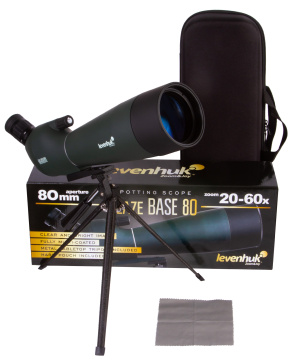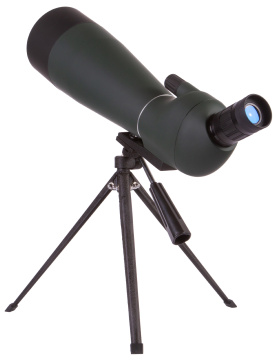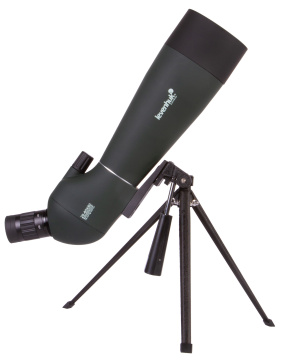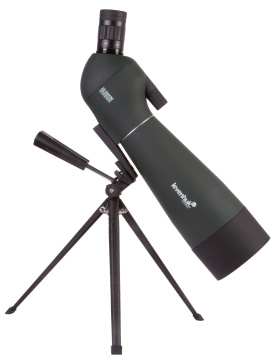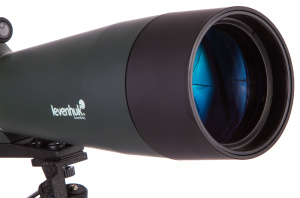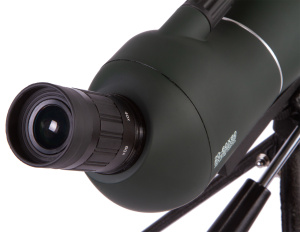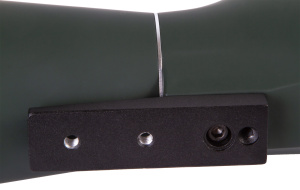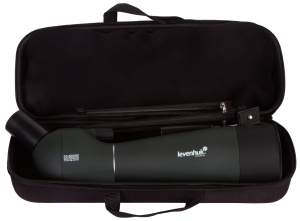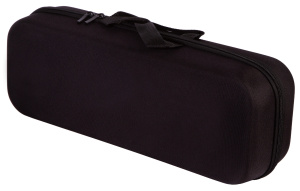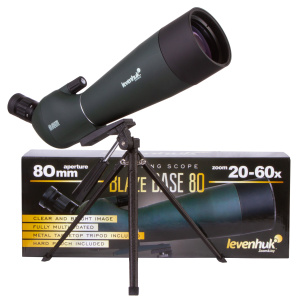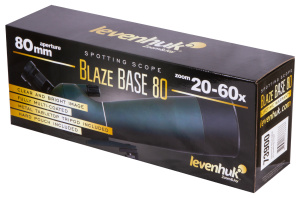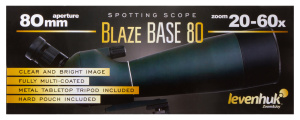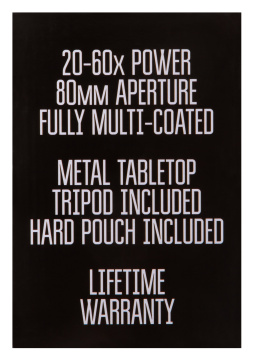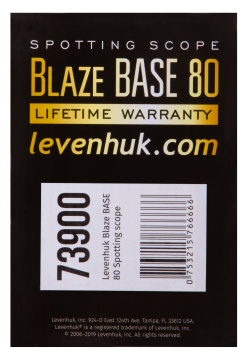 An angled eyepiece. Magnification: 20–60x. Objective lens diameter: 80mm
The Levenhuk Blaze BASE 80 Spotting Scope with a zoom objective lens is great for observing very large and distant objects. Therefore, this model is perfect for wildlife viewing. At low magnifications, you can study groups of birds or animals, while at higher magnifications you can view the smallest details of the landscape. An angled eyepiece provides a comfortable observation experience of objects nearer the zenith. Levenhuk Blaze BASE 80 is a perfect choice for outdoor fans, hunters, or ornithologists.
The optics are made of BK-7 glass. All of the optical elements are coated with several layers of anti-reflecting coating. This spotting scope provides smooth magnification in a range from 20 to 60x. Due to its large-aperture lens, the spotting scope gathers lots of light, delivering a clear and high-contrast image even in cloudy weather or at dusk. A long eye relief allows for comfortable viewing while wearing glasses.
The body of Levenhuk Blaze BASE 80 is made of plastic. It is adaptable to any standard tripod with 1/4" thread. The kit includes a metal tripod to place a spotting scope on a table or windowsill. A hard case with a handle is great for storage and transportation.
Features:
Angled eyepiece
Zoom objective
Fully multi-coated optics are made of BK-7 glass
Tripod and hard pouch included
The kit includes:
Spotting scope
Metal tabletop tripod
Eyepiece and objective lens protective caps
Cleaning wipe
Hard pouch for storage and transportation
User manual and lifetime warranty
Levenhuk Blaze BASE 80 Spotting Scope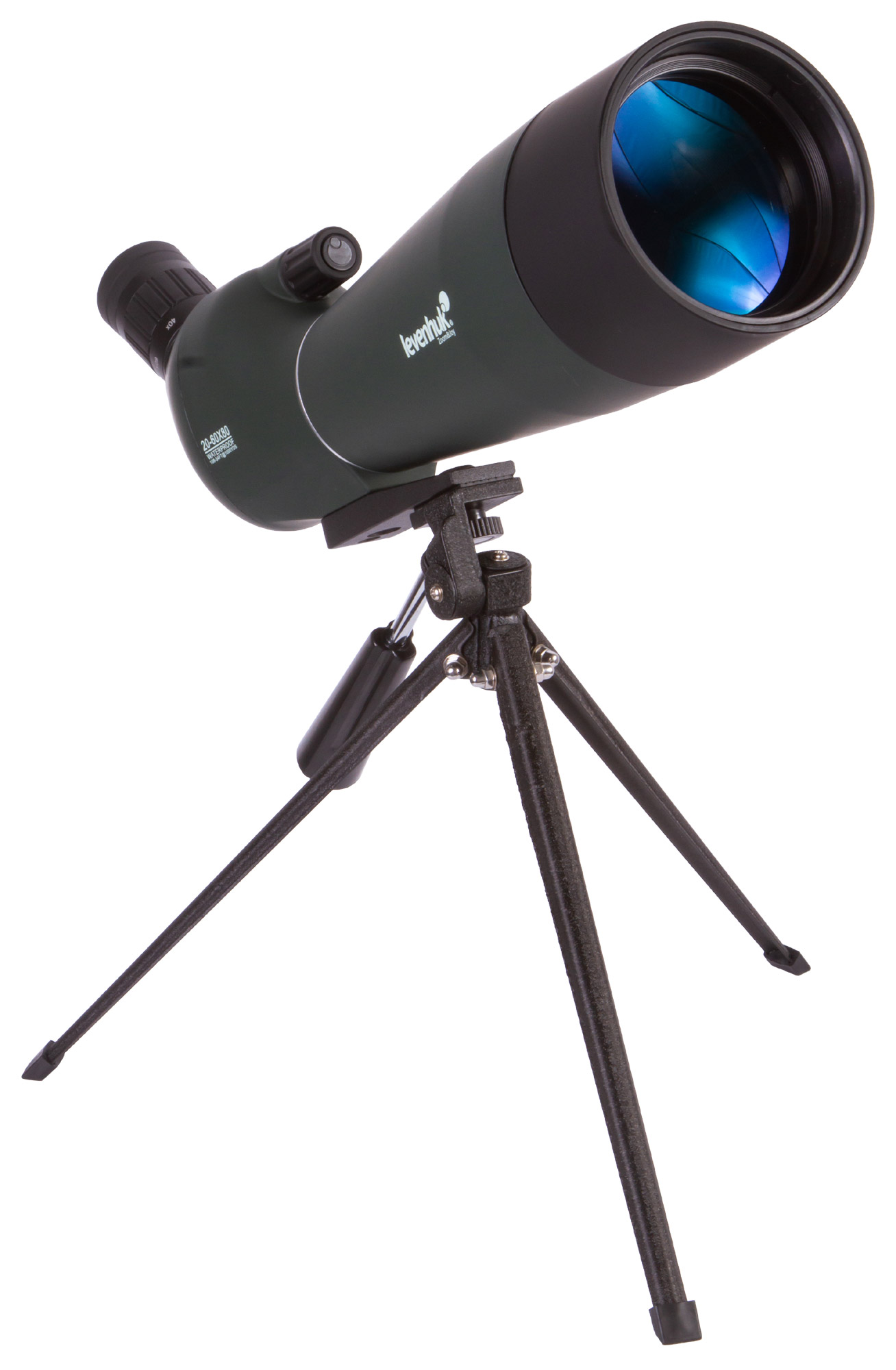 The Levenhuk Blaze BASE 80 Spotting Scope with a zoom objective lens is great for observing very large and distant objects. Therefore, this model is perfect for wildlife viewing. At low magnifications, you can study groups of birds or animals, while at higher magnifications you can view the smallest details of the landscape. An angled eyepiece provides a comfortable observation experience of objects nearer the zenith. Levenhuk Blaze BASE 80 is a perfect choice for outdoor fans, hunters, or ornithologists. The optics are made of BK-7 glass. All of the optical elements are coated with several layers of anti-reflecting coating. This spotting scope provides smooth magnification in a range from 20 to 60x. Due to its large-aperture lens, the spotting scope gathers lots of light, delivering a clear and high-contrast image even in cloudy weather or at dusk. A long eye relief allows for comfortable viewing while wearing glasses. The body of Levenhuk Blaze BASE 80 is made of plastic. It is adaptable to any standard tripod with 1/4" thread. The kit includes a metal tripod to place a spotting scope on a table or windowsill. A hard case with a handle is great for storage and transportation. Features: Angled eyepiece Zoom objective Fully multi-coated optics are made of BK-7 glass Tripod and hard pouch included The kit includes: Spotting scope Metal tabletop tripod Eyepiece and objective lens protective caps Cleaning wipe Hard pouch for storage and transportation User manual and lifetime warranty