Levenhuk Blaze BASE 80 Spotting Scope
An angled eyepiece. Magnification: 20–60x. Objective lens diameter: 80mm
Levenhuk Blaze BASE 80 is a high-aperture spotting scope with smooth variable magnification. It is a wonderful assistant in studying wildlife and urban landscapes. Small magnifications are handy for observing extended areas, while significant magnification is suitable for observing distant objects. An angled eyepiece allows for following the circumzenithal area without any discomfort, providing comfortable lengthy observations, such as following the flight of birds.
All of the optical elements are made of BK-7 glass and protected with multiple layers of anti-reflective coating. An 80mm objective lens gathers enough light for performing observations in low illumination, e.g. inclement or cloudy weather, or twilight. The magnification range is 20–60x. The spotting scope delivers a sharp, contrastive, and geometrically true image in natural colors. Users with imperfect vision will like long eye relief, which allows for observation with glasses on.
The optics are protected with a lightweight and durable plastic body. A standard 1/4" thread allows for installing the spotting scope on a tripod. The kit includes a metal tabletop tripod and a hard pouch for storage and transportation.
Features:
Angled eyepiece
Zoom objective
Fully multi-coated optics are made of BK-7 glass
Tripod and hard pouch included
The kit includes:
Spotting scope
Metal tabletop tripod
Eyepiece and objective lens protective caps
Cleaning wipe
Hard pouch for storage and transportation
User manual and lifetime warranty
Levenhuk Blaze BASE 80 Spotting Scope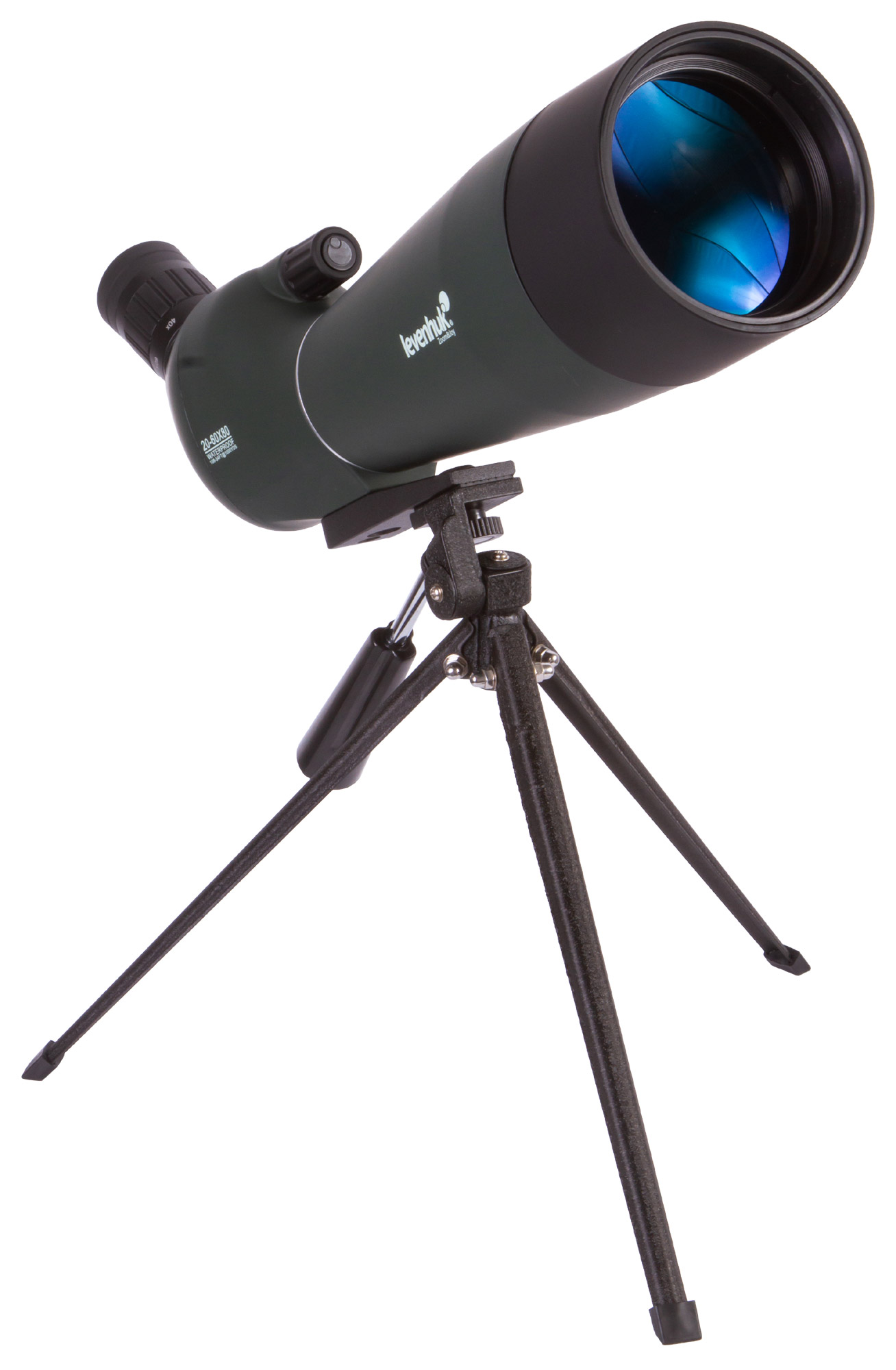 Levenhuk Blaze BASE 80 is a high-aperture spotting scope with smooth variable magnification. It is a wonderful assistant in studying wildlife and urban landscapes. Small magnifications are handy for observing extended areas, while significant magnification is suitable for observing distant objects. An angled eyepiece allows for following the circumzenithal area without any discomfort, providing comfortable lengthy observations, such as following the flight of birds. All of the optical elements are made of BK-7 glass and protected with multiple layers of anti-reflective coating. An 80mm objective lens gathers enough light for performing observations in low illumination, e.g. inclement or cloudy weather, or twilight. The magnification range is 20–60x. The spotting scope delivers a sharp, contrastive, and geometrically true image in natural colors. Users with imperfect vision will like long eye relief, which allows for observation with glasses on. The optics are protected with a lightweight and durable plastic body. A standard 1/4" thread allows for installing the spotting scope on a tripod. The kit includes a metal tabletop tripod and a hard pouch for storage and transportation. Features: Angled eyepiece Zoom objective Fully multi-coated optics are made of BK-7 glass Tripod and hard pouch included The kit includes: Spotting scope Metal tabletop tripod Eyepiece and objective lens protective caps Cleaning wipe Hard pouch for storage and transportation User manual and lifetime warranty