Discovery Crafts DGL 60 Magnifying Glasses
Binocular magnifier with interchangeable lenses and illumination. Magnification: 2.5/4/6/8/10/15/20/25x
Discovery Channel informs, entertains and inspires its audiences around the globe about the world in all its wonder, diversity and amazement. Offering millions of people the chance to discover, and satisfy their curiosity, Discovery offers a compelling mix of stories across genres including science and technology, exploration, adventure, history and in depth behind-the-scenes glimpses at the people, places and organisations that shape and share the world we live in.
We proudly present the Discovery optics series that is produced by Levenhuk and endorsed by Discovery.
---
Discovery Crafts DGL 60 magnifying glasses are complete with 8 paired sets of interchangeable lenses and two head mounts – a textile headband and an eyeglass frame. This makes a magnifier perfect for working with small objects as the size can be easily adjusted to fit any user. This magnifier in equipped with illumination, so you can work easily even when in complete darkness.
All the lenses are made of polymer optical glass. As for the clarity and resolution of the delivered picture, it is in no way worse than standard glass, but stronger and more damage resistant. This model will be a good choice for everyone whose job involves repairing small mechanisms, assessing jewelry, identifying defects on different surfaces, and much more. At home, it can also be helpful for any design or construction hobby, for example, such as model making.
Batteries are required to power the illumination.
Key features:
Binocular magnifier for delicate craftsmanship
8 possible magnifications, the lenses made of polymer optical glass
Built-in LEDs with adjustable angle
Illumination is powered by batteries
The kit includes:
Magnifying glasses
Interchangeable lenses – 16 pcs. (8 sets of 2 lenses)
Textile headband
User manual and warranty card
Discovery Crafts DGL 60 Magnifying Glasses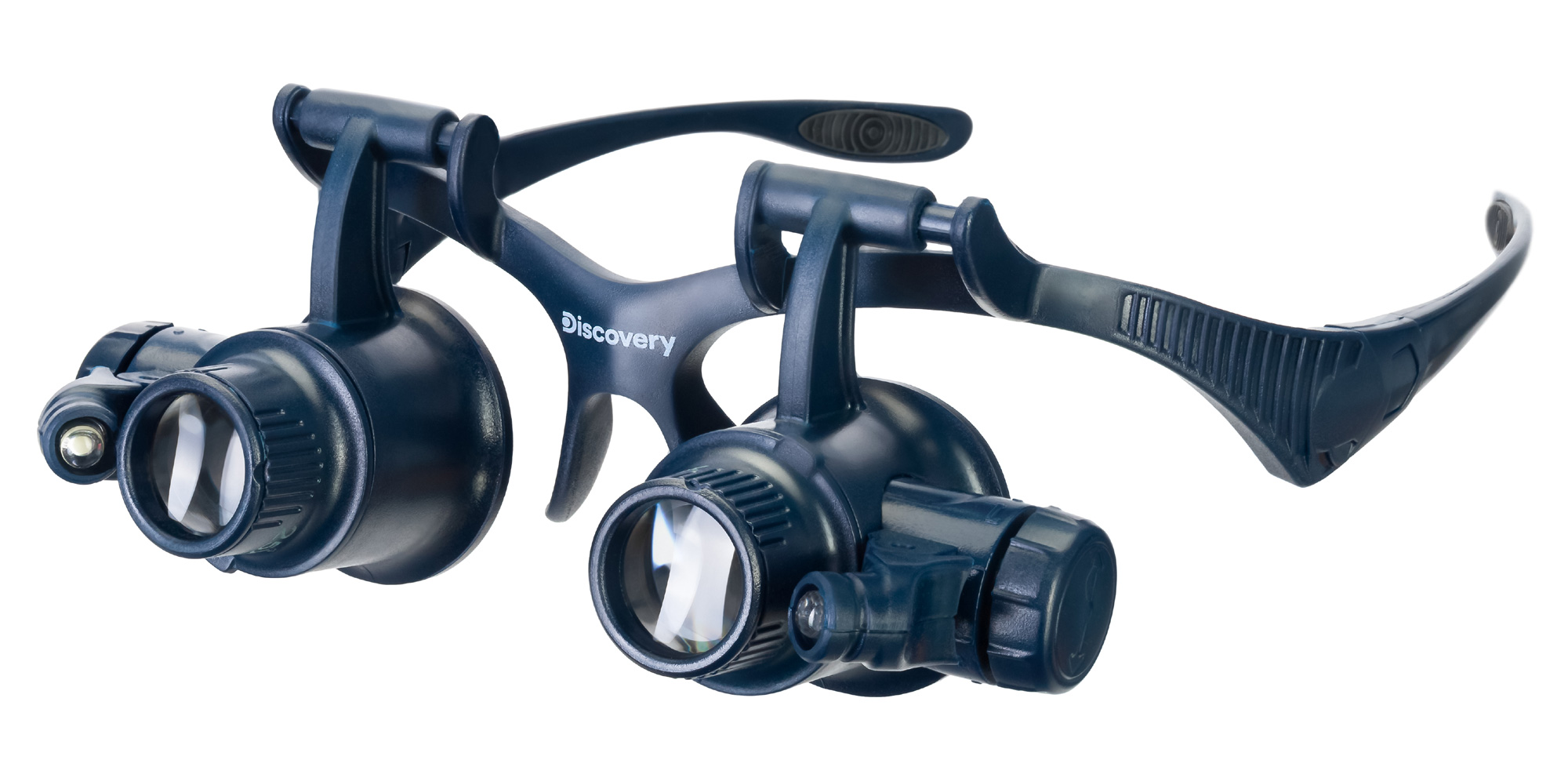 {: style="border:0px; margin-bottom: -5px; width:15%;" } Discovery Channel informs, entertains and inspires its audiences around the globe about the world in all its wonder, diversity and amazement. Offering millions of people the chance to discover, and satisfy their curiosity, Discovery offers a compelling mix of stories across genres including science and technology, exploration, adventure, history and in depth behind-the-scenes glimpses at the people, places and organisations that shape and share the world we live in. We proudly present the Discovery optics series that is produced by Levenhuk and endorsed by Discovery. Discovery Crafts DGL 60 magnifying glasses are complete with 8 paired sets of interchangeable lenses and two head mounts – a textile headband and an eyeglass frame. This makes a magnifier perfect for working with small objects as the size can be easily adjusted to fit any user. This magnifier in equipped with illumination, so you can work easily even when in complete darkness. All the lenses are made of polymer optical glass. As for the clarity and resolution of the delivered picture, it is in no way worse than standard glass, but stronger and more damage resistant. This model will be a good choice for everyone whose job involves repairing small mechanisms, assessing jewelry, identifying defects on different surfaces, and much more. At home, it can also be helpful for any design or construction hobby, for example, such as model making. Batteries are required to power the illumination. Key features: Binocular magnifier for delicate craftsmanship 8 possible magnifications, the lenses made of polymer optical glass Built-in LEDs with adjustable angle Illumination is powered by batteries The kit includes: Magnifying glasses Interchangeable lenses – 16 pcs. (8 sets of 2 lenses) Textile headband User manual and warranty card