Levenhuk Sherman PRO 8x42 Binoculars - Exhibition Item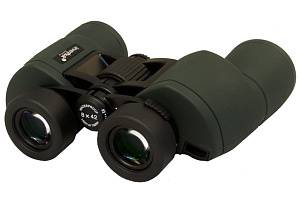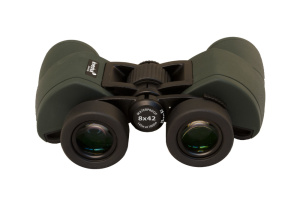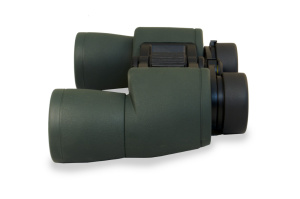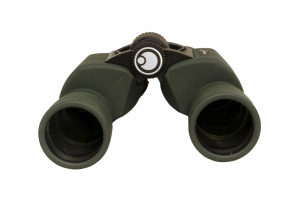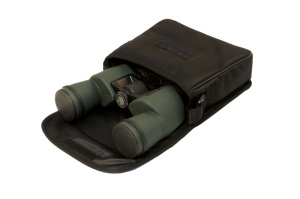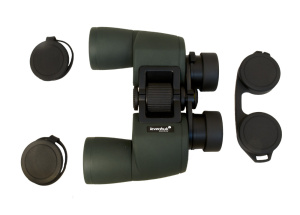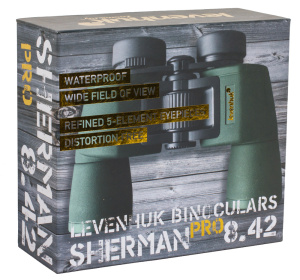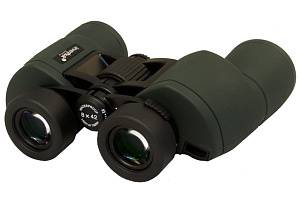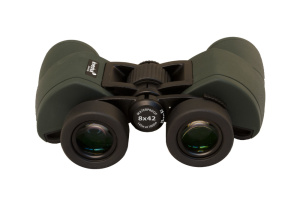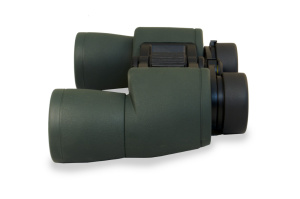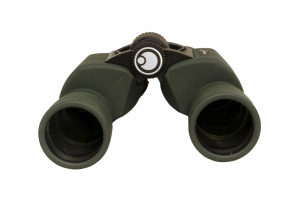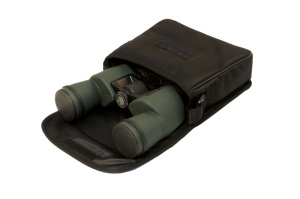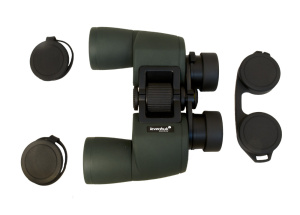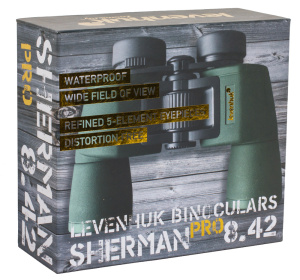 Classic design, wide field of view, all-weather body. Magnification: 8x. Objective lens diameter: 42mm
Accessories
Special price! Further discounts or special offers cannot be applied in this case.
Exhibition copy. The purchased item cannot be returned or exchanged.
This item has color fading on the surface of the product.
Otherwise, the product is fully functional.
Exhibition copies cannot be exchanged or returned for a refund.
---
Birdwatching, hunting, tracking moving objects, exploring the terrain – many situations require the ability to observe as much area as possible. With Levenhuk Sherman PRO 8x42 Binoculars you can be sure to get the widest field of view. First-class fully multi-coated optics guarantee clear and crisp images, objective lenses of 42-mm diameter provide great visibility, and 8x magnification is quite enough to confidently study distant objects. The sturdy rubberized shell is completely waterproof, so these binoculars won't let you down even in rain or snow. Levenhuk Sherman PRO 8x42 Binoculars are the perfect instrument for those who enjoy extreme activities.
The optics of this model are made of high-quality BaK-4 glass. The optical design is based on Porro prisms, which provides for a wide field of view. The binoculars are equipped with two-element objectives and five-element eyepieces. Such construction allows for a flat field of view, so the image stays distortion-free not only in the center, but also at the edges. To further increase light transmission, the lenses are covered with full multilayer coating. To protect the lenses from fogging, the shell is filled with nitrogen. Levenhuk Sherman PRO 8x42 Binoculars produce clear, crisp and vivid images with impeccable color rendition.
The ergonomic design of Levenhuk Sherman PRO 8x42 Binoculars deserves particular mention as it allows you to adjust the binoculars to your individual eyesight. The right eyepiece is equipped with a diopter adjustment ring, and interpupillary distance is also adjustable. Long eye relief provides for comfortable observations even while wearing glasses. You can find the perfect position of the binoculars relative to your eyes using the twist-up eyecups, which are shortened or extended easily, locking securely at the chosen length.
The binoculars come in a sturdy waterproof shell. The embossed rubber surface of the shell makes holding the binoculars very comfortable, and you can use the wide strap included in the kit to hang them around your neck. The tripod mounting jack on the binoculars' body allows you to install them on a tripod if needed.
The kit includes:
Levenhuk Sherman PRO 8x42 Binoculars
Eyepiece and objective lens caps
Strap
Cleaning wipe
Pouch
User guide and lifetime warranty
Levenhuk Sherman PRO 8x42 Binoculars - Exhibition Item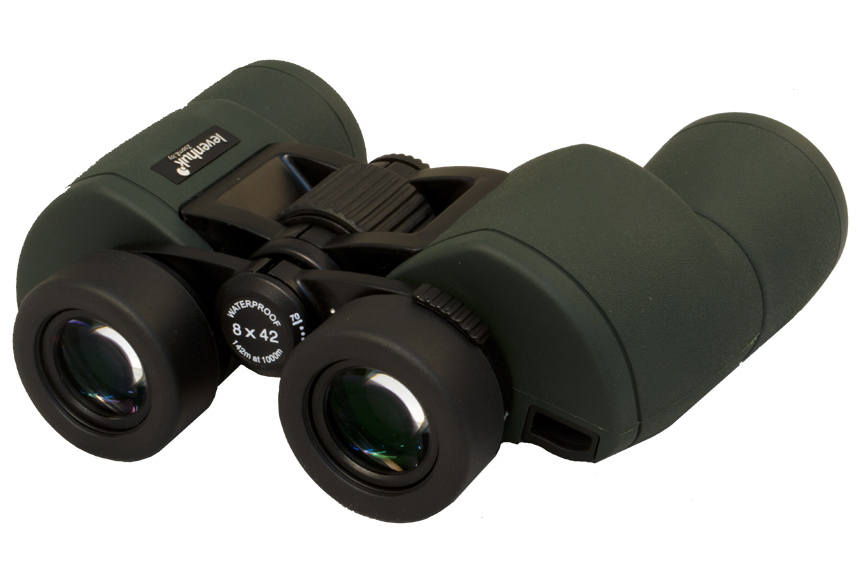 Special price! Further discounts or special offers cannot be applied in this case. Exhibition copy. The purchased item cannot be returned or exchanged. This item has color fading on the surface of the product.Otherwise, the product is fully functional. Exhibition copies cannot be exchanged or returned for a refund. Birdwatching, hunting, tracking moving objects, exploring the terrain – many situations require the ability to observe as much area as possible. With Levenhuk Sherman PRO 8x42 Binoculars you can be sure to get the widest field of view. First-class fully multi-coated optics guarantee clear and crisp images, objective lenses of 42-mm diameter provide great visibility, and 8x magnification is quite enough to confidently study distant objects. The sturdy rubberized shell is completely waterproof, so these binoculars won't let you down even in rain or snow. Levenhuk Sherman PRO 8x42 Binoculars are the perfect instrument for those who enjoy extreme activities. The optics of this model are made of high-quality BaK-4 glass. The optical design is based on Porro prisms, which provides for a wide field of view. The binoculars are equipped with two-element objectives and five-element eyepieces. Such construction allows for a flat field of view, so the image stays distortion-free not only in the center, but also at the edges. To further increase light transmission, the lenses are covered with full multilayer coating. To protect the lenses from fogging, the shell is filled with nitrogen. Levenhuk Sherman PRO 8x42 Binoculars produce clear, crisp and vivid images with impeccable color rendition. The ergonomic design of Levenhuk Sherman PRO 8x42 Binoculars deserves particular mention as it allows you to adjust the binoculars to your individual eyesight. The right eyepiece is equipped with a diopter adjustment ring, and interpupillary distance is also adjustable. Long eye relief provides for comfortable observations even while wearing glasses. You can find the perfect position of the binoculars relative to your eyes using the twist-up eyecups, which are shortened or extended easily, locking securely at the chosen length. The binoculars come in a sturdy waterproof shell. The embossed rubber surface of the shell makes holding the binoculars very comfortable, and you can use the wide strap included in the kit to hang them around your neck. The tripod mounting jack on the binoculars' body allows you to install them on a tripod if needed. The kit includes: Levenhuk Sherman PRO 8x42 Binoculars Eyepiece and objective lens caps Strap Cleaning wipe Pouch User guide and lifetime warranty