Meade Rainforest Pro 10x42 Binoculars
Magnification: 10x. Objective lens diameter: 42mm
Meade Rainforest Pro 10x42 is a powerful binoculars with high light gathering power and high-quality optics. This all-weather model is perfect for any field observations, hunting, fishing and sea travels. It provides amazing images, has a wide field of view and close focus. Meade Rainforest Pro 10x42 is a universal professional binoculars.
High-premium optics is based on roof prisms with phase correction and multi-coated lenses. Large objectives perfectly gather light and improve the image brightness. You will see lots of details, bright colors and sharp image contours through the entire field of view. Distortions are minimized and do not affect the observations quality.
The sturdy aluminum shell secures optics against damage, and rubber armoring protects it from moisture, dust and dirt. The shell is filled with nitrogen, which prevents lenses fogging.
For long observations, the binoculars can be installed on a standard tripod with 1/4" thread. Twist-up eyecups make the binoculars possible for use by eyeglass wearers.
Features:
Meade premium-quality, 10-power, roof prism binoculars deliver years of use
Large 42mm lens aperture
Fully multi-coated, BaK-4 prisms with phase-coated optics provide bright, detailed, high-resolution images
Waterproof, nitrogen purged, rugged rubber armored construction protects against the elements
Includes padded case, neck strap and cleaning cloth
The kit includes:
Meade Rainforest Pro 10x42 Binoculars
Eyepiece and objective lens caps
Strap
Cleaning wipe
Pouch
User manual
Meade Rainforest Pro 10x42 Binoculars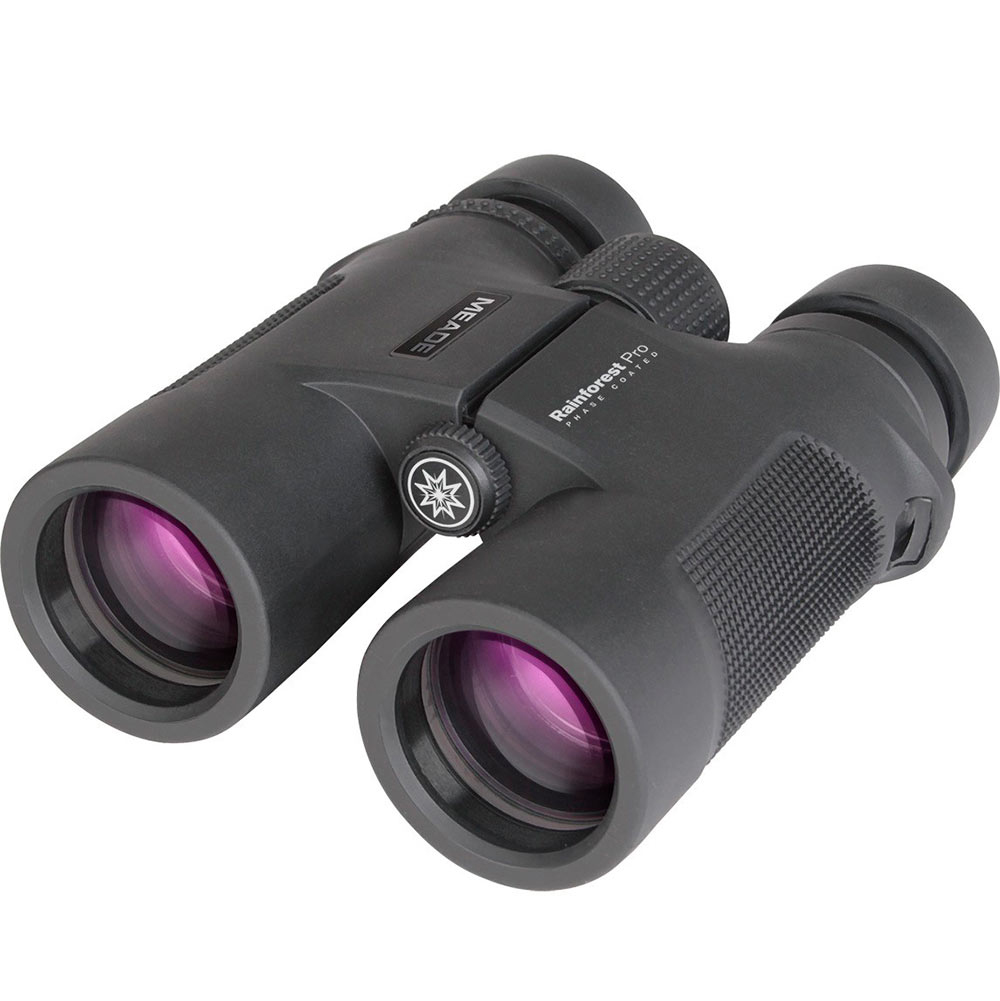 Meade Rainforest Pro 10x42 is a powerful binoculars with high light gathering power and high-quality optics. This all-weather model is perfect for any field observations, hunting, fishing and sea travels. It provides amazing images, has a wide field of view and close focus. Meade Rainforest Pro 10x42 is a universal professional binoculars. High-premium optics is based on roof prisms with phase correction and multi-coated lenses. Large objectives perfectly gather light and improve the image brightness. You will see lots of details, bright colors and sharp image contours through the entire field of view. Distortions are minimized and do not affect the observations quality. The sturdy aluminum shell secures optics against damage, and rubber armoring protects it from moisture, dust and dirt. The shell is filled with nitrogen, which prevents lenses fogging. For long observations, the binoculars can be installed on a standard tripod with 1/4" thread. Twist-up eyecups make the binoculars possible for use by eyeglass wearers. Features: Meade premium-quality, 10-power, roof prism binoculars deliver years of use Large 42mm lens aperture Fully multi-coated, BaK-4 prisms with phase-coated optics provide bright, detailed, high-resolution images Waterproof, nitrogen purged, rugged rubber armored construction protects against the elements Includes padded case, neck strap and cleaning cloth The kit includes: Meade Rainforest Pro 10x42 Binoculars Eyepiece and objective lens caps Strap Cleaning wipe Pouch User manual