Levenhuk Vegas ED 8x32 Binoculars
Compact binoculars with coated extra-low dispersion optics. Magnification: 8x. Objective lenses diameter: 32mm
Levenhuk Vegas ED 8x32 combine optical capabilities of high-class binoculars and waterproof shockproof design for use in extreme conditions. These binoculars are the perfect choice for hunters, fishermen, and anyone who enjoys hiking and extreme leisure activities. Extra-low dispersion optics provide observations without optical aberrations while the nitrogen filling prevents the lenses from fogging up. Levenhuk Vegas ED 8x32 are compact and powerful binoculars for use outdoors.
Levenhuk Vegas ED 8x32 Binoculars are based on roof prisms and feature four-element eyepieces. The optical elements are made of extra-low dispersion ED glass, the lenses are protected with several layers of coating. The optics deliver a sharp and contrast image without color or geometrical aberrations and provide a bright image even on a cloudy day. Demanding users will appreciate the optical capabilities of Levenhuk Vegas ED 8x32 Binoculars.
The body is filled with nitrogen and protected from water penetration. The lenses in the binoculars do not fog up even while an abrupt temperature change, for example, when you go out of a warm room out in the cold. Their design survives a short-term (up to 3 minutes) immersion into water up to 1.5m deep. These binoculars are unaffected by rain or snow. They perform even in extreme conditions. The binoculars body is made of shockproof and nonslip plastic and protects the optics from accidental falling, providing a safe grip of the optical tool.
Levenhuk Vegas ED 8x32 are adaptable to a tripod. They feature a standard 1/4" tripod thread. It is covered with a special hermetic thread socket cover to prevent moisture or dust from penetrating inside the binoculars.
Features:
Small binoculars with roof prisms
Four-element eyepieces of a 23mm diameter
Fully multi-coated lenses made of extra-low dispersion ED glass
The body is made of durable nonslip plastic that resists extreme temperatures
Nitrogen filling prevents water penetration
Adaptability to a tripod (purchased separately)
Stylish design and original gift box
The kit includes:
Binoculars
Objectives dust caps
Eyepieces dust caps
Neck strap (45mm wide)
Rigid zip case
Cleaning wipe
User manual and lifetime warranty
Levenhuk Vegas ED 8x32 Binoculars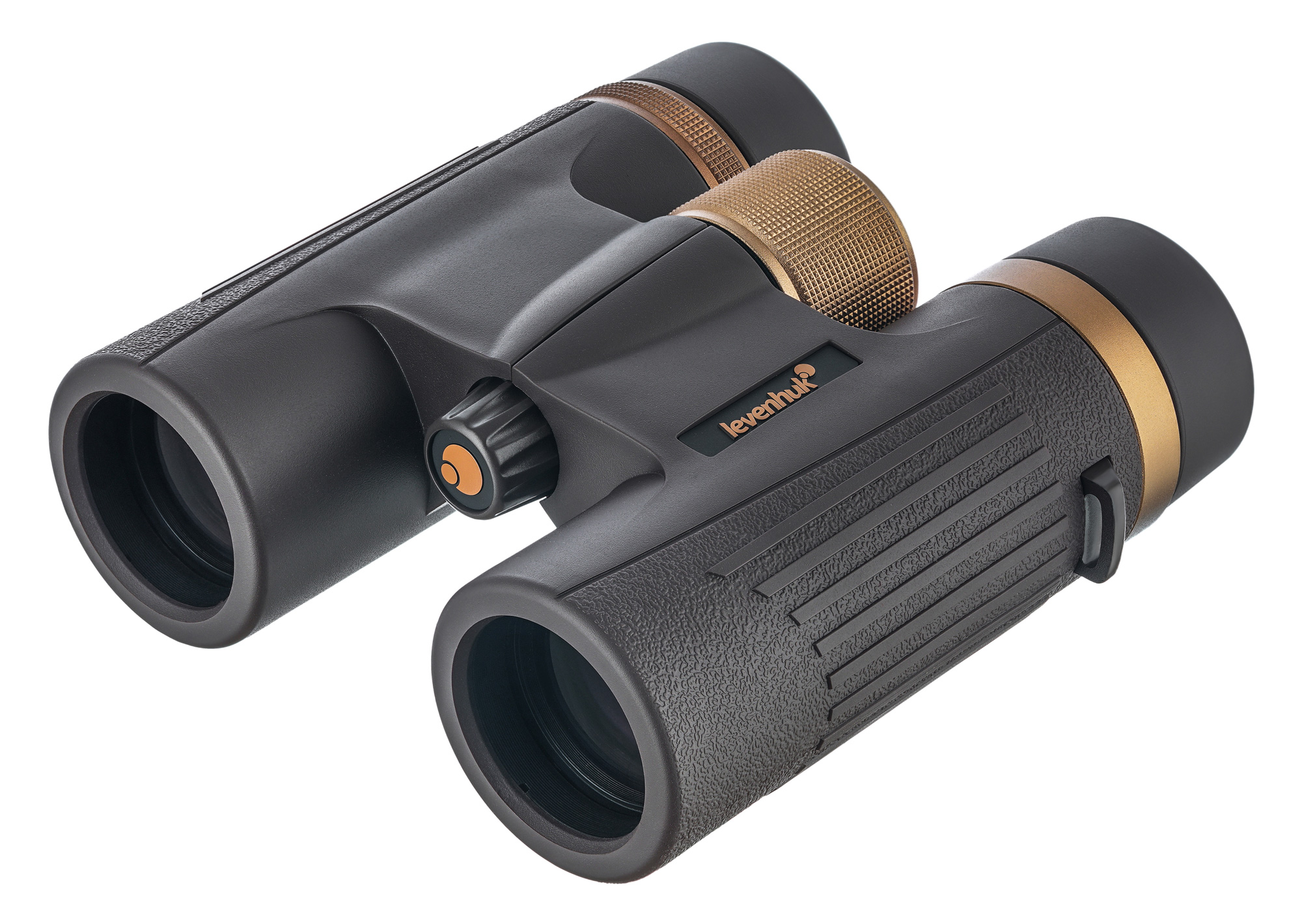 Levenhuk Vegas ED 8x32 combine optical capabilities of high-class binoculars and waterproof shockproof design for use in extreme conditions. These binoculars are the perfect choice for hunters, fishermen, and anyone who enjoys hiking and extreme leisure activities. Extra-low dispersion optics provide observations without optical aberrations while the nitrogen filling prevents the lenses from fogging up. Levenhuk Vegas ED 8x32 are compact and powerful binoculars for use outdoors.Levenhuk Vegas ED 8x32 Binoculars are based on roof prisms and feature four-element eyepieces. The optical elements are made of extra-low dispersion ED glass, the lenses are protected with several layers of coating. The optics deliver a sharp and contrast image without color or geometrical aberrations and provide a bright image even on a cloudy day. Demanding users will appreciate the optical capabilities of Levenhuk Vegas ED 8x32 Binoculars.The body is filled with nitrogen and protected from water penetration. The lenses in the binoculars do not fog up even while an abrupt temperature change, for example, when you go out of a warm room out in the cold. Their design survives a short-term (up to 3 minutes) immersion into water up to 1.5m deep. These binoculars are unaffected by rain or snow. They perform even in extreme conditions. The binoculars body is made of shockproof and nonslip plastic and protects the optics from accidental falling, providing a safe grip of the optical tool.Levenhuk Vegas ED 8x32 are adaptable to a tripod. They feature a standard 1/4" tripod thread. It is covered with a special hermetic thread socket cover to prevent moisture or dust from penetrating inside the binoculars.Features:Small binoculars with roof prismsFour-element eyepieces of a 23mm diameterFully multi-coated lenses made of extra-low dispersion ED glassThe body is made of durable nonslip plastic that resists extreme temperaturesNitrogen filling prevents water penetrationAdaptability to a tripod (purchased separately)Stylish design and original gift boxThe kit includes:BinocularsObjectives dust capsEyepieces dust capsNeck strap (45mm wide)Rigid zip caseCleaning wipeUser manual and lifetime warranty