Levenhuk Vegas ED 10x42 Binoculars
Binoculars with coated extra-low dispersion optics. Magnification: 10x. Objective lenses diameter: 42mm
Levenhuk Vegas ED 10x42 Binoculars are a high class optical instrument for observations in open areas. Due to the extra-low dispersion optics, they are suitable even for professional observations. The coated lenses gather light perfectly, while four-element eyepieces improve the color rendering, sharpness and image quality. You can use these binoculars in inclement weather or harsh observation conditions.
You will find compact and light-gathering roof prisms inside these binoculars. The optical elements are made of ED glass that minimizes optical and color aberrations and transmits the proper image in natural colors with a good perspective. The coated lenses and four-element eyepieces improve the contrast and make an image sharp and clear. Even demanding users who do not compromise will appreciate the image quality.
A waterproof body withstands short-term immersion into water up to 1.5m deep. The nitrogen filling protects the lenses from fogging or condensing. You can use these binoculars in extreme conditions, during abrupt temperature changes, rain, or snow. The body is made of temperature-resistant, shockproof, and nonslip plastic. The binoculars reliably stay in your hands and overcome all the difficulties of observations outdoors.
You can install Levenhuk Vegas ED 10x42 on a standard 1/4" camera tripod.
Features:
Roof binoculars for outdoor observations
Four-element eyepieces of a 23mm diameter
Coated optical elements made of extra-low dispersion ED glass
Sturdy body is resistant to temperature changes and accidental impacts
Nitrogen filling protects from water penetration
Adaptability to a tripod (purchased separately)
Stylish design and original gift box
The kit includes:
Binoculars
Objectives dust caps
Eyepieces dust caps
Neck strap (45mm wide)
Rigid zip case
Cleaning wipe
User manual and lifetime warranty
Levenhuk Vegas ED 10x42 Binoculars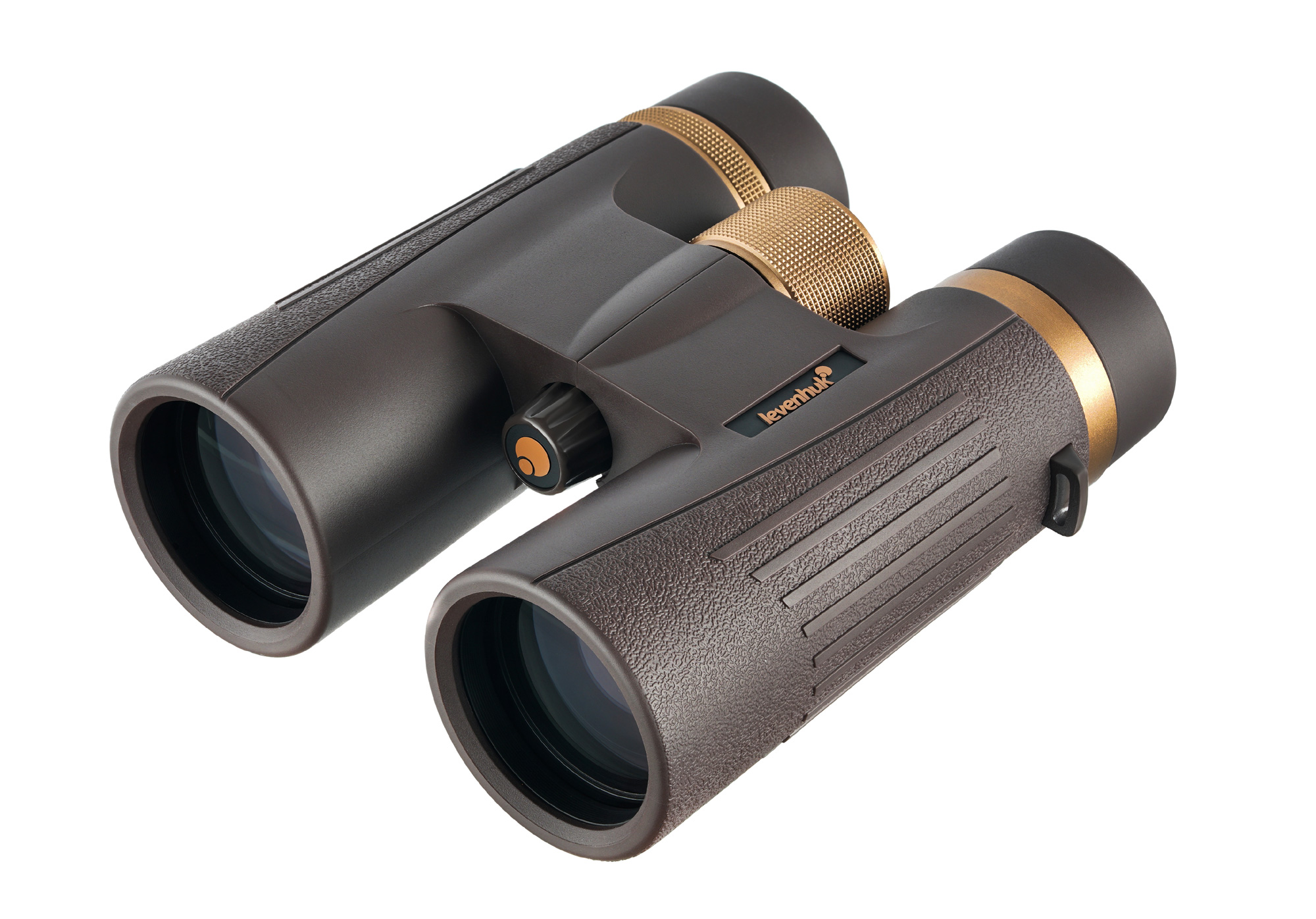 Levenhuk Vegas ED 10x42 Binoculars are a high class optical instrument for observations in open areas. Due to the extra-low dispersion optics, they are suitable even for professional observations. The coated lenses gather light perfectly, while four-element eyepieces improve the color rendering, sharpness and image quality. You can use these binoculars in inclement weather or harsh observation conditions.You will find compact and light-gathering roof prisms inside these binoculars. The optical elements are made of ED glass that minimizes optical and color aberrations and transmits the proper image in natural colors with a good perspective. The coated lenses and four-element eyepieces improve the contrast and make an image sharp and clear. Even demanding users who do not compromise will appreciate the image quality.A waterproof body withstands short-term immersion into water up to 1.5m deep. The nitrogen filling protects the lenses from fogging or condensing. You can use these binoculars in extreme conditions, during abrupt temperature changes, rain, or snow. The body is made of temperature-resistant, shockproof, and nonslip plastic. The binoculars reliably stay in your hands and overcome all the difficulties of observations outdoors.You can install Levenhuk Vegas ED 10x42 on a standard 1/4" camera tripod.Features:Roof binoculars for outdoor observations Four-element eyepieces of a 23mm diameterCoated optical elements made of extra-low dispersion ED glassSturdy body is resistant to temperature changes and accidental impactsNitrogen filling protects from water penetrationAdaptability to a tripod (purchased separately)Stylish design and original gift boxThe kit includes:BinocularsObjectives dust capsEyepieces dust capsNeck strap (45mm wide)Rigid zip caseCleaning wipeUser manual and lifetime warranty