Levenhuk Travel 7x50 Binoculars
Porro prisms. Magnification: 7x. Objective lens diameter: 50mm
The Levenhuk Travel 7x50 binoculars are an ideal partner for hunting, fishing, and any outdoor activities. The optical device is made in a durable aluminum body covered with a layer of rubber. It's a real find for people who like outdoor activities and who are ready for adventures. With the binoculars, you can explore distant objects at 7x magnification. The shortest close focus distance is only 3 meters (10 feet), and so objects that are a few steps away will also be comfortably viewed in all their details. Furthermore, the device stands out with a sufficiently wide field of view.
The Levenhuk Travel 7x50 optics are based on Porro prisms. The binoculars are made of the fully coated BK-7 glass. With the combination of such glass with large 50mm objective lenses that collect a lot of light, these binoculars provide perfectly bright and high contrast images. Even at dusk or in cloudy weather conditions, the image will be sharp, clear, and crisp. The objective lenses are focused by using the central focusing wheel. For low vision, it is possible to fold down the eyecups for observing with glasses and to adjust the diopters.
For making long-time observations even more comfortably, the binoculars can be mounted on a tripod with a standard thread. A tripod adapter is sold separately.
Key features:
The fully coated optics made of BK-7 glass
Porro prisms and large-aperture lenses of large diameter
Central focusing at a distance of 3 meters (10 feet) and above
The shockproof body is made of aluminum alloy and covered with rubber
Fold-down eyecups; diopter adjustment
The kit includes:
Binoculars
Pouch
Strap
Objective lens protective caps
Cleaning wipe
User manual and warranty card
Levenhuk Travel 7x50 Binoculars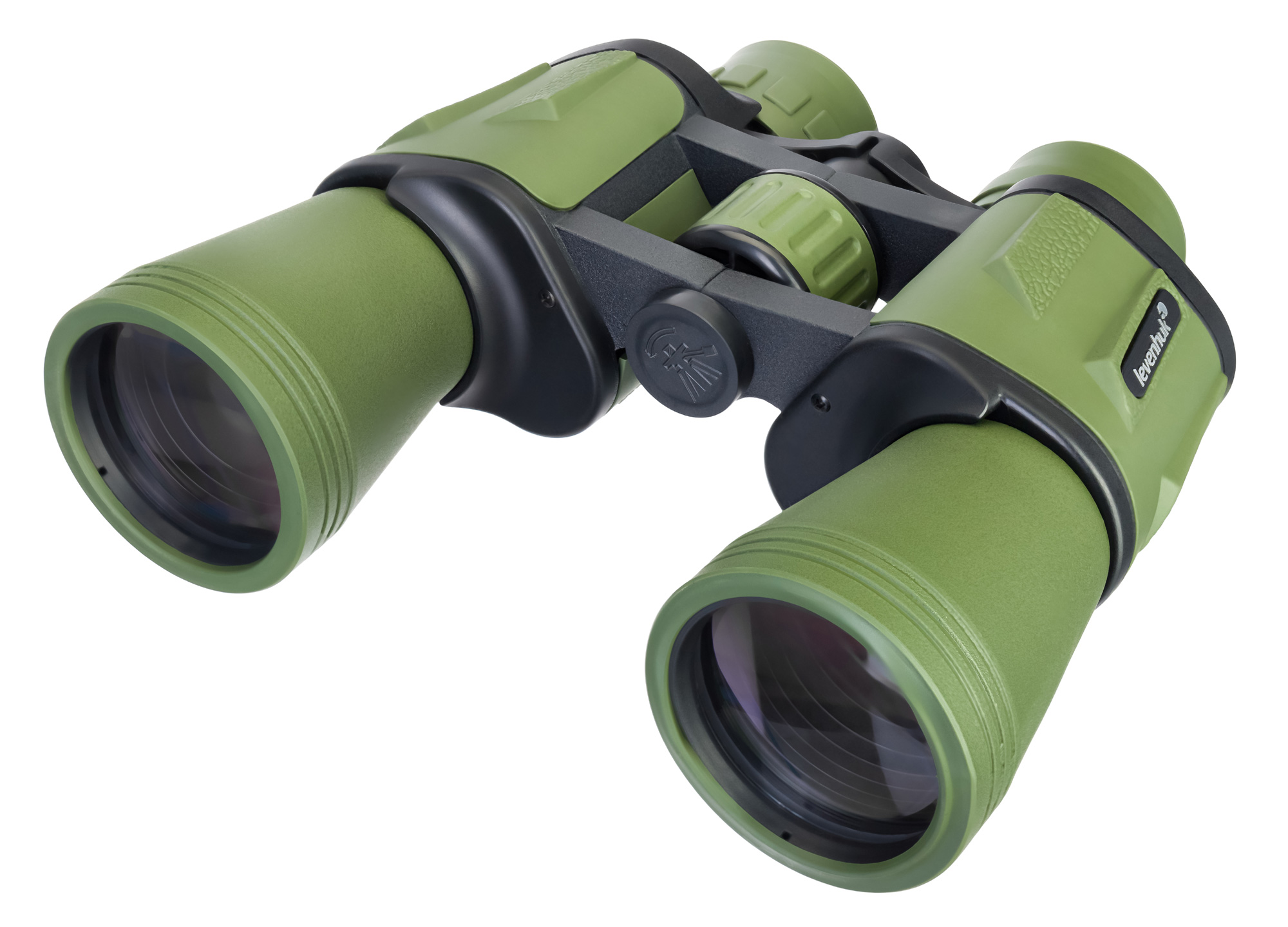 The Levenhuk Travel 7x50 binoculars are an ideal partner for hunting, fishing, and any outdoor activities. The optical device is made in a durable aluminum body covered with a layer of rubber. It's a real find for people who like outdoor activities and who are ready for adventures. With the binoculars, you can explore distant objects at 7x magnification. The shortest close focus distance is only 3 meters (10 feet), and so objects that are a few steps away will also be comfortably viewed in all their details. Furthermore, the device stands out with a sufficiently wide field of view. The Levenhuk Travel 7x50 optics are based on Porro prisms. The binoculars are made of the fully coated BK-7 glass. With the combination of such glass with large 50mm objective lenses that collect a lot of light, these binoculars provide perfectly bright and high contrast images. Even at dusk or in cloudy weather conditions, the image will be sharp, clear, and crisp. The objective lenses are focused by using the central focusing wheel. For low vision, it is possible to fold down the eyecups for observing with glasses and to adjust the diopters. For making long-time observations even more comfortably, the binoculars can be mounted on a tripod with a standard thread. A tripod adapter is sold separately. Key features: The fully coated optics made of BK-7 glass Porro prisms and large-aperture lenses of large diameter Central focusing at a distance of 3 meters (10 feet) and above The shockproof body is made of aluminum alloy and covered with rubber Fold-down eyecups; diopter adjustment The kit includes: Binoculars Pouch Strap Objective lens protective caps Cleaning wipe User manual and warranty card