Levenhuk Sherman PRO 10x42 Binoculars
Modern optical technologies in classic design. Magnification: 10x. Objective lens diameter: 42mm
Flawlessly crisp and clear images even under extreme conditions – Levenhuk Sherman PRO 10x42 Binoculars make it possible! 10x magnification allows you to study very distant objects in detail, top-class fully multi-coated optics form images of the highest quality, and the wide field of view is great for panoramic observations. These binoculars are not afraid of dirt, dust, moisture and water splashes. The device comes in a sturdy, reliable and comfortable-to-hold shell. Levenhuk Sherman PRO 10x42 are your perfect field binoculars!
The binoculars are designed with classic Porro prisms. These large prisms provide for a wide field of view and produce bright images. The objectives consist of two elements, while the eyepieces have five elements integrated in three groups. This construction allows for flat images that are free of distortion at the edges. The lenses are covered with full multilayer coating, which increases light transmission. Due to nitrogen filling of the shell, the optics stay fog-free even in a bad weather. Levenhuk Sherman PRO 10x42 Binoculars provide vivid images with a high level of detail and correct color rendition.
When observing in harsh field conditions, you wouldn't want to be distracted, and that's why Levenhuk Sherman PRO 10x42 Binoculars' construction has everything to make your observations as comfortable as possible. Each user can adjust the binoculars to their individual needs, as interpupillary distance and diopters can be easily regulated. Due to their long eye relief, these binoculars are also recommended for those who observe wearing glasses. Twist-up eyecups let you easily change the distance between your eyes and the binoculars' eyepieces. The eyecups move smoothly, and securely lock in the chosen position.
The binoculars come in a hermetically sealed shell so no dirt, dust or moisture get inside the instrument. Due to the embossed dark-green rubber surface of the shell, it's very comfortable to hold the binoculars in your hands. You can also hang them around your neck, since the kit includes a wide neck strap. This model can be easily installed on a tripod since the shell features a standard tripod mounting socket.
The kit includes:
Levenhuk Sherman PRO 10x42 Binoculars
Eyepiece and objective lens caps
Strap
Cleaning wipe
Pouch
User guide and lifetime warranty
Levenhuk Sherman PRO 10x42 Binoculars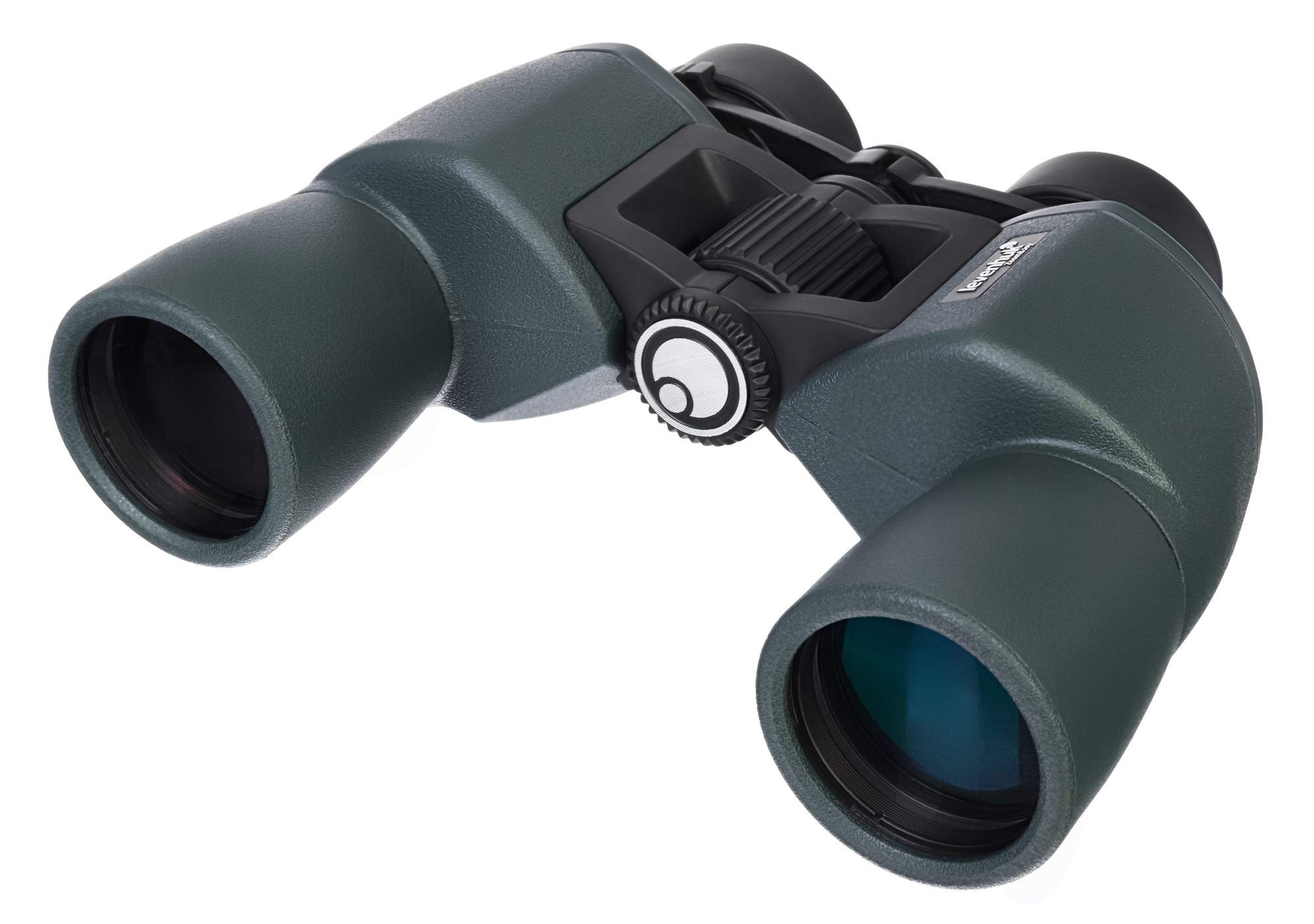 Flawlessly crisp and clear images even under extreme conditions – Levenhuk Sherman PRO 10x42 Binoculars make it possible! 10x magnification allows you to study very distant objects in detail, top-class fully multi-coated optics form images of the highest quality, and the wide field of view is great for panoramic observations. These binoculars are not afraid of dirt, dust, moisture and water splashes. The device comes in a sturdy, reliable and comfortable-to-hold shell. Levenhuk Sherman PRO 10x42 are your perfect field binoculars! The binoculars are designed with classic Porro prisms. These large prisms provide for a wide field of view and produce bright images. The objectives consist of two elements, while the eyepieces have five elements integrated in three groups. This construction allows for flat images that are free of distortion at the edges. The lenses are covered with full multilayer coating, which increases light transmission. Due to nitrogen filling of the shell, the optics stay fog-free even in a bad weather. Levenhuk Sherman PRO 10x42 Binoculars provide vivid images with a high level of detail and correct color rendition. When observing in harsh field conditions, you wouldn't want to be distracted, and that's why Levenhuk Sherman PRO 10x42 Binoculars' construction has everything to make your observations as comfortable as possible. Each user can adjust the binoculars to their individual needs, as interpupillary distance and diopters can be easily regulated. Due to their long eye relief, these binoculars are also recommended for those who observe wearing glasses. Twist-up eyecups let you easily change the distance between your eyes and the binoculars' eyepieces. The eyecups move smoothly, and securely lock in the chosen position. The binoculars come in a hermetically sealed shell so no dirt, dust or moisture get inside the instrument. Due to the embossed dark-green rubber surface of the shell, it's very comfortable to hold the binoculars in your hands. You can also hang them around your neck, since the kit includes a wide neck strap. This model can be easily installed on a tripod since the shell features a standard tripod mounting socket. The kit includes: Levenhuk Sherman PRO 10x42 Binoculars Eyepiece and objective lens caps Strap Cleaning wipe Pouch User guide and lifetime warranty