Levenhuk Sherman 7x50 Binoculars
All-weather shell, large aperture objective lens, high convenience. Magnification: 7x. Objective lens diameter: 50mm
Levenhuk Sherman 7x50 Binoculars create clear, bright images regardless of the time of day or weather. They won't let you down on a cloudy, rainy day, and you can even use them in twilight. The high aperture lenses collect more light, allowing you to observe in low light conditions, and their middle magnification allows you to see very distant objects in detail without losing quality of image. Levenhuk Sherman 7x50 Binoculars are not afraid of bad weather – you will get sharp, contrast images in any conditions!
The Porro-prism design allows for elimination of light loss inside the binoculars. Moreover, the lenses are coated with multiple layers of anti-reflective coating for better light transmission. The high aperture objective lenses create bright images with accurate colors. The shell is filled with nitrogen gas, which prevents the optics from fogging even in places with high humidity levels.
Levenhuk Sherman 7x50 Binoculars are designed for novice users and don't require a complicated setup. But, at the same time, you can easily adjust the binoculars for your individual needs: Change the interpupillary distance or adjust diopters. The binoculars are also suitable for eyeglasses wearers. The eyepieces are equipped with eyecups made of soft rubber.
The hermetically sealed body protects the inner parts of the instrument from dust and dirt. Levenhuk Sherman 7x50 Binoculars are completely waterproof. The shell has a rubber-armored embossed surface – the binoculars fit comfortably and securely in your hand.
The kit includes:
Levenhuk Sherman 7x50 Binoculars
Eyepiece and objective lens caps
Pouch
Strap
Cleaning wipe
User guide and lifetime warranty
Levenhuk Sherman 7x50 Binoculars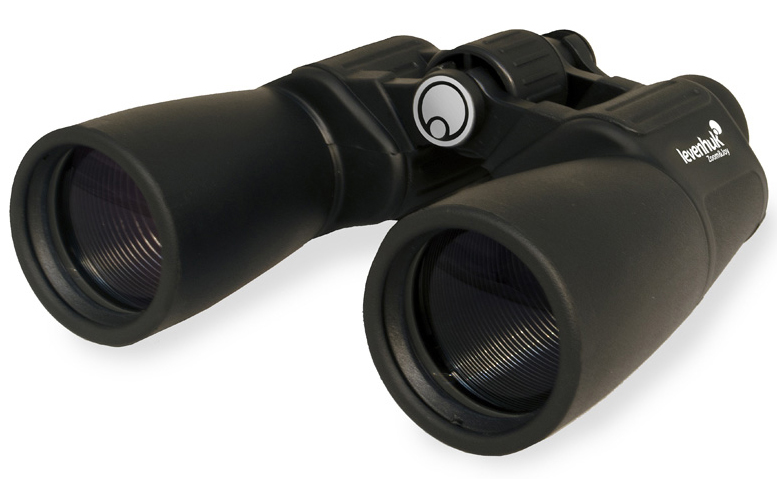 Levenhuk Sherman 7x50 Binoculars create clear, bright images regardless of the time of day or weather. They won't let you down on a cloudy, rainy day, and you can even use them in twilight. The high aperture lenses collect more light, allowing you to observe in low light conditions, and their middle magnification allows you to see very distant objects in detail without losing quality of image. Levenhuk Sherman 7x50 Binoculars are not afraid of bad weather – you will get sharp, contrast images in any conditions! The Porro-prism design allows for elimination of light loss inside the binoculars. Moreover, the lenses are coated with multiple layers of anti-reflective coating for better light transmission. The high aperture objective lenses create bright images with accurate colors. The shell is filled with nitrogen gas, which prevents the optics from fogging even in places with high humidity levels. Levenhuk Sherman 7x50 Binoculars are designed for novice users and don't require a complicated setup. But, at the same time, you can easily adjust the binoculars for your individual needs: Change the interpupillary distance or adjust diopters. The binoculars are also suitable for eyeglasses wearers. The eyepieces are equipped with eyecups made of soft rubber. The hermetically sealed body protects the inner parts of the instrument from dust and dirt. Levenhuk Sherman 7x50 Binoculars are completely waterproof. The shell has a rubber-armored embossed surface – the binoculars fit comfortably and securely in your hand. The kit includes: Levenhuk Sherman 7x50 Binoculars Eyepiece and objective lens caps Pouch Strap Cleaning wipe User guide and lifetime warranty