Levenhuk Nitro ED 8x42 Binoculars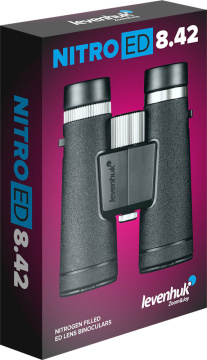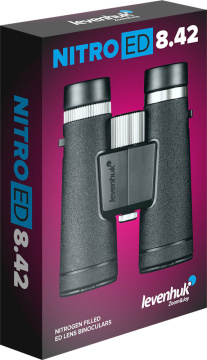 Nitrogen-filled and waterproof. Extra-low dispersion ED glass. Roof prisms. Magnification: 8.5x. Lens objective diameter: 42mm
The Levenhuk Nitro ED 8x42 Binoculars with extra-low dispersion optics provide sharp, clear, and high-resolution images without color distortion. The smallest details can be seen clearly from afar, and the fully multi-coated glass produces bright images in cloudy weather and at dusk. Water-resistant and nitrogen-filled, such binoculars are best suited for field observation – tracking game on the hunt, observing territory from a watchtower, finding landmarks while hiking and fishing.
The binoculars use roof prisms. Therefore, they are smaller and lighter than many of the Porro models, which makes it easier to carry them around and travel with. The optics provide 8.5x magnification and the wide field of view allows for the comfortable observation of fast-moving groups of objects. These are powerful, large aperture, and easy to use binoculars. You can easily adjust them to any user – the twist-up eyecups can be twisted up and down in various positions and there is an option to adjust the diopter on the right eyepiece and change the interpupillary distance. Note that the binoculars are comfortable to use even when wearing eyeglasses due to the long eye relief.
The high-strength ABS plastic, which is the material that the body is made of, also makes the binoculars shockproof. The outer rubber coating improves the grip, minimizing the risk of accidental slipping out of your hands. The device can be mounted on a tripod (a standard 1/4" thread).
Key features:
Extra-low dispersion ED lenses for maximum image quality
8.5x magnification, BaK-4 roof prisms, wide field of view, large aperture
Nitrogen filling prevents the binoculars from fogging up
Sealed body and rubber coating for dust and water protection
Diopter adjustment, twist-up eyecups, long eye relief
A standard thread
The kit includes:
Binoculars
Eyepiece and objective lens protective caps
Pouch
Carrying strap
Cleaning wipe
User manual and warranty card
Levenhuk Nitro ED 8x42 Binoculars
The Levenhuk Nitro ED 8x42 Binoculars with extra-low dispersion optics provide sharp, clear, and high-resolution images without color distortion. The smallest details can be seen clearly from afar, and the fully multi-coated glass produces bright images in cloudy weather and at dusk. Water-resistant and nitrogen-filled, such binoculars are best suited for field observation – tracking game on the hunt, observing territory from a watchtower, finding landmarks while hiking and fishing. The binoculars use roof prisms. Therefore, they are smaller and lighter than many of the Porro models, which makes it easier to carry them around and travel with. The optics provide 8.5x magnification and the wide field of view allows for the comfortable observation of fast-moving groups of objects. These are powerful, large aperture, and easy to use binoculars. You can easily adjust them to any user – the twist-up eyecups can be twisted up and down in various positions and there is an option to adjust the diopter on the right eyepiece and change the interpupillary distance. Note that the binoculars are comfortable to use even when wearing eyeglasses due to the long eye relief. The high-strength ABS plastic, which is the material that the body is made of, also makes the binoculars shockproof. The outer rubber coating improves the grip, minimizing the risk of accidental slipping out of your hands. The device can be mounted on a tripod (a standard 1/4" thread). Key features: Extra-low dispersion ED lenses for maximum image quality 8.5x magnification, BaK-4 roof prisms, wide field of view, large aperture Nitrogen filling prevents the binoculars from fogging up Sealed body and rubber coating for dust and water protection Diopter adjustment, twist-up eyecups, long eye relief A standard thread The kit includes: Binoculars Eyepiece and objective lens protective caps Pouch Carrying strap Cleaning wipe User manual and warranty card