Levenhuk Nitro ED 12x50 Binoculars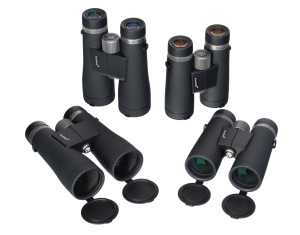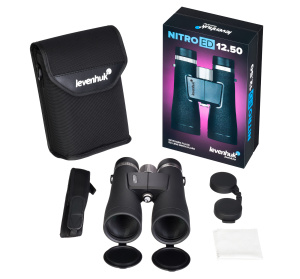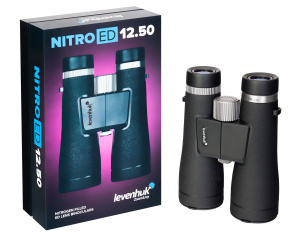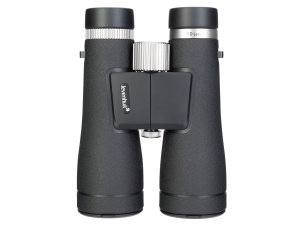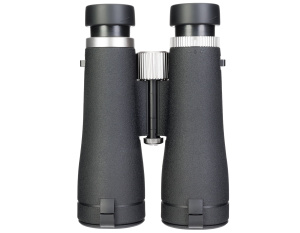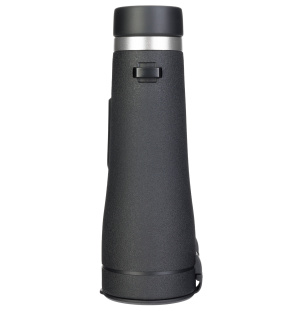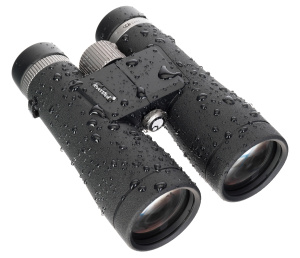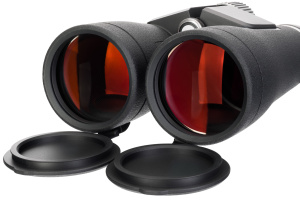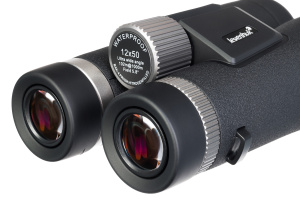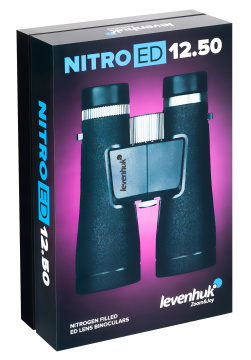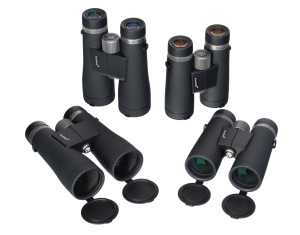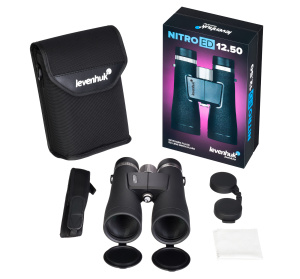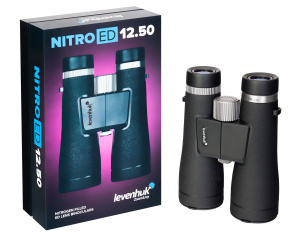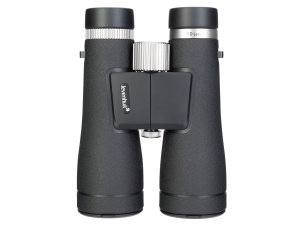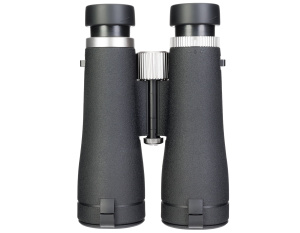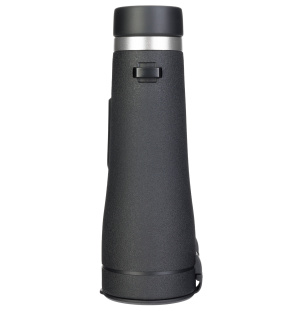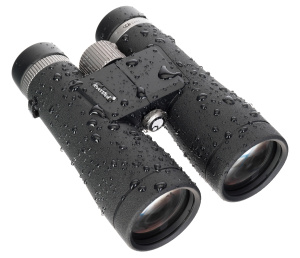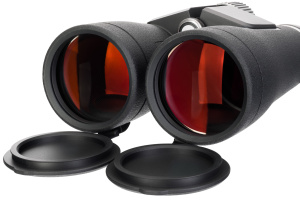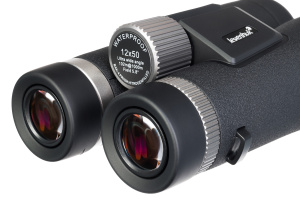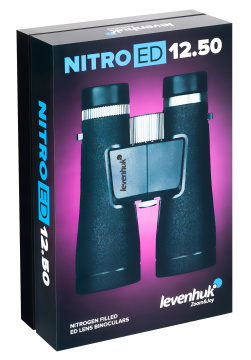 Nitrogen-filled and waterproof. Extra-low dispersion ED glass. Roof prisms. Magnification: 12x. Lens objective diameter: 50mm
The Levenhuk Nitro ED 12x50 Binoculars with extra-low dispersion ED optics are perfect for those who are looking for a powerful and high-aperture device that produces crisp, clear, and high-resolution images. In addition, the binoculars are waterproof and nitrogen-filled. Therefore, you can use them in any situation - even when it is raining or when you are on a boat. The Levenhuk Nitro ED 12x50 is a great choice for hunting, birdwatching, camping, fishing, guarding, and any field observation where it is necessary to view distant objects in detail.
The binoculars use roof prisms, thereby making them smaller and lighter than their Porro prism counterparts. The optics are fully coated, and so in cloudy weather the image will be as bright and contrasting as in bright sunlight. The optics provides 12x magnification, but the field of view is still wide enough to view a large area or follow moving targets. The binoculars can be mounted on a tripod to increase image stability – there is a standard thread.
The binoculars are easy to adjust to the user – you can choose the position of the twist-up eyecups and wear eyeglasses while observing (the eye relief is long enough for this). You can also adjust the diopters on the right eyepiece and set the optimum interpupillary distance. The central focusing is provided for sharpness adjustment.
The binoculars are rubberized, which, on the one hand, improves dust and shock protection and, on the other hand, makes the grip more secure. The body is made of high-strength ABS-plastic.
Key features:
Lenses are made of extra-low dispersion ED-glass, roof prisms are made of BaK-4 glass
High resolution, minimum color distortion, 12x magnification, multi-coated optics
The body is nitrogen-filled, protecting the lenses from fogging up
The body is sealed to withstand water – the binoculars are weatherproof
Twist-up eyecups and long eye relief – easy to observe while wearing eyeglasses
There is diopter adjustment and they can be mounted on a tripod for stationary observation
The kit includes:
Binoculars
Eyepiece and objective lens protective caps
Pouch
Carrying strap
Cleaning wipe
User manual and warranty card
Levenhuk Nitro ED 12x50 Binoculars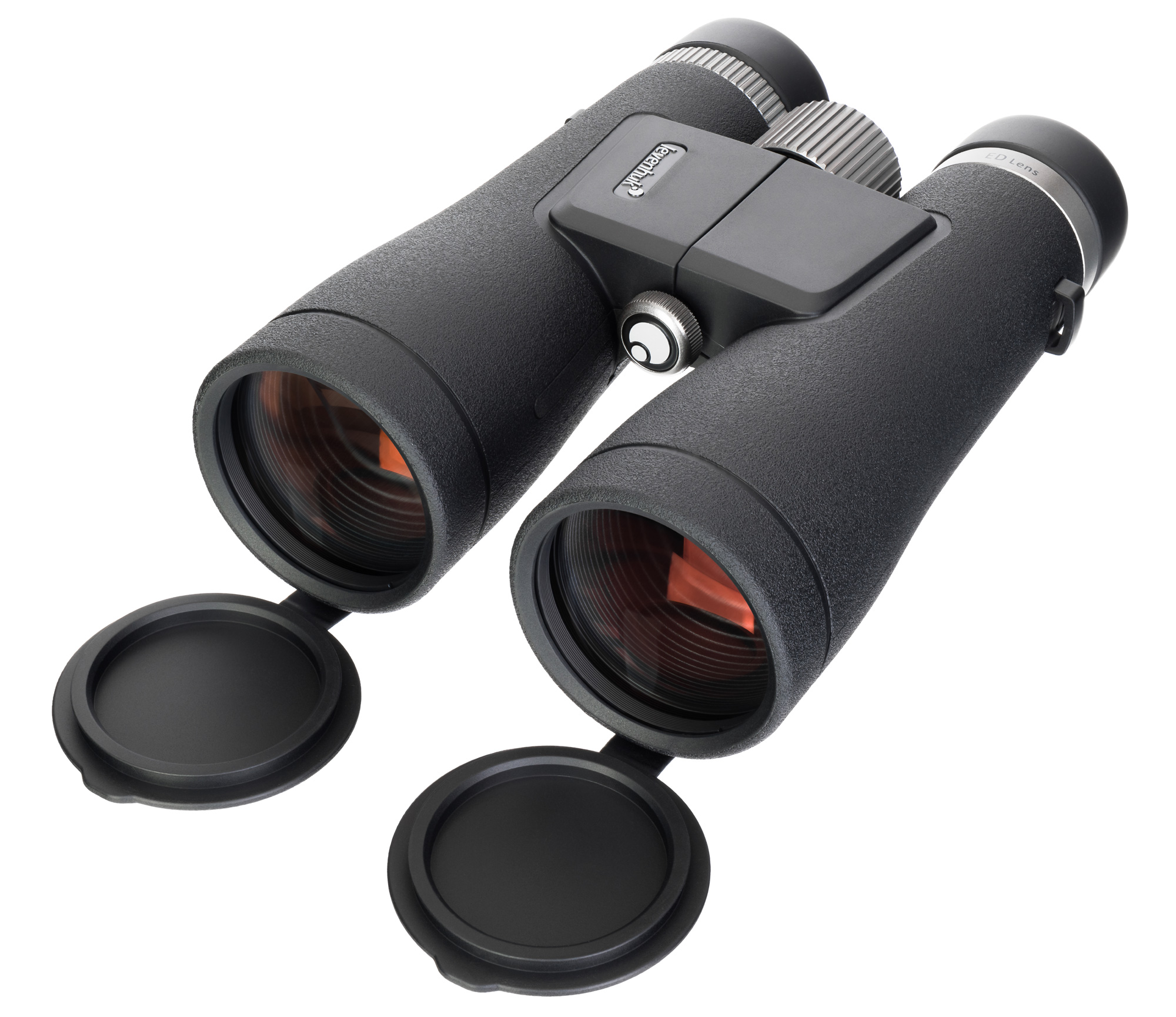 The Levenhuk Nitro ED 12x50 Binoculars with extra-low dispersion ED optics are perfect for those who are looking for a powerful and high-aperture device that produces crisp, clear, and high-resolution images. In addition, the binoculars are waterproof and nitrogen-filled. Therefore, you can use them in any situation - even when it is raining or when you are on a boat. The Levenhuk Nitro ED 12x50 is a great choice for hunting, birdwatching, camping, fishing, guarding, and any field observation where it is necessary to view distant objects in detail. The binoculars use roof prisms, thereby making them smaller and lighter than their Porro prism counterparts. The optics are fully coated, and so in cloudy weather the image will be as bright and contrasting as in bright sunlight. The optics provides 12x magnification, but the field of view is still wide enough to view a large area or follow moving targets. The binoculars can be mounted on a tripod to increase image stability – there is a standard thread. The binoculars are easy to adjust to the user – you can choose the position of the twist-up eyecups and wear eyeglasses while observing (the eye relief is long enough for this). You can also adjust the diopters on the right eyepiece and set the optimum interpupillary distance. The central focusing is provided for sharpness adjustment. The binoculars are rubberized, which, on the one hand, improves dust and shock protection and, on the other hand, makes the grip more secure. The body is made of high-strength ABS-plastic. Key features: Lenses are made of extra-low dispersion ED-glass, roof prisms are made of BaK-4 glass High resolution, minimum color distortion, 12x magnification, multi-coated optics The body is nitrogen-filled, protecting the lenses from fogging up The body is sealed to withstand water – the binoculars are weatherproof Twist-up eyecups and long eye relief – easy to observe while wearing eyeglasses There is diopter adjustment and they can be mounted on a tripod for stationary observation The kit includes: Binoculars Eyepiece and objective lens protective caps Pouch Carrying strap Cleaning wipe User manual and warranty card