Levenhuk Nitro ED 10x50 Binoculars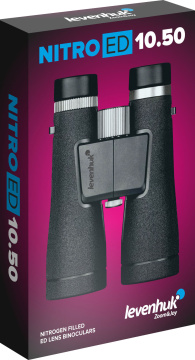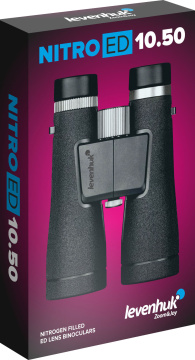 Nitrogen-filled and waterproof. Extra-low dispersion ED glass. Roof prisms. Magnification: 10.5x. Lens objective diameter: 50mm
The Levenhuk Nitro ED 10x50 is a pair of binoculars that will impress you with their clear and sharp images throughout the entire field of view. They use extra-low dispersion ED optics that produces high-resolution images without color distortion – the contours of objects are sharp and fine details are well-defined. The binoculars are also filled with nitrogen – a safe, colorless gas that prevents the lenses from fogging up and water penetration. The Levenhuk Nitro ED 10x50 is a great choice for any outdoor adventure in all weather conditions!
In comparison to the Porro prisms models, the roof prisms make the binoculars compact and lightweight. The binoculars will not weigh you down on the road, will easily fit in your backpack, and will sit comfortably in your hands. The magnification is 10.5x, which allows you to explore very distant objects. Thanks to the wide field of view, you will not miss a single detail around you. The optics are fully coated, producing bright and clear images even in low lighting conditions.
The binoculars offer all of the necessary adjustments – you can adjust the sharpness with the central focusing wheel, the diopters on the right eyepiece, the interpupillary distance, and the position of the twist-up eyecups. Since the eyepieces have a long eye relief, the binoculars are suitable for those who wear eyeglasses all the time – you can observe without taking them off. You can also mount the device on a tripod for stationary use.
The body is made of high-strength ABS plastic and covered with non-slip rubber for a better grip.
Key features:
Extra-low dispersion ED lenses for crisp and clear images
The optical scheme based on the roof prisms, BaK-4 glass
Fully multi-coated optical glass
Magnification – 10.5x, a wide field of view, large aperture
Diopter adjustment, twist-up eyecups, a long eye relief
Fogproof and waterproof
1/4" thread for tripod
The kit includes:
Binoculars
Eyepiece and objective lens protective caps
Pouch
Carrying strap
Cleaning wipe
User manual and warranty card
Levenhuk Nitro ED 10x50 Binoculars
The Levenhuk Nitro ED 10x50 is a pair of binoculars that will impress you with their clear and sharp images throughout the entire field of view. They use extra-low dispersion ED optics that produces high-resolution images without color distortion – the contours of objects are sharp and fine details are well-defined. The binoculars are also filled with nitrogen – a safe, colorless gas that prevents the lenses from fogging up and water penetration. The Levenhuk Nitro ED 10x50 is a great choice for any outdoor adventure in all weather conditions! In comparison to the Porro prisms models, the roof prisms make the binoculars compact and lightweight. The binoculars will not weigh you down on the road, will easily fit in your backpack, and will sit comfortably in your hands. The magnification is 10.5x, which allows you to explore very distant objects. Thanks to the wide field of view, you will not miss a single detail around you. The optics are fully coated, producing bright and clear images even in low lighting conditions. The binoculars offer all of the necessary adjustments – you can adjust the sharpness with the central focusing wheel, the diopters on the right eyepiece, the interpupillary distance, and the position of the twist-up eyecups. Since the eyepieces have a long eye relief, the binoculars are suitable for those who wear eyeglasses all the time – you can observe without taking them off. You can also mount the device on a tripod for stationary use. The body is made of high-strength ABS plastic and covered with non-slip rubber for a better grip. Key features: Extra-low dispersion ED lenses for crisp and clear images The optical scheme based on the roof prisms, BaK-4 glass Fully multi-coated optical glass Magnification – 10.5x, a wide field of view, large aperture Diopter adjustment, twist-up eyecups, a long eye relief Fogproof and waterproof 1/4" thread for tripod The kit includes: Binoculars Eyepiece and objective lens protective caps Pouch Carrying strap Cleaning wipe User manual and warranty card