Levenhuk Monaco ED 12x50 Binoculars
Powerful roof binoculars with the optics made of extra-low dispersion glass. Five-element eyepieces. Magnification: 12x. Objective lenses diameter: 50mm
Levenhuk Monaco ED 12x50 Binoculars are a powerful high-aperture optical tool for observations in complicated conditions. Premium class extra-low dispersion optics, waterproof design, resistance to extreme temperatures are the main features of this model. These binoculars are great for observing wild animals and birds, studying natural and urban landscapes as well as for hunting and fishing. Use them for target practice or protecting extended areas. Levenhuk Monaco ED 12x50 are a perfect choice for amateur and professional observations!
Optics
The optical design of the binoculars is a harmonic combination of compact roof prisms and multiple-element eyepieces and objective lenses. All lenses are made of extra-low dispersion glass and protected with multiple layers of anti-reflective coating. Due to that, the optics do not distort an image, eliminate optical aberrations and stray glare, and a delivered picture is sharp, detailed, and saturated. The binoculars are suitable for observations in low illumination conditions: the optics are powerful enough for observing in twilight, at dawn, or on a cloudy day.
Body material
The optical elements are reliably protected with a shock-proof shell. It is made of temperature-resistant plastic that is impervious to extreme temperatures and accidental mechanical impacts. The binoculars are coated with a non-slip material that firms the grip. Levenhuk Monaco ED 12x50 are filled with nitrogen, a gas that prevents the lenses from fogging. Due to their hermetic design, the binoculars are impervious to water: rain, snow, or a short period of immersion in water up to 1.5m (5ft) deep.
Additional capabilities
You can easily adjust the binoculars to your individual needs. You can adjust the interpupillary distance, perform precise diopter adjustment, adjust focusing, and pull out or fold down the eyecups. The binoculars feature long eye relief that makes them convenient for observations with glasses on. Levenhuk Monaco ED 12x50 are adaptable to a tripod (purchased separately).
Features:
High-aperture binoculars with roof prisms and coated extra-low dispersion optics
Five-element eyepieces with a 28mm diameter
Shock-proof shell made of plastic withstands extreme temperature changes
Nitrogen filling protects the lenses from fogging
The hermetically sealed shell protects the binoculars when immersed in water up to 1.5m (5ft) for no longer than three minutes
Large focusing wheel with an embossed surface
Adaptability to a tripod (purchased separately)
Stylish design and original gift box
The kit includes:
Binoculars
Eyepiece and objective lens caps
Neck strap (45mm wide)
Rigid zip case
Cleaning wipe
User manual and lifetime warranty
Levenhuk Monaco ED 12x50 Binoculars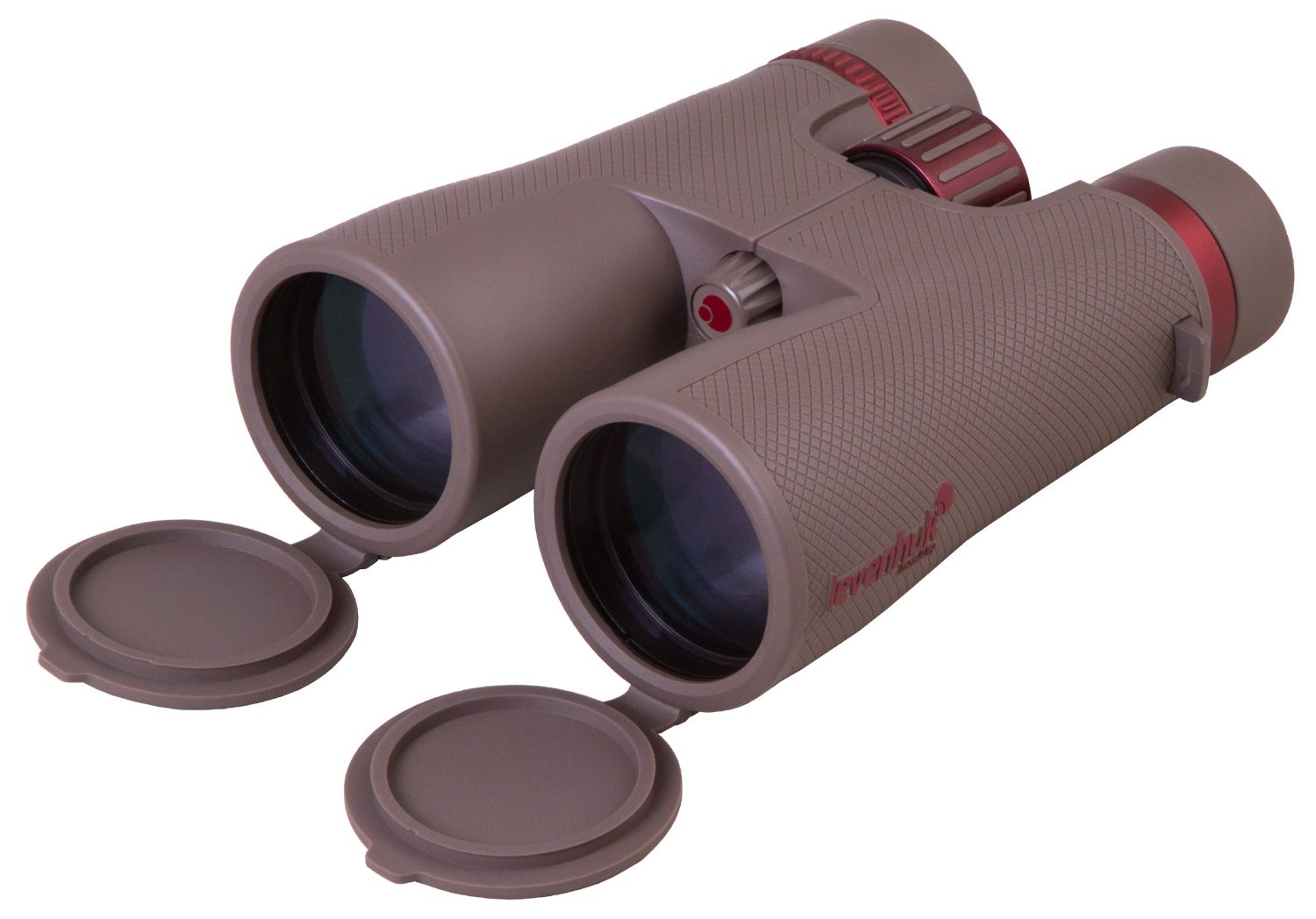 Levenhuk Monaco ED 12x50 Binoculars are a powerful high-aperture optical tool for observations in complicated conditions. Premium class extra-low dispersion optics, waterproof design, resistance to extreme temperatures are the main features of this model. These binoculars are great for observing wild animals and birds, studying natural and urban landscapes as well as for hunting and fishing. Use them for target practice or protecting extended areas. Levenhuk Monaco ED 12x50 are a perfect choice for amateur and professional observations!OpticsThe optical design of the binoculars is a harmonic combination of compact roof prisms and multiple-element eyepieces and objective lenses. All lenses are made of extra-low dispersion glass and protected with multiple layers of anti-reflective coating. Due to that, the optics do not distort an image, eliminate optical aberrations and stray glare, and a delivered picture is sharp, detailed, and saturated. The binoculars are suitable for observations in low illumination conditions: the optics are powerful enough for observing in twilight, at dawn, or on a cloudy day.Body materialThe optical elements are reliably protected with a shock-proof shell. It is made of temperature-resistant plastic that is impervious to extreme temperatures and accidental mechanical impacts. The binoculars are coated with a non-slip material that firms the grip. Levenhuk Monaco ED 12x50 are filled with nitrogen, a gas that prevents the lenses from fogging. Due to their hermetic design, the binoculars are impervious to water: rain, snow, or a short period of immersion in water up to 1.5m (5ft) deep.Additional capabilitiesYou can easily adjust the binoculars to your individual needs. You can adjust the interpupillary distance, perform precise diopter adjustment, adjust focusing, and pull out or fold down the eyecups. The binoculars feature long eye relief that makes them convenient for observations with glasses on. Levenhuk Monaco ED 12x50 are adaptable to a tripod (purchased separately).Features:High-aperture binoculars with roof prisms and coated extra-low dispersion opticsFive-element eyepieces with a 28mm diameterShock-proof shell made of plastic withstands extreme temperature changesNitrogen filling protects the lenses from foggingThe hermetically sealed shell protects the binoculars when immersed in water up to 1.5m (5ft) for no longer than three minutesLarge focusing wheel with an embossed surfaceAdaptability to a tripod (purchased separately)Stylish design and original gift boxThe kit includes:BinocularsEyepiece and objective lens capsNeck strap (45mm wide)Rigid zip caseCleaning wipeUser manual and lifetime warranty