Levenhuk Karma BASE 8x42 Binoculars
Roof prisms. Magnification: 8x. Objective lens diameter: 42mm
Levenhuk Karma BASE 8x42 Binoculars are an ideal optical tool for hunting or hiking. They keep a balance between good ergonomics, sufficient magnification, and excellent light-gathering power. Binoculars provide a wide field of view and work perfectly with very distant objects. If you are looking for reliable binoculars, which are convenient to wear for a long time, Levenhuk Karma BASE 8x42 is a great choice.
The optics use compact roof prisms and lenses made of BK-7 glass. Due to the multi-coated optical surfaces, the binoculars deliver a saturated and clear image even in low illumination conditions. The image comes with natural color rendering and high contrast. Sharpness is adjusted with a central focusing wheel; diopter adjustment allows for adapting the optics to the needs of observers with imperfect eyesight. The position of twist-up eyecups is changeable.
Binoculars are adaptable to a tripod because the body has a special thread for connecting an adapter. The body is made of highly durable plastic.
Features:
Roof binoculars for hunting, camping, and exploring wildlife
The optics are made of BK-7 glass with multiple layers of anti-reflecting coating
Close focus of 2.5 meters is suitable for observing nearby objects
Wide field of view and 8x magnification
Diopter adjustment, twist-up eyecups
Adaptable to a tripod
The kit includes:
Binoculars
Eyepiece and objective lens caps
Strap
Pouch
Cleaning wipe
User manual and lifetime warranty
Levenhuk Karma BASE 8x42 Binoculars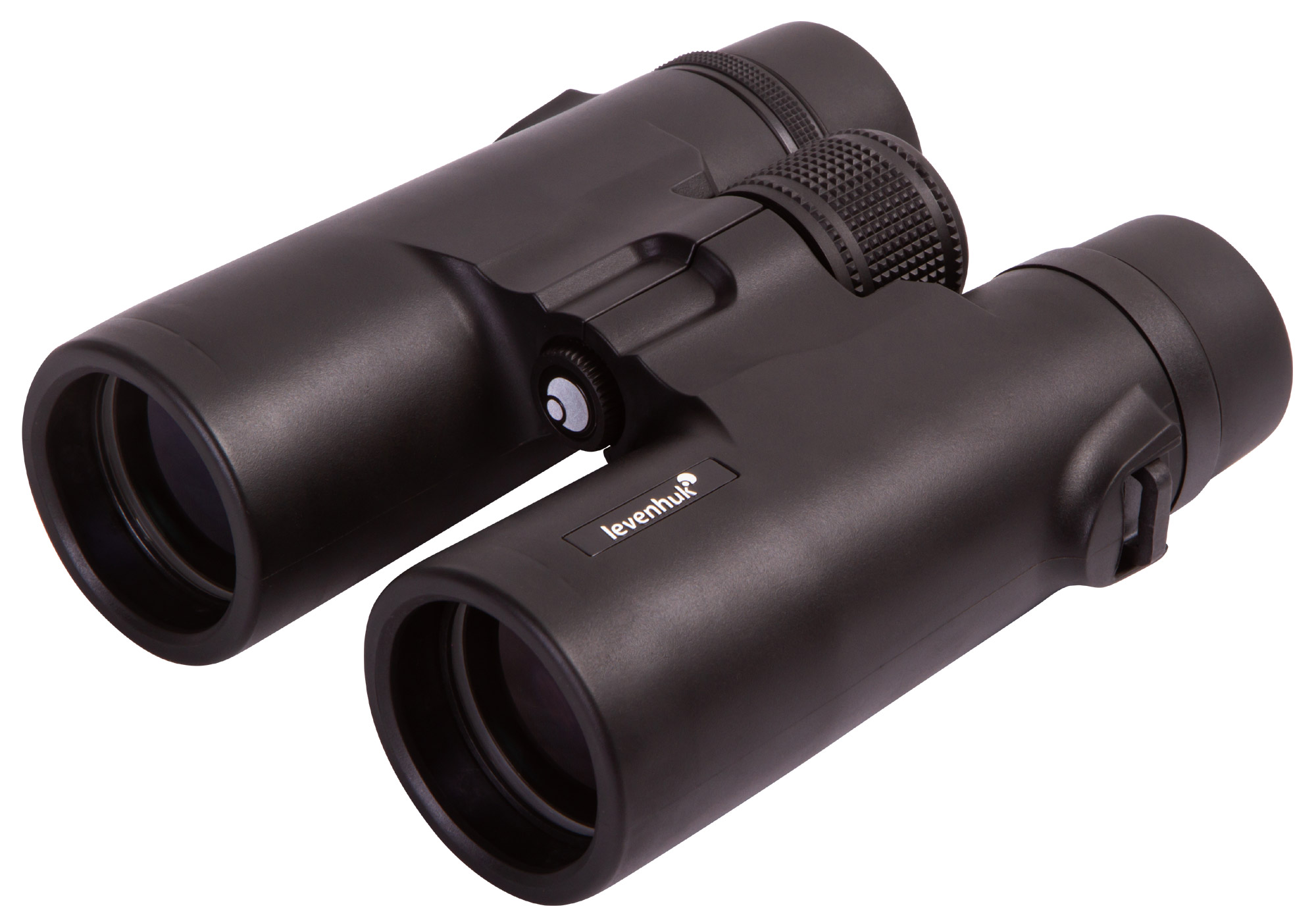 Levenhuk Karma BASE 8x42 Binoculars are an ideal optical tool for hunting or hiking. They keep a balance between good ergonomics, sufficient magnification, and excellent light-gathering power. Binoculars provide a wide field of view and work perfectly with very distant objects. If you are looking for reliable binoculars, which are convenient to wear for a long time, Levenhuk Karma BASE 8x42 is a great choice. The optics use compact roof prisms and lenses made of BK-7 glass. Due to the multi-coated optical surfaces, the binoculars deliver a saturated and clear image even in low illumination conditions. The image comes with natural color rendering and high contrast. Sharpness is adjusted with a central focusing wheel; diopter adjustment allows for adapting the optics to the needs of observers with imperfect eyesight. The position of twist-up eyecups is changeable. Binoculars are adaptable to a tripod because the body has a special thread for connecting an adapter. The body is made of highly durable plastic. Features: Roof binoculars for hunting, camping, and exploring wildlife The optics are made of BK-7 glass with multiple layers of anti-reflecting coating Close focus of 2.5 meters is suitable for observing nearby objects Wide field of view and 8x magnification Diopter adjustment, twist-up eyecups Adaptable to a tripod The kit includes: Binoculars Eyepiece and objective lens caps Strap Pouch Cleaning wipe User manual and lifetime warranty