Levenhuk Halo 13X PLUS Digital Night Vision Binoculars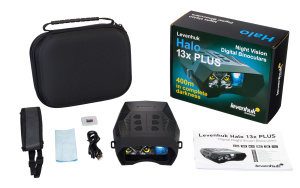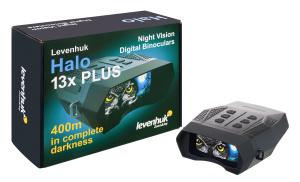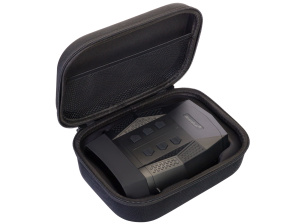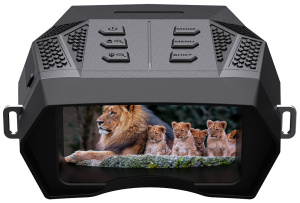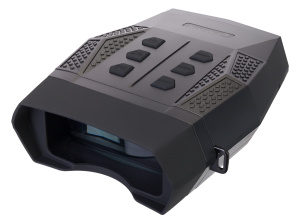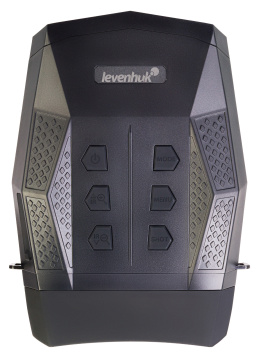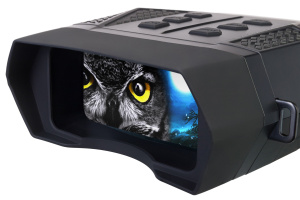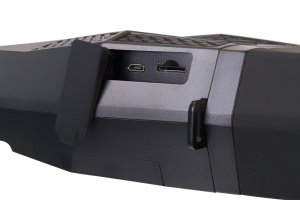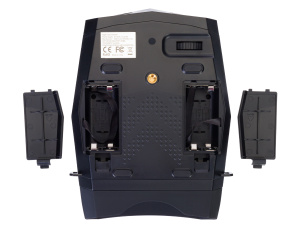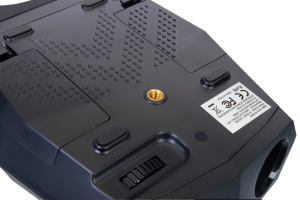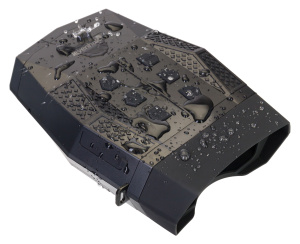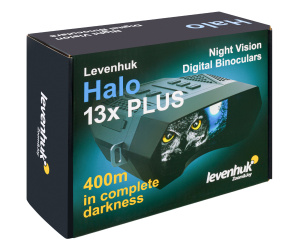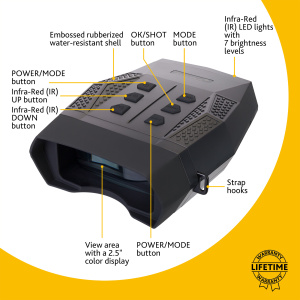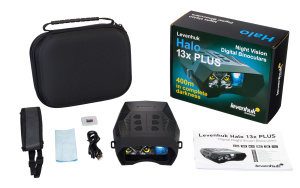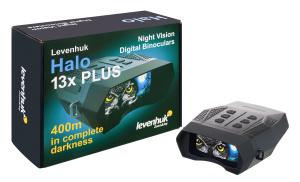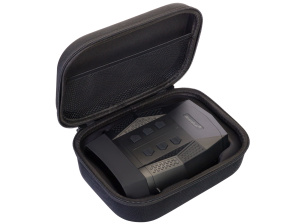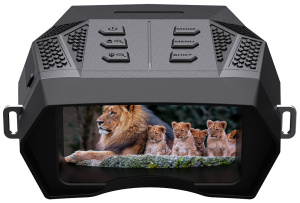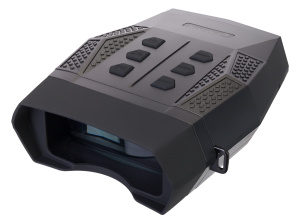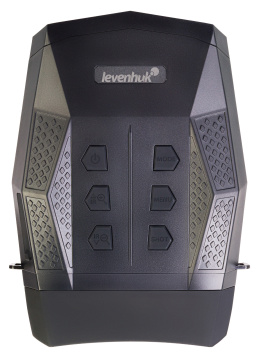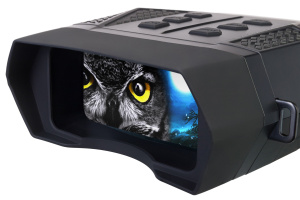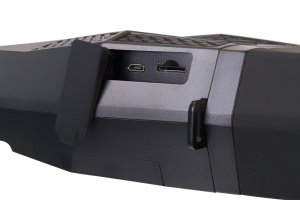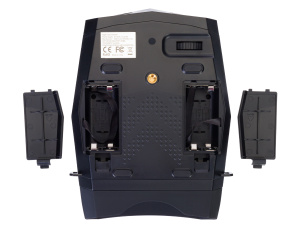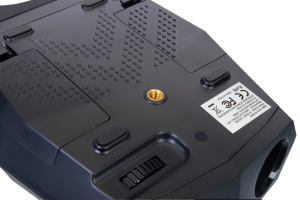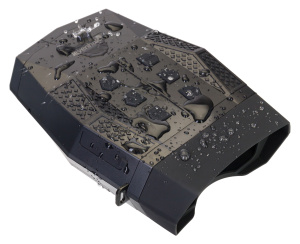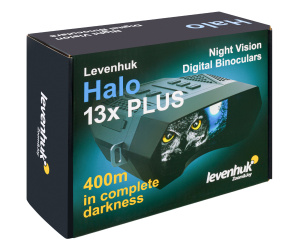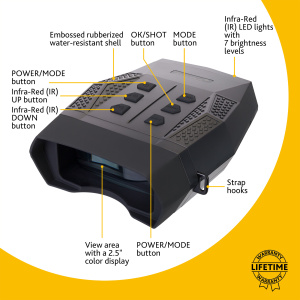 For day and night observation. With a recorder. Magnification: 1–4x (digital)
The Levenhuk Halo 13X PLUS night vision binoculars – a great device for observations in various settings. Unaffected by daylight, the binoculars can be used not only as NVD at night but also as regular binoculars. The binoculars are water-resistant, equipped with a recorder and an IR illumination, and can be mounted on a tripod. The binoculars will be a great tool for night hunting and hiking, and they are also useful for territory protection and reconnaissance.
The nighttime visibility in pitch-black darkness up to 400 meters (1,300 feet)
This model can detect the target at a distance of up to 400 meters (1,300 feet). The built-in illumination is dimmable, easily adjustable to any lighting conditions. The illumination is safe for the eyes and invisible to other people and animals. During the day, binoculars can focus on objects that are 1 meter (3.3 feet) away or more. As the optics are made of glass and coated with silicon dioxide, the NVD delivers crisp and contrast-rich images, so you can clearly see even the smallest details. The device can produce a color image, a black and white image, a bright green image, or an image with a color film effect. However, the color image is not available when night mode is on.
Full HD photo and video recording function
The binoculars have a recorder that supports recording on a memory card. The maximum image quality is 2048x1536pix; for videos – 1920x1080pix (Full HD) at 30 Fps. Photos are crisp and videos are smooth. You can view them on the binoculars screen before they are transferred to your PC. You can connect to a PC using a mini-USB cable.
Up to 18 hours of battery life without recharging
They have a water-resistant and ergonomic body. The control buttons are easily accessible – no need to look for them, they are right under your fingers. There is a standard tripod mount. The binoculars are powered by standard batteries. Depending on how often you turn on the illumination, the battery life can range from 5.5 to 18 hours. The device is AC or batteries powered.
Please note: IR illumination (infrared radiation) can be detected by photo and video cameras as well as other similar electronic devices during operation.
Key features:
For day and night observation
Fully coated optics, digital magnification
Full HD photo and video recorder
IR illumination with 7 levels of brightness; 400 meters (1,300 feet) detection range
AC, batteries, external battery powered
Mountable on a tripod
The kit includes:
Night vision device
Cable mini-USB 2.0
32GB microSD memory card
Card reader
Strap
Pouch
User manual and warranty card
Levenhuk Halo 13X PLUS Digital Night Vision Binoculars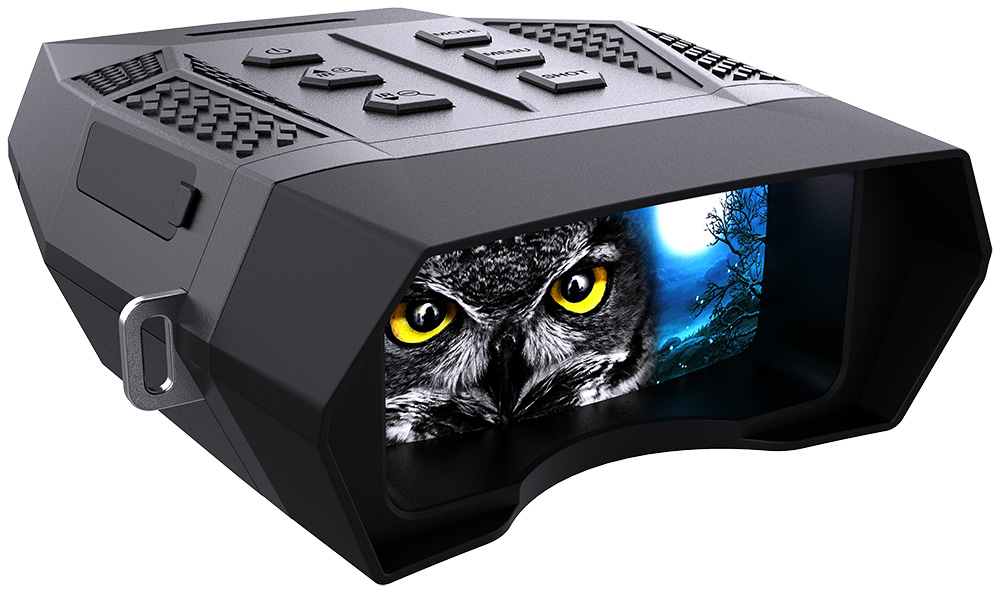 The Levenhuk Halo 13X PLUS night vision binoculars – a great device for observations in various settings. Unaffected by daylight, the binoculars can be used not only as NVD at night but also as regular binoculars. The binoculars are water-resistant, equipped with a recorder and an IR illumination, and can be mounted on a tripod. The binoculars will be a great tool for night hunting and hiking, and they are also useful for territory protection and reconnaissance. The nighttime visibility in pitch-black darkness up to 400 meters (1,300 feet) This model can detect the target at a distance of up to 400 meters (1,300 feet). The built-in illumination is dimmable, easily adjustable to any lighting conditions. The illumination is safe for the eyes and invisible to other people and animals. During the day, binoculars can focus on objects that are 1 meter (3.3 feet) away or more. As the optics are made of glass and coated with silicon dioxide, the NVD delivers crisp and contrast-rich images, so you can clearly see even the smallest details. The device can produce a color image, a black and white image, a bright green image, or an image with a color film effect. However, the color image is not available when night mode is on. Full HD photo and video recording function The binoculars have a recorder that supports recording on a memory card. The maximum image quality is 2048x1536pix; for videos – 1920x1080pix (Full HD) at 30 Fps. Photos are crisp and videos are smooth. You can view them on the binoculars screen before they are transferred to your PC. You can connect to a PC using a mini-USB cable. Up to 18 hours of battery life without recharging They have a water-resistant and ergonomic body. The control buttons are easily accessible – no need to look for them, they are right under your fingers. There is a standard tripod mount. The binoculars are powered by standard batteries. Depending on how often you turn on the illumination, the battery life can range from 5.5 to 18 hours. The device is AC or batteries powered. Please note: IR illumination (infrared radiation) can be detected by photo and video cameras as well as other similar electronic devices during operation. Key features: For day and night observation Fully coated optics, digital magnification Full HD photo and video recorder IR illumination with 7 levels of brightness; 400 meters (1,300 feet) detection range AC, batteries, external battery powered Mountable on a tripod The kit includes: Night vision device Cable mini-USB 2.0 32GB microSD memory card Card reader Strap Pouch User manual and warranty card