Levenhuk Energy 8x40 Binoculars
Porro prism. Magnification: 8x. Objective lens diameter: 40mm
With optics made of BaK-4 glass and a sturdy waterproof shell, Levenhuk Energy 8x40 Binoculars are fit for any conditions, and may be used for slow walks in the countryside, or for observations in harsh conditions. You can use these binoculars with 8x magnification for handheld observations, or mount them on a tripod.
Optics
The prisms in these binoculars are made of BaK-4 glass, which boasts a high refraction index, providing a sharp and bright view without any distortions. All optics are fully multi-coated, and objective lenses with a wide field of view allow you to see more during your observations.
Shell
The shell will endure any extreme conditions, including sudden impact and instant submerging (up to 1 meter or 3.3 feet). The waterproof shell is made of shockproof plastic filled with nitrogen, which prevents the optics from fogging.
Capabilities
The capabilities of Levenhuk Energy Binoculars are comparable to any top-range binoculars, as this model has everything you have come to expect from modern binoculars.
Diopter adjustment ring on the right barrel lets you fine-tune the binoculars to your eyesight;
Central focusing is the easiest way to focus any binoculars;
Waterproof and fogproof , these binoculars may be used come rain or shine (Levenhuk Energy models can withstand rain, sea water splashes and falling into snow without any consequences to their functionality);
Twist-up eyecups let you use the binoculars for observations while wearing eyeglasses. The eyecups themselves are made of soft rubber, which makes them pleasant to the touch.
The kit includes:
Binoculars
Neck strap
Cleaning wipe
Nylon pouch
Objective lens caps – 2 pieces
Eyepiece cap
User manual and lifetime warranty
Levenhuk Energy 8x40 Binoculars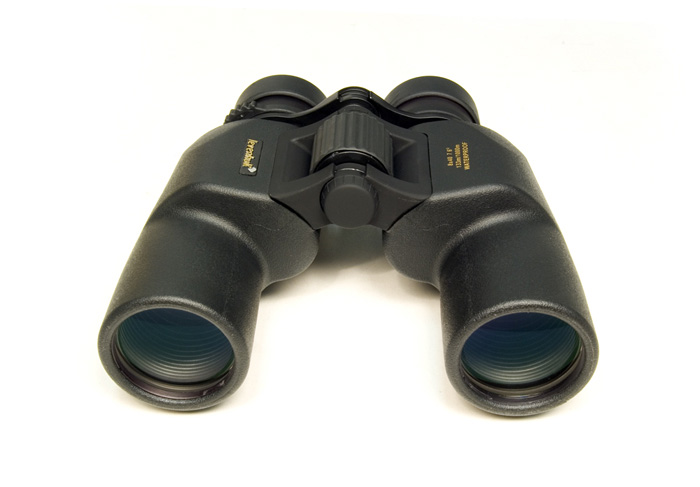 With optics made of BaK-4 glass and a sturdy waterproof shell, Levenhuk Energy 8x40 Binoculars are fit for any conditions, and may be used for slow walks in the countryside, or for observations in harsh conditions. You can use these binoculars with 8x magnification for handheld observations, or mount them on a tripod. Optics The prisms in these binoculars are made of BaK-4 glass, which boasts a high refraction index, providing a sharp and bright view without any distortions. All optics are fully multi-coated, and objective lenses with a wide field of view allow you to see more during your observations. Shell The shell will endure any extreme conditions, including sudden impact and instant submerging (up to 1 meter or 3.3 feet). The waterproof shell is made of shockproof plastic filled with nitrogen, which prevents the optics from fogging. Capabilities The capabilities of Levenhuk Energy Binoculars are comparable to any top-range binoculars, as this model has everything you have come to expect from modern binoculars. Diopter adjustment ring on the right barrel lets you fine-tune the binoculars to your eyesight; Central focusing is the easiest way to focus any binoculars; Waterproof and fogproof , these binoculars may be used come rain or shine (Levenhuk Energy models can withstand rain, sea water splashes and falling into snow without any consequences to their functionality); Twist-up eyecups let you use the binoculars for observations while wearing eyeglasses. The eyecups themselves are made of soft rubber, which makes them pleasant to the touch. The kit includes: Binoculars Neck strap Cleaning wipe Nylon pouch Objective lens caps – 2 pieces Eyepiece cap User manual and lifetime warranty