Levenhuk Atom Digital DNB200 Night Vision Binoculars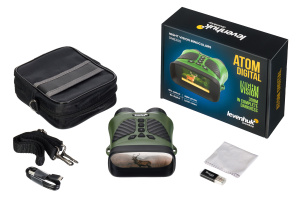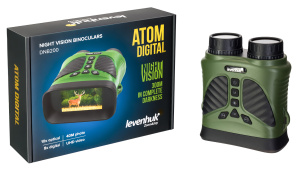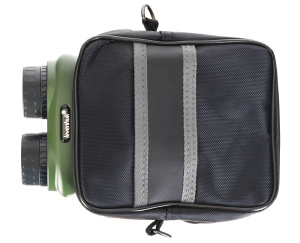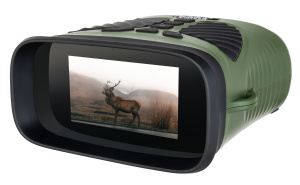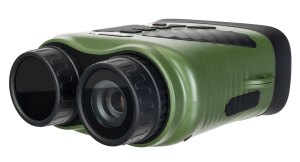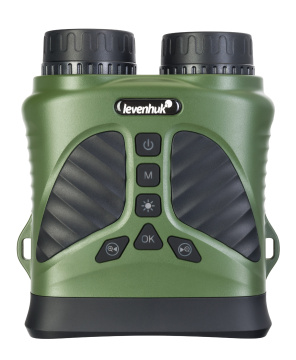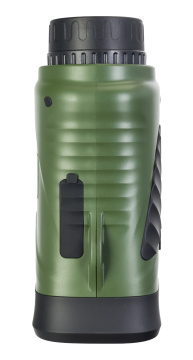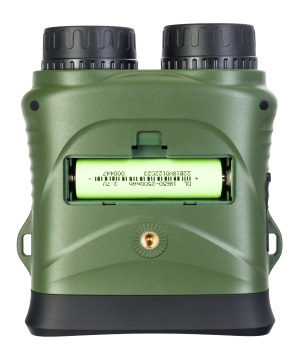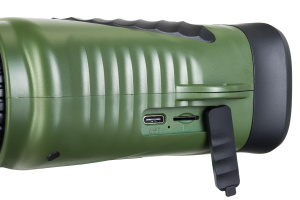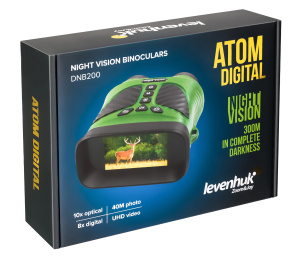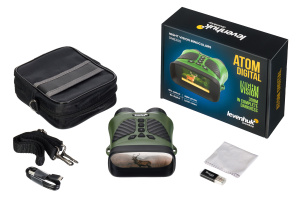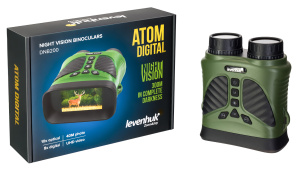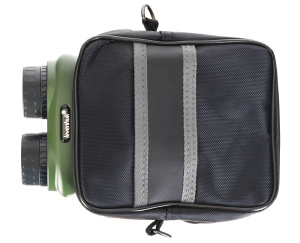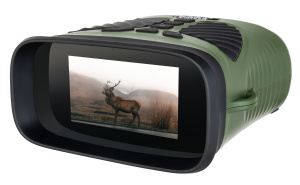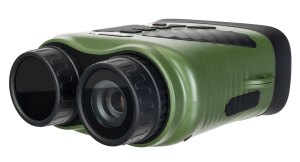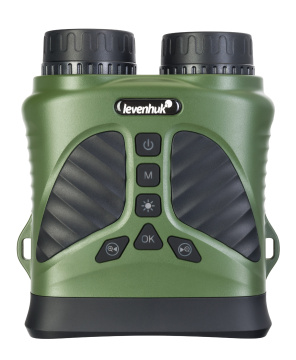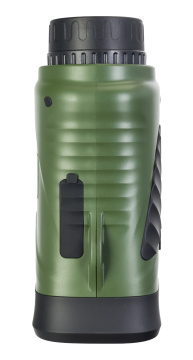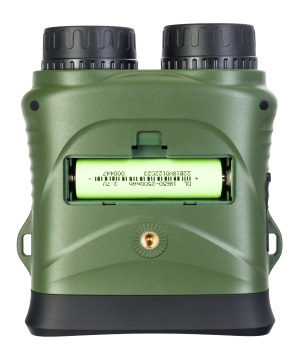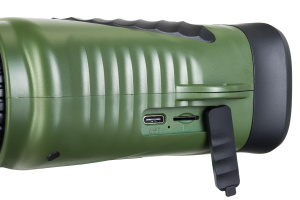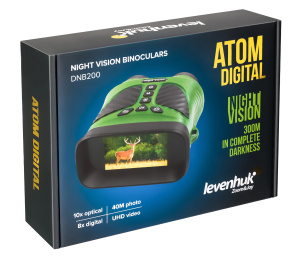 For day and night observations. With a recorder. Magnification: 10x (optical), 1–8x (digital). Objective lens diameter: 24mm
The Levenhuk Atom Digital DNB200 is night vision binoculars with a digital converter, powerful IR illumination and a built-in high-resolution display. With this device, you can comfortably observe and take pictures under any lighting conditions by combining the optical magnification of the picture and the digital zoom, adjustable from 1–8x. The binoculars are ideal for day and night hunting trips, exploring unfamiliar areas, surveillance, and search and rescue missions. Color image by day, black and white by night.
Design features of the Levenhuk Atom Digital DNB200 binoculars
In daylight and at dusk, the observation distance is unlimited, and at night it is 250–300m. The optical elements of the binoculars are made of glass and the high-strength ABS-plastic body protects the high-tech optical scheme from damage if dropped. The LED IR illumination is powered by rechargeable battery and has 3 levels of brightness – it is easy to find the right mode for viewing images at night. The diameter and resolution of the built-in display are larger than those of the DNB100 model and, therefore, more detail can be explored when observing.
High-resolution recording and large memory capacity
Levenhuk Atom Digital DNB200 Night Vision Binoculars have a built-in video recorder. It allows you to record in high quality: up to 40M for photos and 2.5K for videos. The data is stored on the memory card. Note that the binoculars support cards up to 128GB – that is enough space to last a long time. It is especially convenient to take long observations and capture photos and videos with a tripod: It helps you to avoid handshaking. The binoculars are designed with a standard thread.
Please note: IR illumination (infrared radiation) can be detected by photo and video cameras as well as other similar electronic devices during operation.
Key features:
Binocular vision during the day and night, optical and digital magnification
Light-sensitive element: CMOS sensor, glass optics
Color image by day, black and white by night
Long range object detection in total darkness: up to 300m
Capturing high-resolution photos and videos with sound
Rugged ABS plastic, tripod mount
The kit includes:
Night vision device
USB Type-C cable
Card reader
Neck strap
Pouch
Cleaning wipe
User manual and warranty card
Levenhuk Atom Digital DNB200 Night Vision Binoculars
The Levenhuk Atom Digital DNB200 is night vision binoculars with a digital converter, powerful IR illumination and a built-in high-resolution display. With this device, you can comfortably observe and take pictures under any lighting conditions by combining the optical magnification of the picture and the digital zoom, adjustable from 1–8x. The binoculars are ideal for day and night hunting trips, exploring unfamiliar areas, surveillance, and search and rescue missions. Color image by day, black and white by night. Design features of the Levenhuk Atom Digital DNB200 binoculars In daylight and at dusk, the observation distance is unlimited, and at night it is 250–300m. The optical elements of the binoculars are made of glass and the high-strength ABS-plastic body protects the high-tech optical scheme from damage if dropped. The LED IR illumination is powered by rechargeable battery and has 3 levels of brightness – it is easy to find the right mode for viewing images at night. The diameter and resolution of the built-in display are larger than those of the DNB100 model and, therefore, more detail can be explored when observing. High-resolution recording and large memory capacity Levenhuk Atom Digital DNB200 Night Vision Binoculars have a built-in video recorder. It allows you to record in high quality: up to 40M for photos and 2.5K for videos. The data is stored on the memory card. Note that the binoculars support cards up to 128GB – that is enough space to last a long time. It is especially convenient to take long observations and capture photos and videos with a tripod: It helps you to avoid handshaking. The binoculars are designed with a standard thread. Please note: IR illumination (infrared radiation) can be detected by photo and video cameras as well as other similar electronic devices during operation. Key features: Binocular vision during the day and night, optical and digital magnification Light-sensitive element: CMOS sensor, glass optics Color image by day, black and white by night Long range object detection in total darkness: up to 300m Capturing high-resolution photos and videos with sound Rugged ABS plastic, tripod mount The kit includes: Night vision device USB Type-C cable Card reader Neck strap Pouch Cleaning wipe User manual and warranty card