Levenhuk Atom 8x30 Binoculars
Porro prisms. Magnification: 8x. Objective lens diameter: 30mm
Levenhuk Atom 8x30 Binoculars are a reliable optical instrument for conducting outdoor observations. Hiking enthusiasts, natural scientists, and anyone who enjoys walking will love these binoculars. The binoculars come in a lightweight shell and provide you with a secure grip; in addition, they do not take up much space in a backpack. The optics provide 8x magnification as well as deliver a sharp and clear image and good visibility.
These binoculars use classic Porro prisms. All of the optical elements are made of fully-coated BK-7 glass. The right eyepiece has a diopter adjustment ring that is used for tuning up the optics individually for each customer's eyesight. Central focusing allows for precise sharpness adjustment. The eyecups are foldable, which makes it convenient for anyone who wears glasses.
Although Levenhuk Atom 8x30 Binoculars are a compact optical tool, they are also adaptable to a tripod.
Features:
Compact water-resistant binoculars
Porro prisms and lenses made of fully-coated BK-7 glass
Eyepiece diopter adjustment
Adaptable to a tripod
Excellent choice for walks and hiking trips
The kit includes:
Binoculars
Eyepiece and objective lens protective caps
Pouch
Strap
Cleaning wipe
User manual and lifetime warranty
Levenhuk Atom 8x30 Binoculars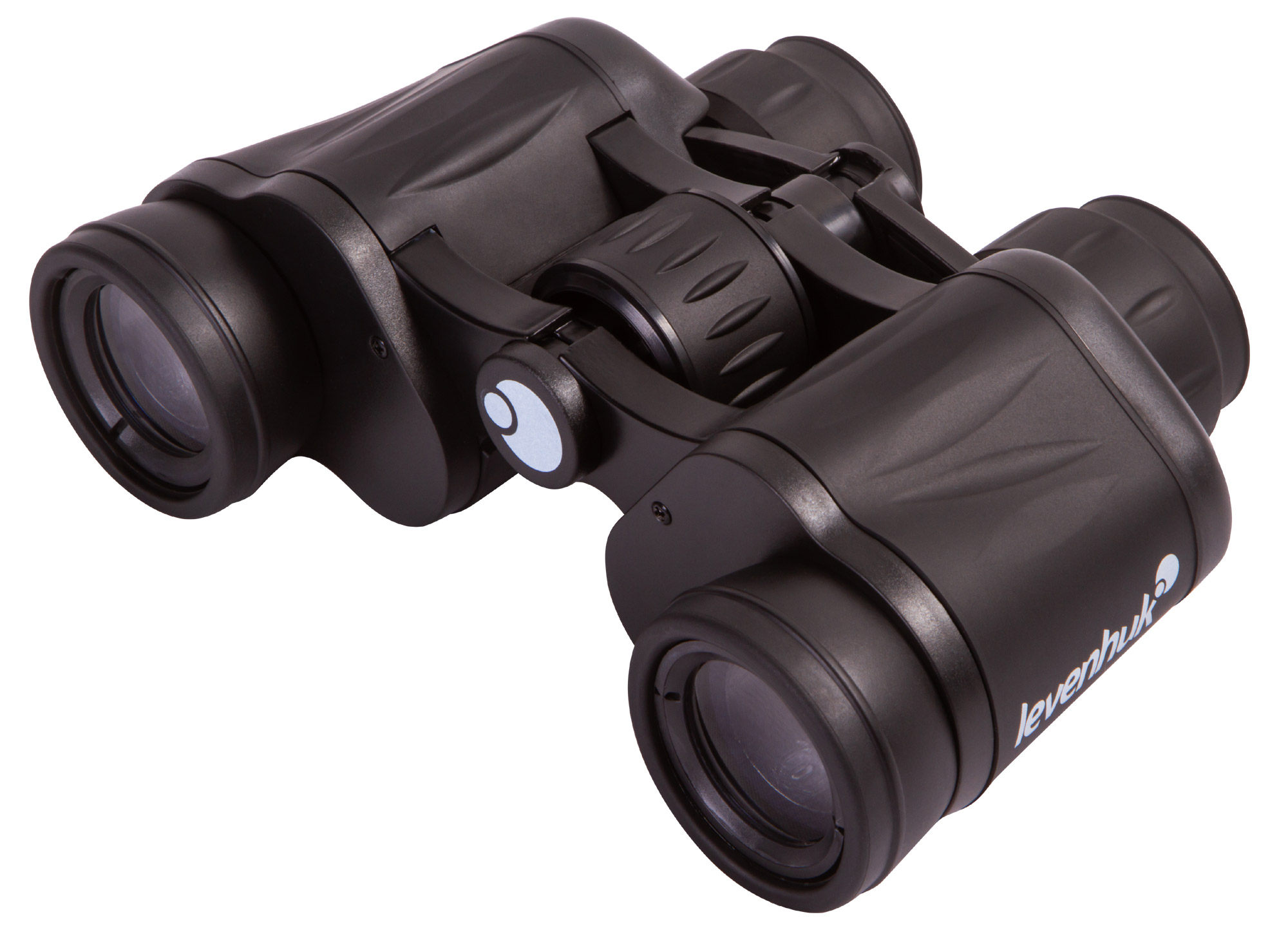 Levenhuk Atom 8x30 Binoculars are a reliable optical instrument for conducting outdoor observations. Hiking enthusiasts, natural scientists, and anyone who enjoys walking will love these binoculars. The binoculars come in a lightweight shell and provide you with a secure grip; in addition, they do not take up much space in a backpack. The optics provide 8x magnification as well as deliver a sharp and clear image and good visibility. These binoculars use classic Porro prisms. All of the optical elements are made of fully-coated BK-7 glass. The right eyepiece has a diopter adjustment ring that is used for tuning up the optics individually for each customer's eyesight. Central focusing allows for precise sharpness adjustment. The eyecups are foldable, which makes it convenient for anyone who wears glasses. Although Levenhuk Atom 8x30 Binoculars are a compact optical tool, they are also adaptable to a tripod. Features: Compact water-resistant binoculars Porro prisms and lenses made of fully-coated BK-7 glass Eyepiece diopter adjustment Adaptable to a tripod Excellent choice for walks and hiking trips The kit includes: Binoculars Eyepiece and objective lens protective caps Pouch Strap Cleaning wipe User manual and lifetime warranty