Levenhuk Atom 8–20x25 Binoculars
Magnification: 8–20x. Objective lens diameter: 25mm
Levenhuk Atom 8–20x25 Binoculars are a great choice for travelers, sports fans, and those who enjoy walks in the countryside. This compact and lightweight model features fully coated optics and variable magnification in the range from 8x to 20x. You can use a different magnification to observe distant objects or single distant targets.
These binoculars use Porro prisms. The optics are made of BK-7 glass; the multi-coated lenses with anti-reflective coating transmit maximum amount of light. These binoculars form a bright clear image with correct color rendering.
The rubberized coating of the body protects the optics from dirt, moisture, and dust. Due to the embossed coating, the binoculars ensure a firm grip. They will not slip out of your hands even when you are wearing gloves. You can quickly focus on a target using the central focusing mechanism or adjust the focus during observations. Interpupillary distance is adjustable in a range of 52 to 74mm: simply move the barrels closer together or further apart.
Features:
Compact binoculars for travelers
Optical scheme with Porro lenses
Optics made of BK-7 glass
Fully multi-coated lenses
Rubberized body protects the tool from moisture and dust.
The kit includes:
Levenhuk Atom 8–20x25 Binoculars
Pouch
Strap
Cleaning wipe
User manual and warranty card
Levenhuk Atom 8–20x25 Binoculars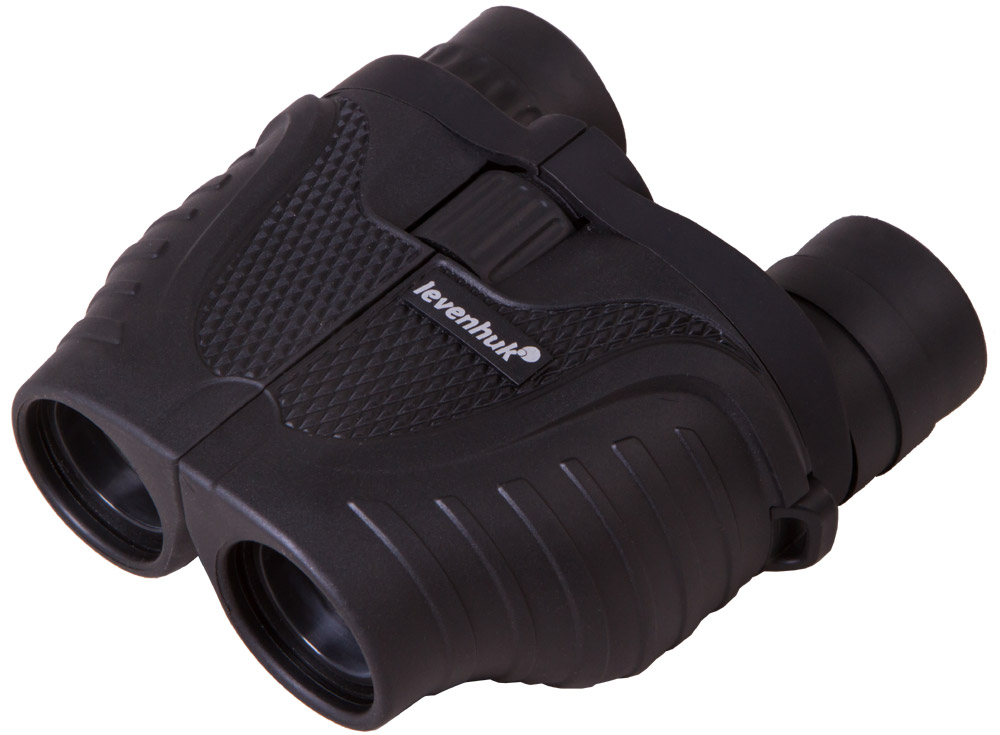 Levenhuk Atom 8–20x25 Binoculars are a great choice for travelers, sports fans, and those who enjoy walks in the countryside. This compact and lightweight model features fully coated optics and variable magnification in the range from 8x to 20x. You can use a different magnification to observe distant objects or single distant targets.These binoculars use Porro prisms. The optics are made of BK-7 glass; the multi-coated lenses with anti-reflective coating transmit maximum amount of light. These binoculars form a bright clear image with correct color rendering.The rubberized coating of the body protects the optics from dirt, moisture, and dust. Due to the embossed coating, the binoculars ensure a firm grip. They will not slip out of your hands even when you are wearing gloves. You can quickly focus on a target using the central focusing mechanism or adjust the focus during observations. Interpupillary distance is adjustable in a range of 52 to 74mm: simply move the barrels closer together or further apart.Features:Compact binoculars for travelersOptical scheme with Porro lensesOptics made of BK-7 glassFully multi-coated lensesRubberized body protects the tool from moisture and dust.The kit includes:Levenhuk Atom 8–20x25 BinocularsPouchStrapCleaning wipeUser manual and warranty card