Levenhuk Army 10x50 Binoculars with Reticle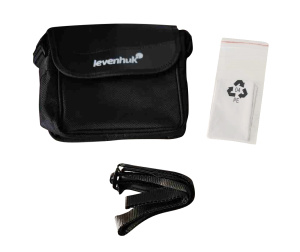 Waterproof. With a scaled reticle and a range-finding scale. Porro prisms. Magnification: 10x. Objective lens diameter: 50mm
Accessories
Levenhuk Army 10x50 Binoculars with Reticle combine 10x magnification, 50mm lenses, and a rugged design. The device is perfect for professional use, such as search operations or surveying, as well as for hunting, sports, and hiking in the wild. You can use it to explore your surroundings and measure the distance, calculate the height of objects, and determine angles (horizontal and vertical). Thanks to the scales in the eyepiece, the binoculars can replace the rangefinder in many situations, and so there is no need to take two devices with you.
The optics of the Levenhuk Army 10x50 is made of high-quality BaK-4 glass and is fully multi-coated, which ensures the high contrast and brightness of the produced image. The central focusing wheel is large and easy to rotate, even with a hand in a glove. The dioptric adjustment ring and twist-up eyecups allow you to adjust the optics to your individual needs. If necessary, you can comfortably observe wearing tactical glasses or sunglasses.
The aluminum body of the binoculars is fully waterproof. It is rubberized on the outside and nitrogen-filled on the inside, and so the lenses won't fog up even with extreme temperature fluctuations. A standard 1/4" tripod thread for mounting on a tripod is included.
Key features:
High-aperture Porro binoculars with 10x magnification
Eyepiece with range-finding scale and scaled reticle
Fully multi-coated optics
Sealed, nitrogen-filled aluminum body won't slip out of your hands
Diopter adjustment, central focusing, and tripod mount
The kit includes:
Binoculars
Strap
Pouch
Eyepiece and objective lens protective caps
Cleaning wipe
User manual and warranty card
Levenhuk Army 10x50 Binoculars with Reticle
Levenhuk Army 10x50 Binoculars with Reticle combine 10x magnification, 50mm lenses, and a rugged design. The device is perfect for professional use, such as search operations or surveying, as well as for hunting, sports, and hiking in the wild. You can use it to explore your surroundings and measure the distance, calculate the height of objects, and determine angles (horizontal and vertical). Thanks to the scales in the eyepiece, the binoculars can replace the rangefinder in many situations, and so there is no need to take two devices with you. The optics of the Levenhuk Army 10x50 is made of high-quality BaK-4 glass and is fully multi-coated, which ensures the high contrast and brightness of the produced image. The central focusing wheel is large and easy to rotate, even with a hand in a glove. The dioptric adjustment ring and twist-up eyecups allow you to adjust the optics to your individual needs. If necessary, you can comfortably observe wearing tactical glasses or sunglasses. The aluminum body of the binoculars is fully waterproof. It is rubberized on the outside and nitrogen-filled on the inside, and so the lenses won't fog up even with extreme temperature fluctuations. A standard 1/4" tripod thread for mounting on a tripod is included. Key features: High-aperture Porro binoculars with 10x magnification Eyepiece with range-finding scale and scaled reticle Fully multi-coated optics Sealed, nitrogen-filled aluminum body won't slip out of your hands Diopter adjustment, central focusing, and tripod mount The kit includes: Binoculars Strap Pouch Eyepiece and objective lens protective caps Cleaning wipe User manual and warranty card