Levenhuk Army 10x40 Binoculars with Reticle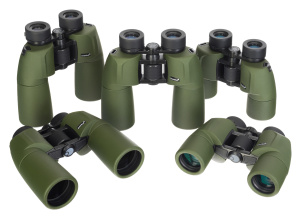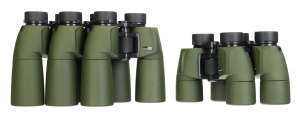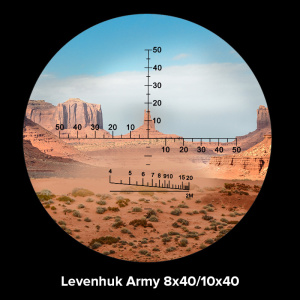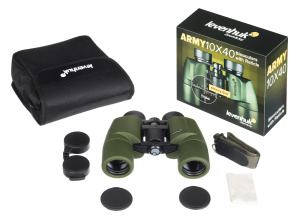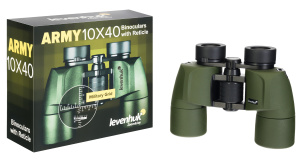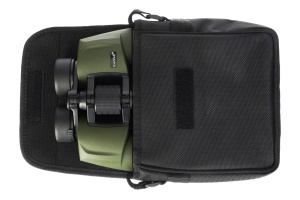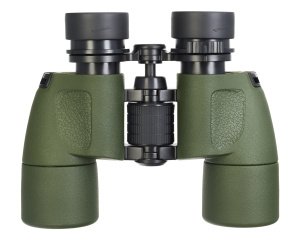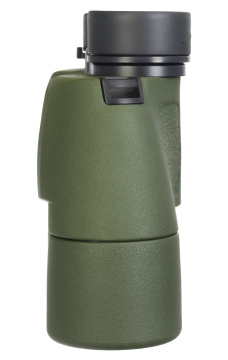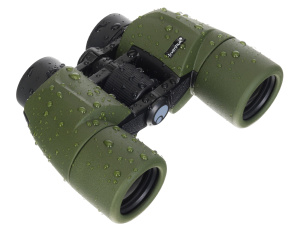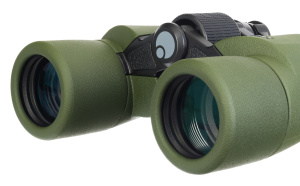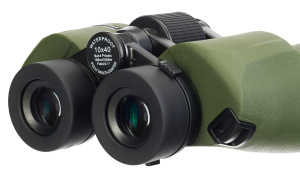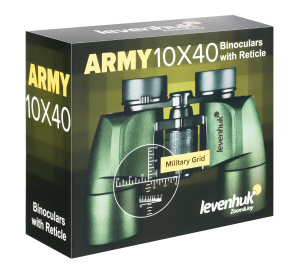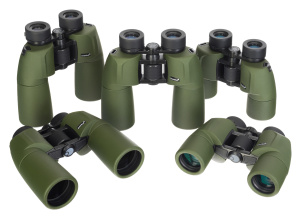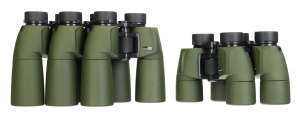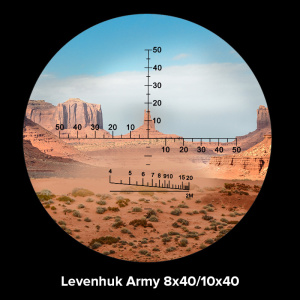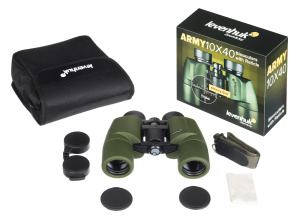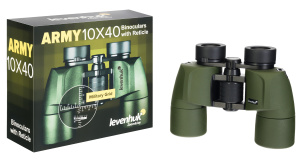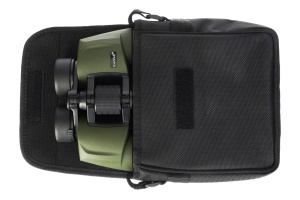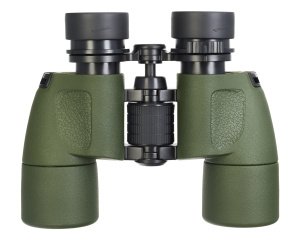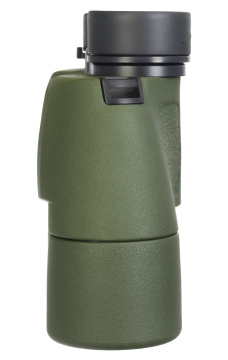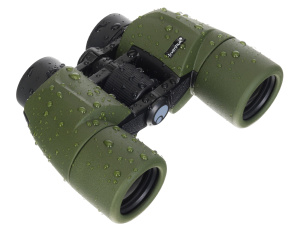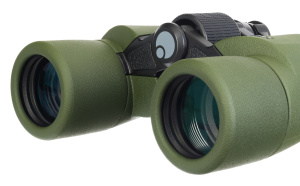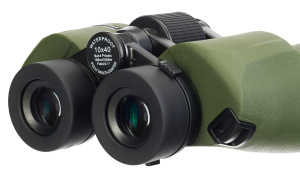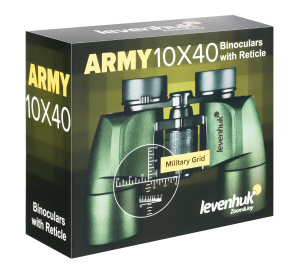 Waterproof. With a scaled reticle and a range-finding scale. Porro prisms. Magnification: 10x. Objective lens diameter: 40mm
Introducing Levenhuk Army 10x40 – field binoculars with scales that are great for hunting, extreme tourism, tactical and security purposes, and surveying. The device can be used not only to explore the area and locate distant targets at 10x magnification, but also to make a number of measurements: distances and heights as well as horizontal and vertical angles. It is possible thanks to the scaled reticle and range-finding scale in one of the binoculars' eyepieces.
The optical scheme is based on Porro prisms. All optical surfaces are multi-coated with a special compound that enhances the brightness, contrast, and image clarity. You can focus on the target using a large convenient central focusing wheel. The short close focus limit allows you to see objects on the horizon as well as those just a few steps away equally well. The eyecups, whose position can be adjusted, and the diopter adjustment ring help you adjust the optics to your eyes.
A durable metal body of the Levenhuk Army 10x40 is waterproof and the optical channels are nitrogen-filled to prevent the lenses from fogging up. There is a 1/4" tripod mount.
Key features:
Porro prism optics made of fully coated BaK-4 glass
Scales in the eyepiece to calculate distance, elevation, and angles
Diopter correction and central focusing at a distance of 4 meters (13ft)
Nitrogen-filled aluminum alloy body can withstand water immersion
Rubberized surface, comfortable handheld observation, and tripod mounting
The kit includes:
Binoculars
Strap
Pouch
Eyepiece and objective lens protective caps
Cleaning wipe
User manual and warranty card
Levenhuk Army 10x40 Binoculars with Reticle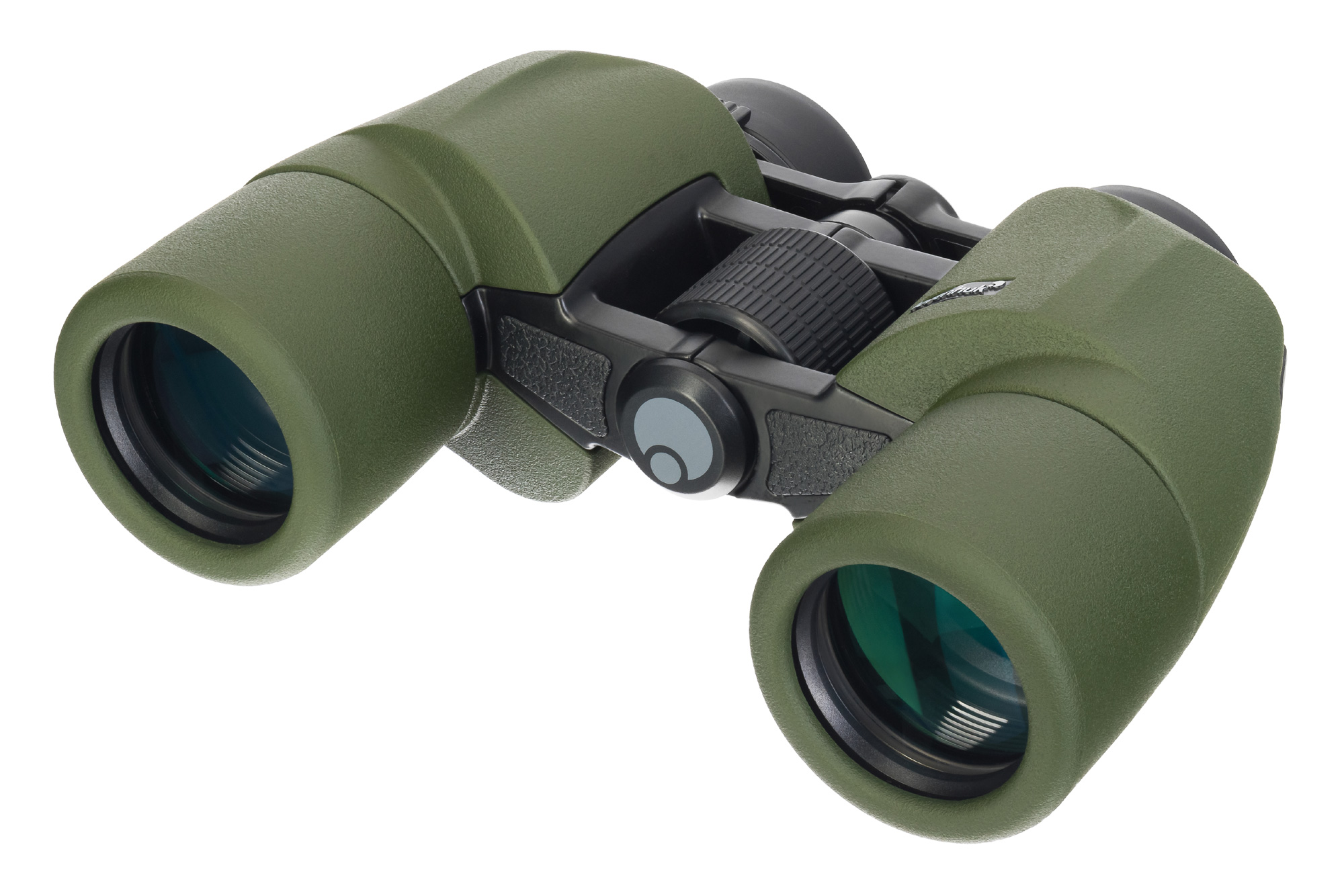 Introducing Levenhuk Army 10x40 – field binoculars with scales that are great for hunting, extreme tourism, tactical and security purposes, and surveying. The device can be used not only to explore the area and locate distant targets at 10x magnification, but also to make a number of measurements: distances and heights as well as horizontal and vertical angles. It is possible thanks to the scaled reticle and range-finding scale in one of the binoculars' eyepieces. The optical scheme is based on Porro prisms. All optical surfaces are multi-coated with a special compound that enhances the brightness, contrast, and image clarity. You can focus on the target using a large convenient central focusing wheel. The short close focus limit allows you to see objects on the horizon as well as those just a few steps away equally well. The eyecups, whose position can be adjusted, and the diopter adjustment ring help you adjust the optics to your eyes. A durable metal body of the Levenhuk Army 10x40 is waterproof and the optical channels are nitrogen-filled to prevent the lenses from fogging up. There is a 1/4" tripod mount. Key features: Porro prism optics made of fully coated BaK-4 glass Scales in the eyepiece to calculate distance, elevation, and angles Diopter correction and central focusing at a distance of 4 meters (13ft) Nitrogen-filled aluminum alloy body can withstand water immersion Rubberized surface, comfortable handheld observation, and tripod mounting The kit includes: Binoculars Strap Pouch Eyepiece and objective lens protective caps Cleaning wipe User manual and warranty card