Discovery Gator 8–20x25 Binoculars
Zoom binoculars with variable magnification. Water-resistant. Porro prisms. Magnification: 8-20x. Objective lens diameter: 25mm
Discovery Channel informs, entertains and inspires its audiences around the globe about the world in all its wonder, diversity and amazement. Offering millions of people the chance to discover, and satisfy their curiosity, Discovery offers a compelling mix of stories across genres including science and technology, exploration, adventure, history and in depth behind-the-scenes glimpses at the people, places and organisations that shape and share the world we live in.
We proudly present the Discovery optics series that is produced by Levenhuk and endorsed by Discovery.
---
The Discovery Gator 8-20x25 are zoom binoculars with variable magnification. This model has a magnification range of 8x to 20x, that makes it universal. The 8x magnification power is ideal for sporting events and bird and animal watching. The 20x magnification enables you to comfortably view more distant objects such as the opposite side of a river, a solitary building in a field, a trail in the mountains, etc.
Although these binoculars are based on Porro prisms, they are compact and lightweight, so you can easily take it with you as it does not take up much space in a backpack. Made of the BK-7 glass, these binoculars are fully multi-coated for higher contrast and brightness. These binoculars are equipped with twist-up eyecups, the central focusing and the diopter adjustment. The interpupil distance can also be adjusted. Twist-up eyecups.
The body of the binoculars is rubberized, i.e., secured from moisture and dust.
Key features:
Compact Porro based water-resistant binoculars
The 8x to 20x magnification range
BK-7 glass
Fully multi-coated optics
Diopter adjustment, twist-up eyecups
The kit includes:
Binoculars
Pouch
Strap
Cleaning wipe
User manual and warranty card
Discovery Gator 8–20x25 Binoculars images made by Jason Whitehead:
Discovery Gator 8–20x25 Binoculars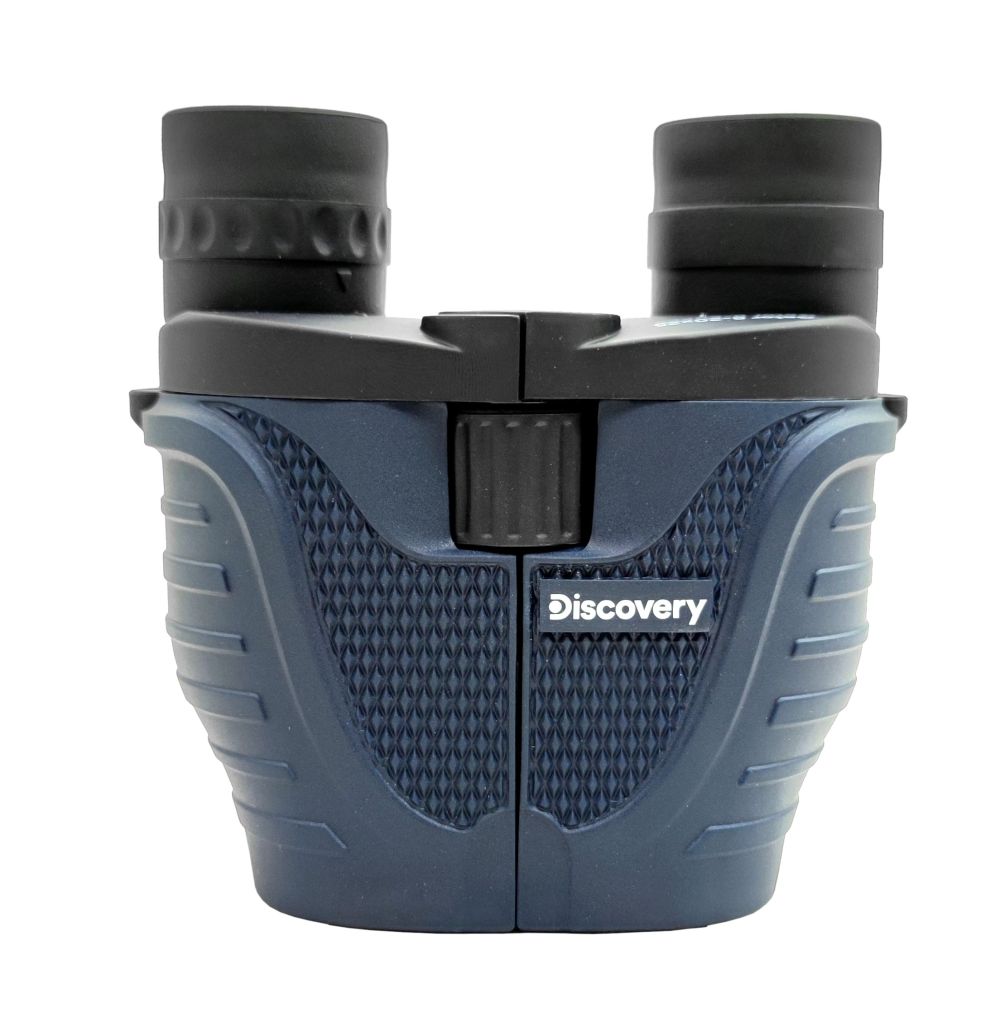 {: style="border:0px; margin-bottom: -5px; width:15%;" } Discovery Channel informs, entertains and inspires its audiences around the globe about the world in all its wonder, diversity and amazement. Offering millions of people the chance to discover, and satisfy their curiosity, Discovery offers a compelling mix of stories across genres including science and technology, exploration, adventure, history and in depth behind-the-scenes glimpses at the people, places and organisations that shape and share the world we live in. We proudly present the Discovery optics series that is produced by Levenhuk and endorsed by Discovery. The Discovery Gator 8-20x25 are zoom binoculars with variable magnification. This model has a magnification range of 8x to 20x, that makes it universal. The 8x magnification power is ideal for sporting events and bird and animal watching. The 20x magnification enables you to comfortably view more distant objects such as the opposite side of a river, a solitary building in a field, a trail in the mountains, etc. Although these binoculars are based on Porro prisms, they are compact and lightweight, so you can easily take it with you as it does not take up much space in a backpack. Made of the BK-7 glass, these binoculars are fully multi-coated for higher contrast and brightness. These binoculars are equipped with twist-up eyecups, the central focusing and the diopter adjustment. The interpupil distance can also be adjusted. Twist-up eyecups. The body of the binoculars is rubberized, i.e., secured from moisture and dust. Key features: Compact Porro based water-resistant binoculars The 8x to 20x magnification range BK-7 glass Fully multi-coated optics Diopter adjustment, twist-up eyecups The kit includes: Binoculars Pouch Strap Cleaning wipe User manual and warranty card Discovery Gator 8–20x25 Binoculars images made by Jason Whitehead: