Discovery Gator 12x25 Binoculars
Compact. Water-resistant. Roof prisms. Magnification: 12x. Objective lens diameter: 25mm
Discovery Channel informs, entertains and inspires its audiences around the globe about the world in all its wonder, diversity and amazement. Offering millions of people the chance to discover, and satisfy their curiosity, Discovery offers a compelling mix of stories across genres including science and technology, exploration, adventure, history and in depth behind-the-scenes glimpses at the people, places and organisations that shape and share the world we live in.
We proudly present the Discovery optics series that is produced by Levenhuk and endorsed by Discovery.
---
Powerful, but compact Discovery Gator 12x25 allows you to study the world around you. The 12x magnification is enough to observe buildings and animals even if they are far away. That is why these binoculars are a great choice for nature lovers and wildlife tourism enthusiasts. The* Discovery Gator 12x25 binoculars are easy to take them with you on a journey to discover the beauty of the world around you.
The optics are based on roof prisms that make these binoculars so compact. The lenses and prisms are made of BK-7 glass with anti-reflective coatings. Covering all optical surfaces provides a clear and sharp image. The high image resolution enables you to enjoy a detailed view of the object.
These binoculars are easy to adjust to your individual needs. The central focusing barrel is used to adjust sharpness, and the eyepiece diopter adjustment as well as interpupillary distance can also be adjusted. The rubber eyecups ensure maximum comfort during extended observation periods.
The binoculars are dust- and water-resistant: the body is covered with non-slip rubber.
Key features:
12x magnification, BK-7 glass optics
Fully coated for maximum image brightness
Compact size and light weight make it ideal for outdoor activities
Non-slip rubberized body, dust- and water-resistant
Diopter adjustment, rubber eyecups, central focusing
The kit includes:
Binoculars
Strap
Cleaning wipe
Pouch
User manual and warranty card
Discovery Gator 12x25 Binoculars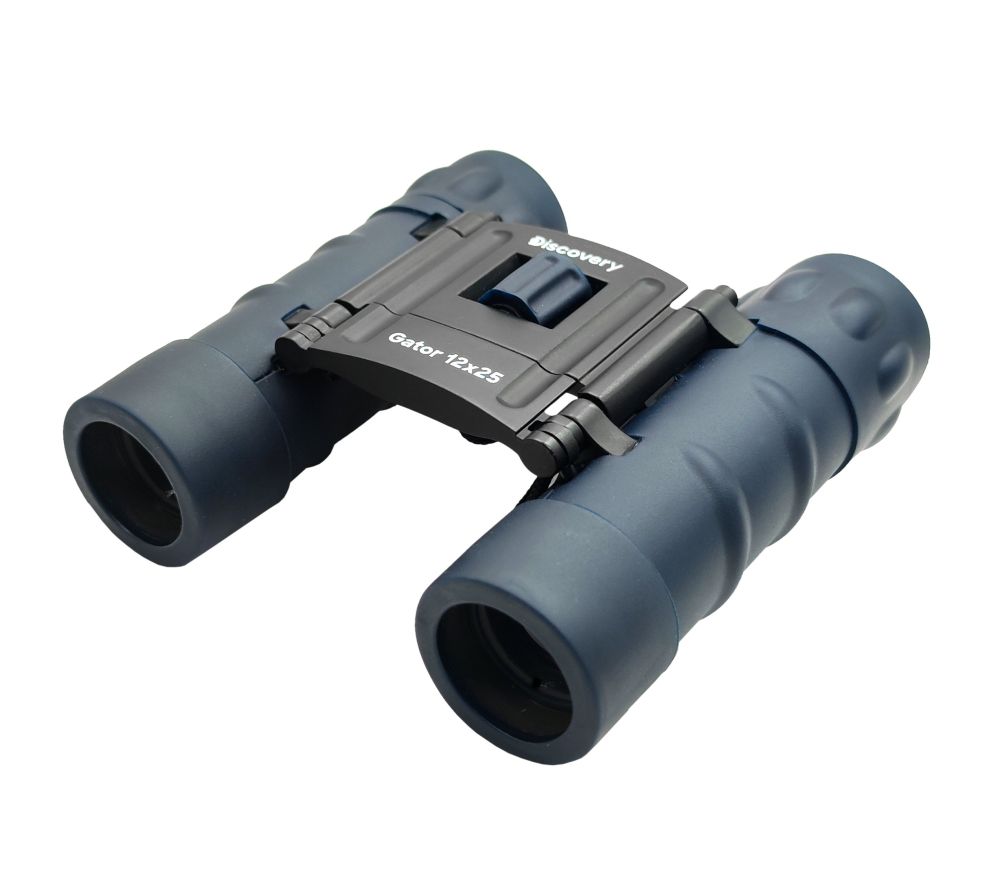 {: style="border:0px; margin-bottom: -5px; width:15%;" } Discovery Channel informs, entertains and inspires its audiences around the globe about the world in all its wonder, diversity and amazement. Offering millions of people the chance to discover, and satisfy their curiosity, Discovery offers a compelling mix of stories across genres including science and technology, exploration, adventure, history and in depth behind-the-scenes glimpses at the people, places and organisations that shape and share the world we live in. We proudly present the Discovery optics series that is produced by Levenhuk and endorsed by Discovery. Powerful, but compact Discovery Gator 12x25 allows you to study the world around you. The 12x magnification is enough to observe buildings and animals even if they are far away. That is why these binoculars are a great choice for nature lovers and wildlife tourism enthusiasts. The* Discovery Gator 12x25 binoculars are easy to take them with you on a journey to discover the beauty of the world around you. The optics are based on roof prisms that make these binoculars so compact. The lenses and prisms are made of BK-7 glass with anti-reflective coatings. Covering all optical surfaces provides a clear and sharp image. The high image resolution enables you to enjoy a detailed view of the object. These binoculars are easy to adjust to your individual needs. The central focusing barrel is used to adjust sharpness, and the eyepiece diopter adjustment as well as interpupillary distance can also be adjusted. The rubber eyecups ensure maximum comfort during extended observation periods. The binoculars are dust- and water-resistant: the body is covered with non-slip rubber. Key features: 12x magnification, BK-7 glass optics Fully coated for maximum image brightness Compact size and light weight make it ideal for outdoor activities Non-slip rubberized body, dust- and water-resistant Diopter adjustment, rubber eyecups, central focusing The kit includes: Binoculars Strap Cleaning wipe Pouch User manual and warranty card