Discovery Flint 10x50 Binoculars
Porro prisms. Magnification: 10x. Objective lens diameter: 50mm
Discovery Channel informs, entertains and inspires its audiences around the globe about the world in all its wonder, diversity and amazement. Offering millions of people the chance to discover, and satisfy their curiosity, Discovery offers a compelling mix of stories across genres including science and technology, exploration, adventure, history and in depth behind-the-scenes glimpses at the people, places and organisations that shape and share the world we live in.
We proudly present the Discovery optics series that is produced by Levenhuk and endorsed by Discovery.
---
Discovery Flint 10x50 is a versatile pair of binoculars for sighting and observation in open areas. The areas of application are vast: tracking animals on the hunt, field inspection near a campsite, safety and security of the protected area, etc. These binoculars, with 10x magnification, have a wide field of view and can be mounted on a tripod for long-term stationary observation.
The optical scheme features classic Porro prisms and BK-7 glass lenses. The optics are fully coated: the elements have several layers of coating that improve contrast and brightness of produced images. This makes the binoculars perfect to use at dusk and for low-cloud observations.
The central focusing wheel and a diopter adjustment ring on the right eyepiece can adjust the optics to the user's preference. You can also fold or unfold the eyecups and set up the most comfortable distance between the pupils. The body of the binoculars is made of metal, which makes it more resistant to accidental damage. The sides of the optical tubes have textured inserts that secure the grip.
Key features:
The classic field binoculars based on Porro-prisms
Fully multi-coated glass optics
A wide field of view; large-aperture lenses
Robust and durable metal body
A standard thread
The kit includes:
Binoculars
Objective lens protective caps
Pouch
Carrying strap
Cleaning wipe
User manual and warranty card
Discovery Flint 10x50 Binoculars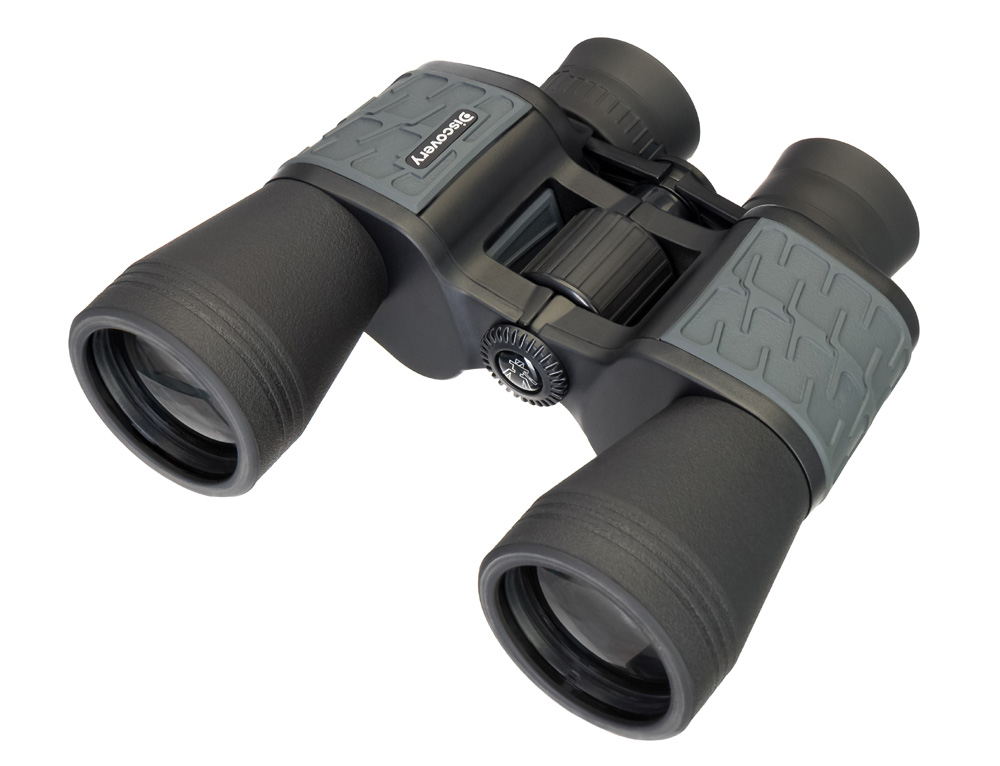 {: style="border:0px; margin-bottom: -5px; width:15%;" } Discovery Channel informs, entertains and inspires its audiences around the globe about the world in all its wonder, diversity and amazement. Offering millions of people the chance to discover, and satisfy their curiosity, Discovery offers a compelling mix of stories across genres including science and technology, exploration, adventure, history and in depth behind-the-scenes glimpses at the people, places and organisations that shape and share the world we live in. We proudly present the Discovery optics series that is produced by Levenhuk and endorsed by Discovery. Discovery Flint 10x50 is a versatile pair of binoculars for sighting and observation in open areas. The areas of application are vast: tracking animals on the hunt, field inspection near a campsite, safety and security of the protected area, etc. These binoculars, with 10x magnification, have a wide field of view and can be mounted on a tripod for long-term stationary observation. The optical scheme features classic Porro prisms and BK-7 glass lenses. The optics are fully coated: the elements have several layers of coating that improve contrast and brightness of produced images. This makes the binoculars perfect to use at dusk and for low-cloud observations. The central focusing wheel and a diopter adjustment ring on the right eyepiece can adjust the optics to the user's preference. You can also fold or unfold the eyecups and set up the most comfortable distance between the pupils. The body of the binoculars is made of metal, which makes it more resistant to accidental damage. The sides of the optical tubes have textured inserts that secure the grip. Key features: The classic field binoculars based on Porro-prisms Fully multi-coated glass optics A wide field of view; large-aperture lenses Robust and durable metal body A standard thread The kit includes: Binoculars Objective lens protective caps Pouch Carrying strap Cleaning wipe User manual and warranty card