Discovery Elbrus 10x42 Binoculars
Roof prisms. Magnification: 10x. Objective lens diameter: 42mm
Discovery Channel informs, entertains and inspires its audiences around the globe about the world in all its wonder, diversity and amazement. Offering millions of people the chance to discover, and satisfy their curiosity, Discovery offers a compelling mix of stories across genres including science and technology, exploration, adventure, history and in depth behind-the-scenes glimpses at the people, places and organisations that shape and share the world we live in.
We proudly present the Discovery optics series that is produced by Levenhuk and endorsed by Discovery.
---
Discovery Elbrus 10x42 – 10x roof binoculars with large-aperture lenses that can be used for multipurpose observations. This model is great for hunters, birdwatchers, hikers, security officers, fishermen, and many others. The binoculars combine all of the necessary features with a robust design that will please you with high-quality images and comfort of use.
The optics of the binoculars are made of fully multi-coated BK-7 glass, so you can view the world around you in full detail and without much distortion. The produced images are bright and contrasty: even when it's partially cloud or there is not enough natural light outside, you will be able to see everything clearly and vividly. The setting buttons are conveniently located. For example, the central focusing wheel is close to the eyepieces, so it's easy for you to reach. Quite near, on the right eyepiece, there is the diopter adjustment ring. It is also possible to adjust interpupillary distance.
The binoculars are equipped with twist-up eyecups that can be comfortably adjusted to the users' needs. The plastic body of the binoculars feels comfortable in your hands. There is a standard thread to mount the binoculars on a tripod.
Key features:
Field binoculars on roof prisms
10x magnification, glass optics
Multi-coated lenses and prisms
Diopter adjustment; twist-up eyecups
Tripod mountable
The kit includes:
Binoculars
Objective lens protective caps
Pouch
Carrying strap
Cleaning wipe
User manual and warranty card
Discovery Elbrus 10x42 Binoculars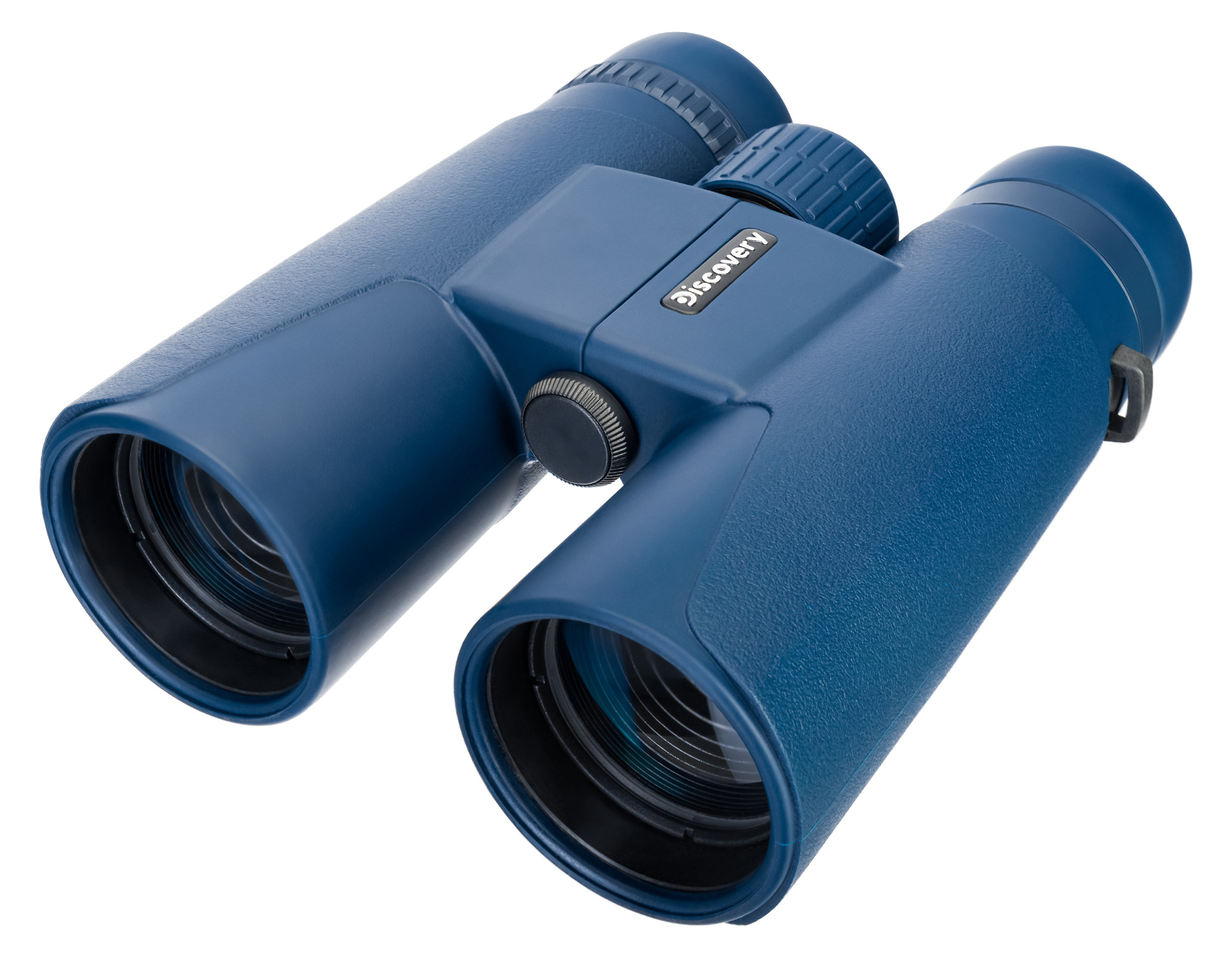 {: style="border:0px; margin-bottom: -5px; width:15%;" } Discovery Channel informs, entertains and inspires its audiences around the globe about the world in all its wonder, diversity and amazement. Offering millions of people the chance to discover, and satisfy their curiosity, Discovery offers a compelling mix of stories across genres including science and technology, exploration, adventure, history and in depth behind-the-scenes glimpses at the people, places and organisations that shape and share the world we live in. We proudly present the Discovery optics series that is produced by Levenhuk and endorsed by Discovery. Discovery Elbrus 10x42 – 10x roof binoculars with large-aperture lenses that can be used for multipurpose observations. This model is great for hunters, birdwatchers, hikers, security officers, fishermen, and many others. The binoculars combine all of the necessary features with a robust design that will please you with high-quality images and comfort of use. The optics of the binoculars are made of fully multi-coated BK-7 glass, so you can view the world around you in full detail and without much distortion. The produced images are bright and contrasty: even when it's partially cloud or there is not enough natural light outside, you will be able to see everything clearly and vividly. The setting buttons are conveniently located. For example, the central focusing wheel is close to the eyepieces, so it's easy for you to reach. Quite near, on the right eyepiece, there is the diopter adjustment ring. It is also possible to adjust interpupillary distance. The binoculars are equipped with twist-up eyecups that can be comfortably adjusted to the users' needs. The plastic body of the binoculars feels comfortable in your hands. There is a standard thread to mount the binoculars on a tripod. Key features: Field binoculars on roof prisms 10x magnification, glass optics Multi-coated lenses and prisms Diopter adjustment; twist-up eyecups Tripod mountable The kit includes: Binoculars Objective lens protective caps Pouch Carrying strap Cleaning wipe User manual and warranty card