Discovery Elbrus 10x25 Binoculars
Roof prisms. Magnification: 10x. Objective lens diameter: 25mm
Discovery Channel informs, entertains and inspires its audiences around the globe about the world in all its wonder, diversity and amazement. Offering millions of people the chance to discover, and satisfy their curiosity, Discovery offers a compelling mix of stories across genres including science and technology, exploration, adventure, history and in depth behind-the-scenes glimpses at the people, places and organisations that shape and share the world we live in.
We proudly present the Discovery optics series that is produced by Levenhuk and endorsed by Discovery.
---
Discovery Elbrus 10x25 binoculars will make any walk more exciting and entertaining. This compact optical device is great for birdwatching, exploring landscapes, finding the best route or a campsite, and many other outdoor activities. The binoculars are easy to use; they fit into a small bag and deliver sharp and contrasting images.
The lenses and prisms are made of BK-7 optical glass. Therefore, the small details of objects are visible even from a long distance. The fully multi-coated glass makes the image brighter and more vivid, maintaining the quality even when it is partially cloudy outside. The optics provide a well-balanced combination of optimal magnification and a field of view: on the one hand, it is easy to focus on very distant objects and, on the other hand, it is also possible to cover the whole scenery with your eyes.
You can adjust the binoculars to your needs with several settings: diopter adjustment, central focusing, and interpupillary distance adjustment. The eyepieces are also equipped with twist-up eyecups for the comfortable adjustment of the binoculars. The body of the binoculars is made of plastic.
Key features:
Travel binoculars based on roof-prisms
BK-7 fully multi-coated optics
10x magnification; optimal field of view
Lightweight plastic case of compact size
Diopter adjustment; twist-up eyecups
The kit includes:
Binoculars
Pouch
Carrying strap
Cleaning wipe
User manual and warranty card
Discovery Elbrus 10x25 Binoculars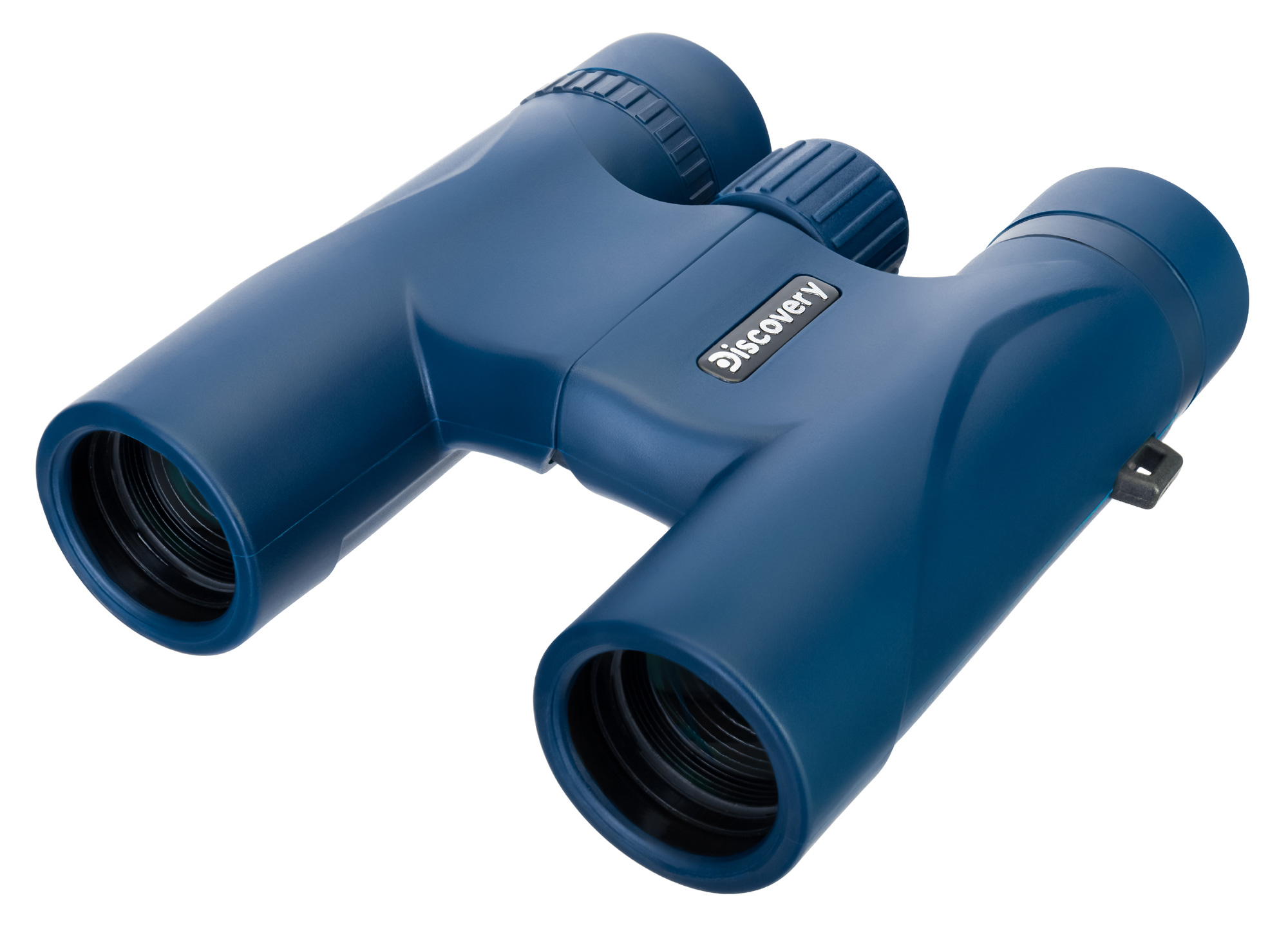 {: style="border:0px; margin-bottom: -5px; width:15%;" } Discovery Channel informs, entertains and inspires its audiences around the globe about the world in all its wonder, diversity and amazement. Offering millions of people the chance to discover, and satisfy their curiosity, Discovery offers a compelling mix of stories across genres including science and technology, exploration, adventure, history and in depth behind-the-scenes glimpses at the people, places and organisations that shape and share the world we live in. We proudly present the Discovery optics series that is produced by Levenhuk and endorsed by Discovery. Discovery Elbrus 10x25 binoculars will make any walk more exciting and entertaining. This compact optical device is great for birdwatching, exploring landscapes, finding the best route or a campsite, and many other outdoor activities. The binoculars are easy to use; they fit into a small bag and deliver sharp and contrasting images. The lenses and prisms are made of BK-7 optical glass. Therefore, the small details of objects are visible even from a long distance. The fully multi-coated glass makes the image brighter and more vivid, maintaining the quality even when it is partially cloudy outside. The optics provide a well-balanced combination of optimal magnification and a field of view: on the one hand, it is easy to focus on very distant objects and, on the other hand, it is also possible to cover the whole scenery with your eyes. You can adjust the binoculars to your needs with several settings: diopter adjustment, central focusing, and interpupillary distance adjustment. The eyepieces are also equipped with twist-up eyecups for the comfortable adjustment of the binoculars. The body of the binoculars is made of plastic. Key features: Travel binoculars based on roof-prisms BK-7 fully multi-coated optics 10x magnification; optimal field of view Lightweight plastic case of compact size Diopter adjustment; twist-up eyecups The kit includes: Binoculars Pouch Carrying strap Cleaning wipe User manual and warranty card