Levenhuk Wezzer Air PRO DM50 Air Quality Monitor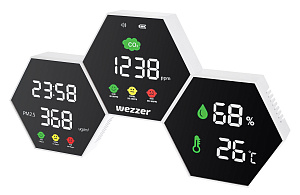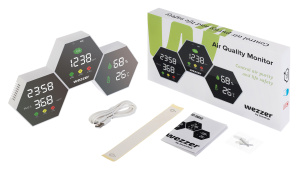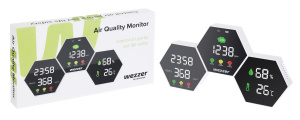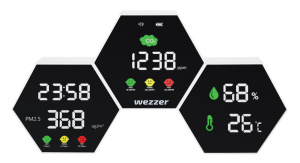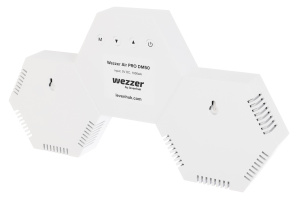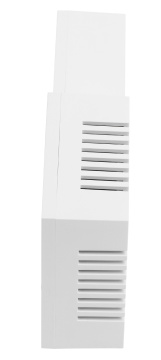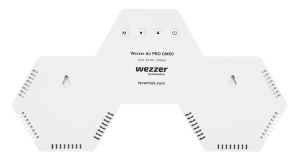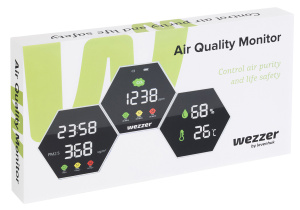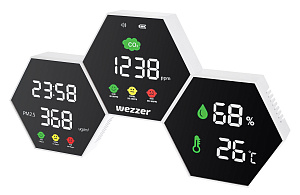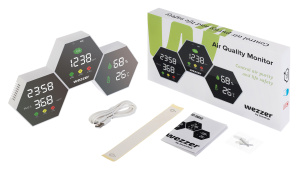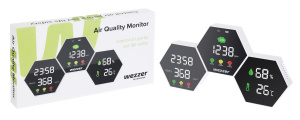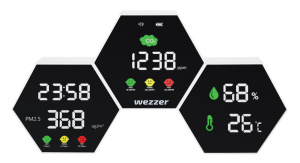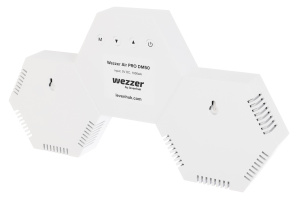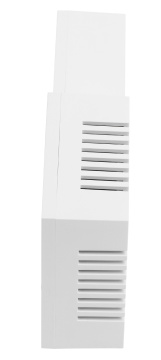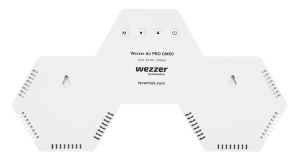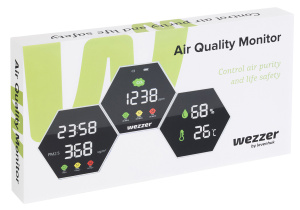 Functions: CO₂ monitor, fine particle analyzer, thermometer, hygrometer, clock
The Levenhuk Wezzer Air PRO DM50 Air Quality Monitor measures the parameters of the air that are important to human health, such as the level of carbon dioxide and fine particulate matter. These are the invisible threats that adults and children face on a daily basis, especially in large cities. High CO₂ concentrations can cause headaches and chronic fatigue, while large amounts of fine particles of soot, sulfates, nitrates, and other harmful elements can cause cardiovascular and respiratory diseases.
All you have to do is to hang the Levenhuk Wezzer Air PRO DM50 monitor on the wall in order to know everything about the quality of the air in your home and take the necessary actions in time (ventilation, filters, etc.). It displays the exact values of the concentrations of both pollutants as well as the current time, temperature, and humidity on the LCD screens. Large digits and a convenient interface make the monitor easy and comfortable to use. With this device, you will always be aware of fluctuations in the microclimate, and you will be sure that the air in the room is clean.
One of the advantages of the Levenhuk Wezzer Air PRO DM50 is the two comfort level icons. Smiley faces inform you how good the quality of the air you are breathing is. In addition, there are alerts when certain CO₂ values are exceeded. So even a child will be able to tell that it is time to air out the room just by looking at the monitor. The body material is made of durable and non-toxic ABS-plastic. The device with a spectacular design of three screens can be placed on the wall or a table.
Key features:
Comprehensive information about air quality is the key to good health
Measures CO₂ and particles that are harmful to your health
Ventilation alerts
Clock, thermometer, hygrometer, two comfort level scales
Rugged, durable ABS plastic; color LCD screens with a backlight
Built-in rechargeable battery with a charge indicator
The kit includes:
Air quality monitor
USB cable
User manual and warranty card
Levenhuk Wezzer Air PRO DM50 Air Quality Monitor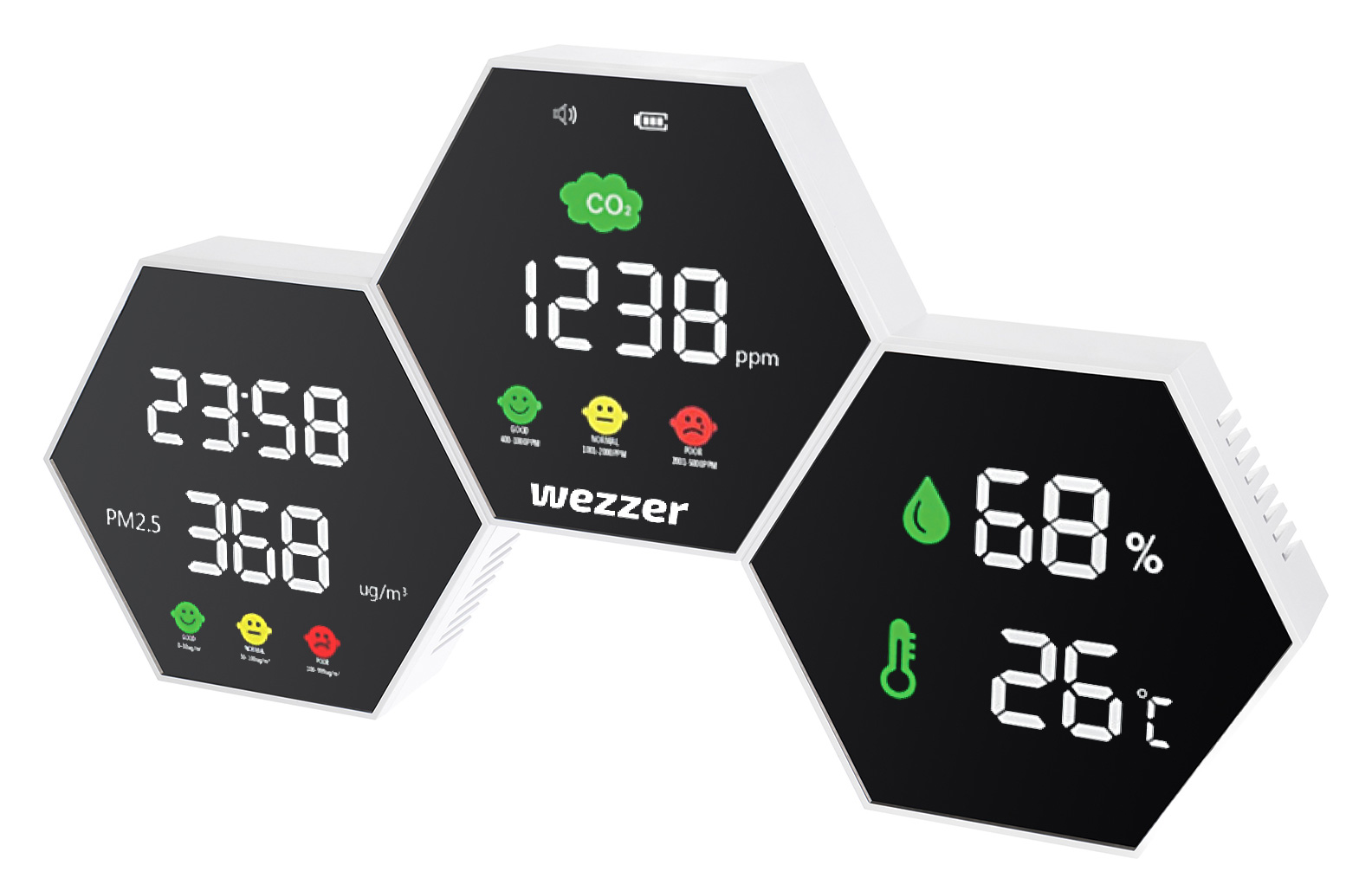 The Levenhuk Wezzer Air PRO DM50 Air Quality Monitor measures the parameters of the air that are important to human health, such as the level of carbon dioxide and fine particulate matter. These are the invisible threats that adults and children face on a daily basis, especially in large cities. High CO₂ concentrations can cause headaches and chronic fatigue, while large amounts of fine particles of soot, sulfates, nitrates, and other harmful elements can cause cardiovascular and respiratory diseases. All you have to do is to hang the Levenhuk Wezzer Air PRO DM50 monitor on the wall in order to know everything about the quality of the air in your home and take the necessary actions in time (ventilation, filters, etc.). It displays the exact values of the concentrations of both pollutants as well as the current time, temperature, and humidity on the LCD screens. Large digits and a convenient interface make the monitor easy and comfortable to use. With this device, you will always be aware of fluctuations in the microclimate, and you will be sure that the air in the room is clean. One of the advantages of the Levenhuk Wezzer Air PRO DM50 is the two comfort level icons. Smiley faces inform you how good the quality of the air you are breathing is. In addition, there are alerts when certain CO₂ values are exceeded. So even a child will be able to tell that it is time to air out the room just by looking at the monitor. The body material is made of durable and non-toxic ABS-plastic. The device with a spectacular design of three screens can be placed on the wall or a table. Key features: Comprehensive information about air quality is the key to good health Measures CO₂ and particles that are harmful to your health Ventilation alerts Clock, thermometer, hygrometer, two comfort level scales Rugged, durable ABS plastic; color LCD screens with a backlight Built-in rechargeable battery with a charge indicator The kit includes: Air quality monitor USB cable User manual and warranty card