Levenhuk Ra LER 5mm, 1.25" Eyepiece
Planetary eyepiece with long eye relief. Focal length: 5mm. Field of view: 55°
The Levenhuk Ra LER 5mm 1.25" eyepiece is an optical accessory for all telescopes of any brand. It is perfect for observing the planets of the solar system. It doesn't distort the image. The eyepiece is compatible with optical systems of any aperture. It does well with apochromatic refractors and Newtonian reflectors as well as catadioptric telescopes.
The optics are made of fully multi-coated glass. The rendered image doesn't feature chromatic aberrations or field distortions. It is bright, clear, and with high resolution. The long eye relief allows for observing the entire field of view, which in this eyepiece is 55°.
The eyepiece's body is made of aluminum. The fold-down eyecup is made of rubber. It provides comfortable, long-term observations. The eyepiece barrel diameter is 1.25".
Features:
Multi-element fully multi-coated glass optics
The eye relief is sufficient to observe the entire field of view
Minimum optical distortion in the center and at the edges of the field of view
Excellent choice for use with medium-aperture amateur telescopes
Great picture detail when observing the planets of the solar system
The kit includes:
Eyepiece
Protective caps – 2 pcs
Cleaning wipe
| Specifications | |
| --- | --- |
| Optical design | Long Eye Relief, 7 elements in 4 groups |
| Optics material | optical glass |
| Optics coating | fully multi-coated |
| Focal length, mm | 5 |
| Eyepiece diameter, mm | 20.6 |
| Eye relief, mm | 20 |
| Barrel diameter, '' | 1.25 |
| Apparent field of view, ° | 55 |
| Body | aluminum |
| Eyecup | fold-down, rubber |
Levenhuk Ra LER 5mm, 1.25" Eyepiece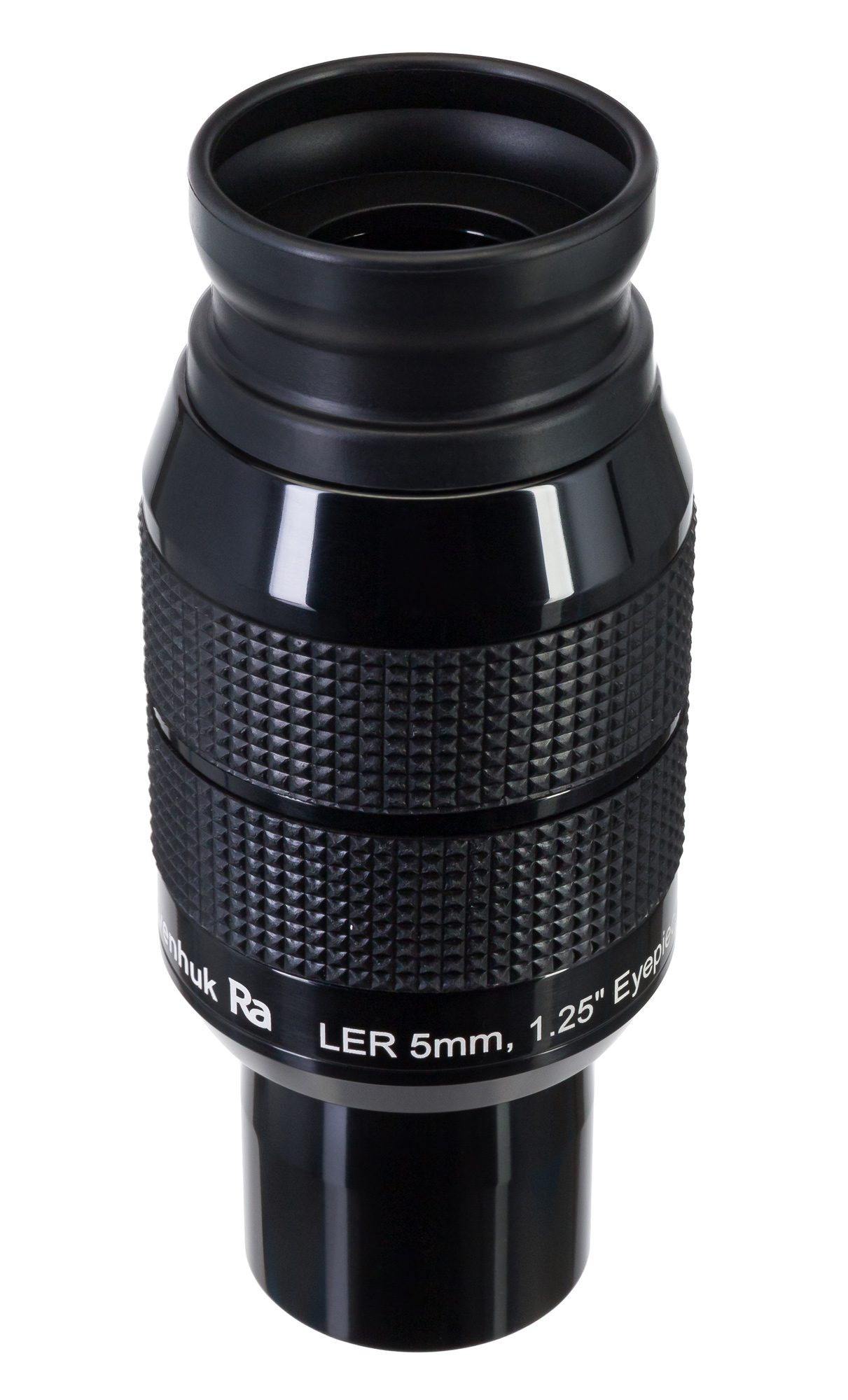 The Levenhuk Ra LER 5mm 1.25" eyepiece is an optical accessory for all telescopes of any brand. It is perfect for observing the planets of the solar system. It doesn't distort the image. The eyepiece is compatible with optical systems of any aperture. It does well with apochromatic refractors and Newtonian reflectors as well as catadioptric telescopes. The optics are made of fully multi-coated glass. The rendered image doesn't feature chromatic aberrations or field distortions. It is bright, clear, and with high resolution. The long eye relief allows for observing the entire field of view, which in this eyepiece is 55°. The eyepiece's body is made of aluminum. The fold-down eyecup is made of rubber. It provides comfortable, long-term observations. The eyepiece barrel diameter is 1.25". Features: Multi-element fully multi-coated glass optics The eye relief is sufficient to observe the entire field of view Minimum optical distortion in the center and at the edges of the field of view Excellent choice for use with medium-aperture amateur telescopes Great picture detail when observing the planets of the solar system The kit includes: Eyepiece Protective caps – 2 pcs Cleaning wipe Specifications Optical design Long Eye Relief, 7 elements in 4 groups Optics material optical glass Optics coating fully multi-coated Focal length, mm 5 Eyepiece diameter, mm 20.6 Eye relief, mm 20 Barrel diameter, '' 1.25 Apparent field of view, ° 55 Body aluminum Eyecup fold-down, rubber