Meade StarNavigator NG 114mm Reflector Telescope
Reflector with GoTo function. Objective lens diameter: 114mm. Focal length: 1000mm
The StarNavigator NG 114mm Reflector Telescope is a lightweight and compact computer-controlled telescope for enthusiasts and beginners. It features an easy to operate, lightweight, and portable robotic mount with Meade's AudioStar computer controller. This incredible AudioStar technology knows the night sky right out of the box. Turn it on, and after a brief alignment procedure, your telescope is ready to take you on a guided tour of the night skies best objects. With Audiostars 30,000 object database and over 4 hours of audio presentations built-in the electronics, you can learn about the objects you're viewing. It's like having a professional astronomer with you at the telescope!
The StarNavigator NG 114mm Reflector Telescope includes a light-weight aluminum frame, advanced electronics, internal clock, external power connector, vixen dovetail receiver and full height adjustable aluminum tripod allowing comfortable viewing from either a seated or standing position. Powered by 8 AA batteries (user-supplied) or external power (not included in the kit), you will see more objects in a single night!
This model is perfect for beginners and it is also suitable for children to take their very first steps in enjoying the night sky. A special GoTo technology with AudioStar system will allow you to find objects immediately. You don't need to spend your time studying paper maps and searching for sky objects. The telescope will do it for you! Explore the universe with the StarNavigator NG 114mm and enjoy the amazing and exciting views.
Features:
New designs that make this telescope easy to use
AudioStar controller containing over 30,000 celestial objects
Single arm mount with 12V DC servo drive
Full size aluminum tripod with accessory tray
Vixen-style dovetail receiver with single locking knob
Meade StarNavigator NG 114mm Reflector Telescope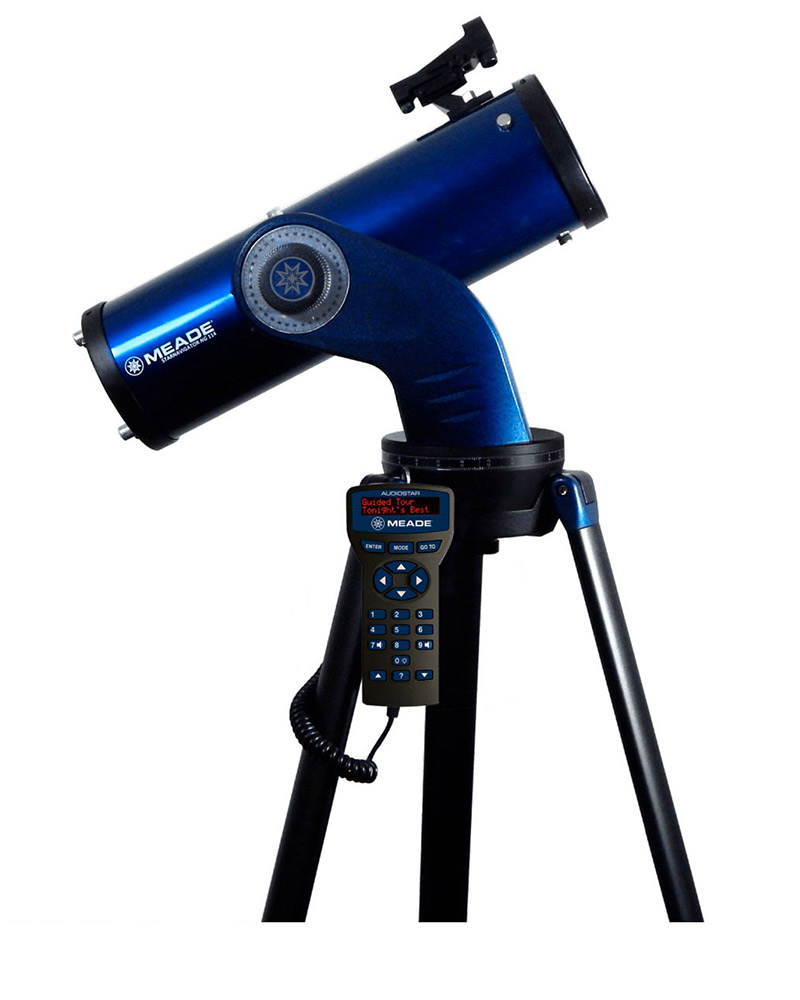 The StarNavigator NG 114mm Reflector Telescope is a lightweight and compact computer-controlled telescope for enthusiasts and beginners. It features an easy to operate, lightweight, and portable robotic mount with Meade's AudioStar computer controller. This incredible AudioStar technology knows the night sky right out of the box. Turn it on, and after a brief alignment procedure, your telescope is ready to take you on a guided tour of the night skies best objects. With Audiostars 30,000 object database and over 4 hours of audio presentations built-in the electronics, you can learn about the objects you're viewing. It's like having a professional astronomer with you at the telescope! The StarNavigator NG 114mm Reflector Telescope includes a light-weight aluminum frame, advanced electronics, internal clock, external power connector, vixen dovetail receiver and full height adjustable aluminum tripod allowing comfortable viewing from either a seated or standing position. Powered by 8 AA batteries (user-supplied) or external power (not included in the kit), you will see more objects in a single night! This model is perfect for beginners and it is also suitable for children to take their very first steps in enjoying the night sky. A special GoTo technology with AudioStar system will allow you to find objects immediately. You don't need to spend your time studying paper maps and searching for sky objects. The telescope will do it for you! Explore the universe with the StarNavigator NG 114mm and enjoy the amazing and exciting views. Features: New designs that make this telescope easy to use AudioStar controller containing over 30,000 celestial objects Single arm mount with 12V DC servo drive Full size aluminum tripod with accessory tray Vixen-style dovetail receiver with single locking knob