Meade Series 6000 130mm ED Triplet APO Refractor OTA
Apochromatic refractor (triplet). Objective lens diameter: 130mm. Focal length: 910mm
The Series 6000 Apochromatic Refractors are some of the best crafted refractors on the market. Each refractor is individually constructed and tested to ensure that they meet our highest standards, both optically and mechanically.
These telescopes were built with the observer and imager in mind. With the three element optical design using the highest grade extra-low dispersion optical glass, false color is virtually eliminated, yielding astonishing color correction, contrast, and sharpness.
New to the Series 6000 Triplets APOs is the proprietary 2.5" dual-speed rack-and-pinion focuser. The focuser comes with a 10:1 fine focus knob for precise focusing. It includes millimeter markings on the drawtube to assist with focusing accuracy and is also rotatable which allows for easy framing of the photographed object. New for this focuser is the 2" self-center locking ring that allows diagonals or cameras to be well centered to the optical train every time the locking ring is engaged.
Standard equipment also includes a fully extendable dew shield, mounting rings, a Vixen-style dovetail, and an aluminum hard carry case to protect your investment when not in use.
In addition to the deluxe focuser the Series 6000 Apochromatic Refracting Telescopes now have an optional 0.8x Focal Reducer/Field Flattener for photographic purposes. For wide field images the 2" focal reducer/flattener will reduce the 80mm refractor from f/6 to an f/4.8 and the 3" model will reduce the f/7 115mm and 130mm refractors to f/5.5. The new reducer will optically flatten the images yielding pin-point stars to the edge of your photographic frame.
The Series 6000 Apochromatic Refractors will fill the need of the most discerning astronomer. For crisp wide-field observing and imaging, nothing can beat a true three-element Apochromatic Refractor (APO). Meade Series 6000 ED APO Triplets are among the finest available optically at any price.
Optical tube measures approximately 33.3" x 6.1" x 6.1" and weighs 8kg.
Features:
Series 6000 130mm Triplet APO
Fully multi-coated optics
Vixen-style dovetail
D=130mm. F=910mm. f/7 apochromatic refracting telescope
Aluminum hard carry case included
Meade Series 6000 130mm ED Triplet APO Refractor OTA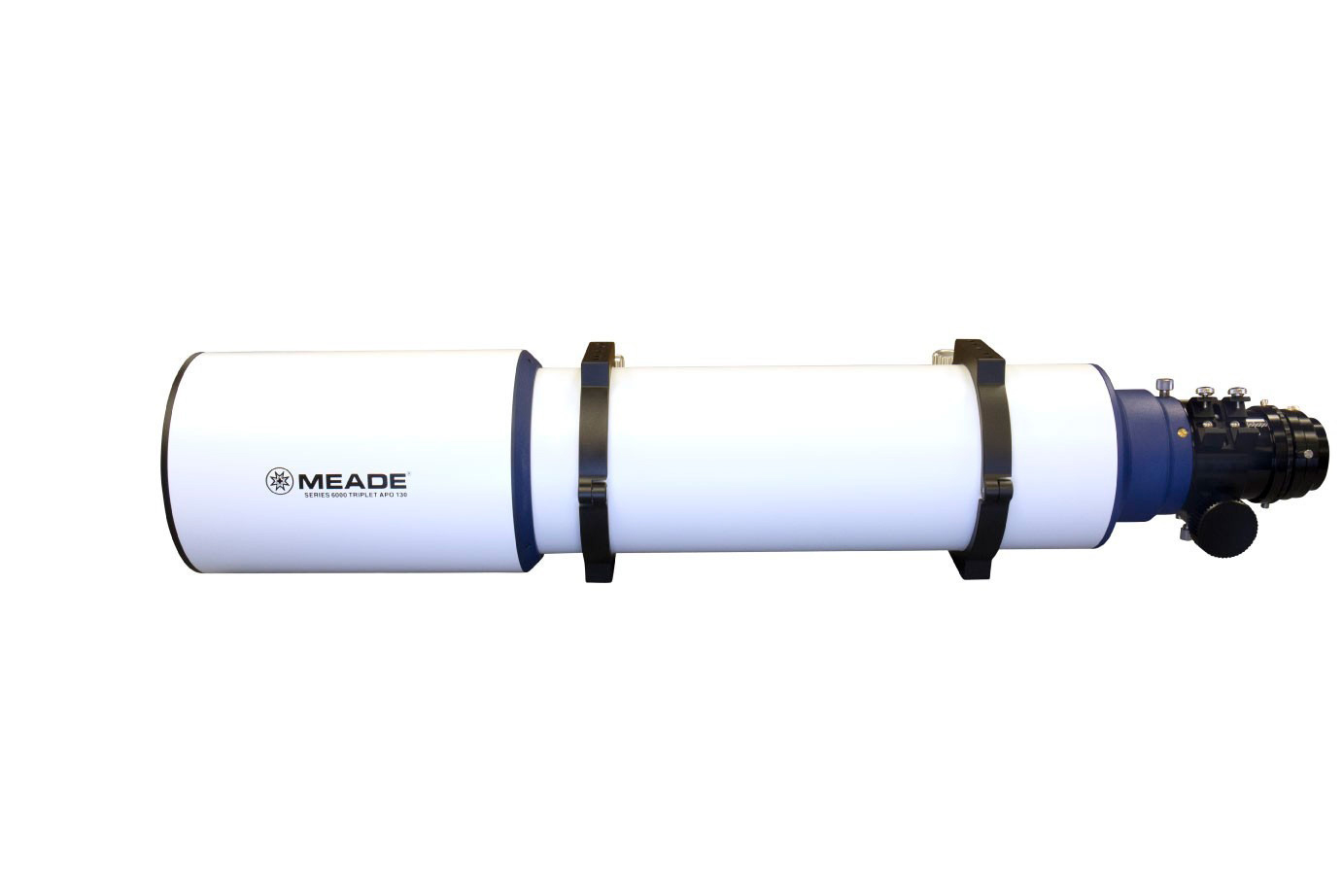 The Series 6000 Apochromatic Refractors are some of the best crafted refractors on the market. Each refractor is individually constructed and tested to ensure that they meet our highest standards, both optically and mechanically. These telescopes were built with the observer and imager in mind. With the three element optical design using the highest grade extra-low dispersion optical glass, false color is virtually eliminated, yielding astonishing color correction, contrast, and sharpness. New to the Series 6000 Triplets APOs is the proprietary 2.5" dual-speed rack-and-pinion focuser. The focuser comes with a 10:1 fine focus knob for precise focusing. It includes millimeter markings on the drawtube to assist with focusing accuracy and is also rotatable which allows for easy framing of the photographed object. New for this focuser is the 2" self-center locking ring that allows diagonals or cameras to be well centered to the optical train every time the locking ring is engaged. Standard equipment also includes a fully extendable dew shield, mounting rings, a Vixen-style dovetail, and an aluminum hard carry case to protect your investment when not in use. In addition to the deluxe focuser the Series 6000 Apochromatic Refracting Telescopes now have an optional 0.8x Focal Reducer/Field Flattener for photographic purposes. For wide field images the 2" focal reducer/flattener will reduce the 80mm refractor from f/6 to an f/4.8 and the 3" model will reduce the f/7 115mm and 130mm refractors to f/5.5. The new reducer will optically flatten the images yielding pin-point stars to the edge of your photographic frame. The Series 6000 Apochromatic Refractors will fill the need of the most discerning astronomer. For crisp wide-field observing and imaging, nothing can beat a true three-element Apochromatic Refractor (APO). Meade Series 6000 ED APO Triplets are among the finest available optically at any price. Optical tube measures approximately 33.3" x 6.1" x 6.1" and weighs 8kg. Features: Series 6000 130mm Triplet APO Fully multi-coated optics Vixen-style dovetail D=130mm. F=910mm. f/7 apochromatic refracting telescope Aluminum hard carry case included