Meade LX850 130mm F/7 ACF Refractor Telescope
Achromatic refractor. Objective lens diameter: 130mm. Focal length: 910mm
The LX850 130mm F/7 ACF Refractor Telescope features a 130mm Series 6000 ED (Extra-low dispersion) glass triplet APO telescope with StarLock automatic guider and the LX850 German Equatorial Mount.
The OTA (Optical Tube Assembly) comes with a 5.1" (130mm) diameter fully multi-coated triplet objective lens made from ED glass for good contrast and sharpness, as well as near zero detectable chromatic aberration or color fringing. The OTA features a precise dual-speed 3" Crayford focuser with 10:1 gear reduction for fine focus control and has a focal length of 910mm, f/7. The telescope comes equipped with a Meade Series 5000 2" (5.08 cm) diagonal prism featuring 99% reflectivity, a Series 5000 HD-60 25mm eyepiece, and an 8 x 50 viewfinder with a quick-release bracket.
The system comes with a StarLock dual imager with an integrated full time guider, ultra precision pointing and assisted drift alignment, 5.8" (14.73cm) 225-tooth polished bronze worm/gear drives with low periodic error, internal cable routing, GPS receiver, AutoStar II GoTo system with over 144,000 object library, heavy-duty adjustable-height tripod with anti-vibration pads, Meade zero image shift electronic micro-focuser, telescope to computer USB cable, and AutoStar suite software.
The LX850 mount, constructed of machined stainless steel and aircraft grade aluminum is a rock solid platform for the most demanding applications. Features include precision roller bearings on each axis, a 1.75 stainless steel RA shaft, 5.8" main gears, fine manual adjustment controls on both axis, illuminated reticle output port. Mount main body weight is 25kg. The fully height adjustable (29 to 45") tripod features massive 3" diameter legs for rock steady performance and weighs 16.3kg. Includes single 11.8kg stainless steel counterweight.
Features:
130mm f/7 Triplet APO optics – 910mm focal length
2.5" dual speed rack & pinion focuser with 10:1 reduction
40kg instrument capacity
StarLock automatic guider
AutoStar II GoTo system
Heavy-duty tripod
Hard case for the APO OTA
Meade LX850 130mm F/7 ACF Refractor Telescope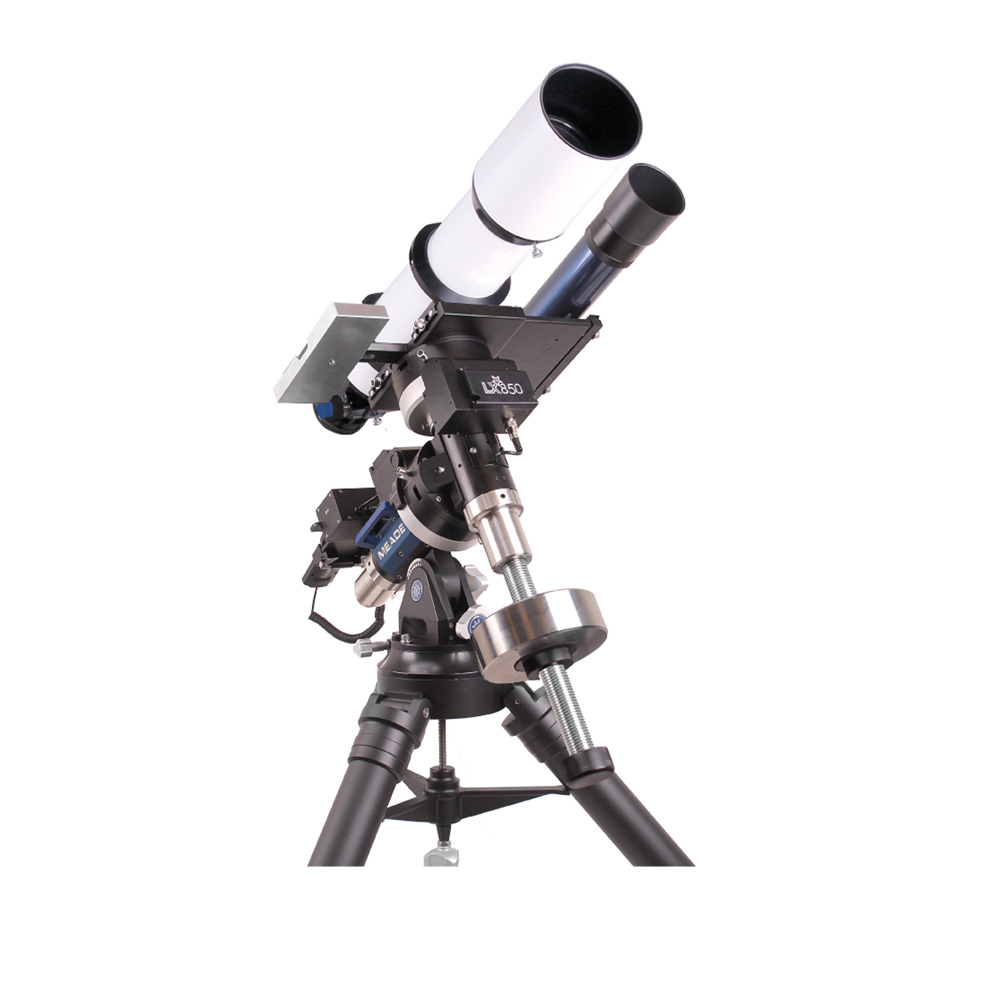 The LX850 130mm F/7 ACF Refractor Telescope features a 130mm Series 6000 ED (Extra-low dispersion) glass triplet APO telescope with StarLock automatic guider and the LX850 German Equatorial Mount. The OTA (Optical Tube Assembly) comes with a 5.1" (130mm) diameter fully multi-coated triplet objective lens made from ED glass for good contrast and sharpness, as well as near zero detectable chromatic aberration or color fringing. The OTA features a precise dual-speed 3" Crayford focuser with 10:1 gear reduction for fine focus control and has a focal length of 910mm, f/7. The telescope comes equipped with a Meade Series 5000 2" (5.08 cm) diagonal prism featuring 99% reflectivity, a Series 5000 HD-60 25mm eyepiece, and an 8 x 50 viewfinder with a quick-release bracket. The system comes with a StarLock dual imager with an integrated full time guider, ultra precision pointing and assisted drift alignment, 5.8" (14.73cm) 225-tooth polished bronze worm/gear drives with low periodic error, internal cable routing, GPS receiver, AutoStar II GoTo system with over 144,000 object library, heavy-duty adjustable-height tripod with anti-vibration pads, Meade zero image shift electronic micro-focuser, telescope to computer USB cable, and AutoStar suite software. The LX850 mount, constructed of machined stainless steel and aircraft grade aluminum is a rock solid platform for the most demanding applications. Features include precision roller bearings on each axis, a 1.75 stainless steel RA shaft, 5.8" main gears, fine manual adjustment controls on both axis, illuminated reticle output port. Mount main body weight is 25kg. The fully height adjustable (29 to 45") tripod features massive 3" diameter legs for rock steady performance and weighs 16.3kg. Includes single 11.8kg stainless steel counterweight. Features: 130mm f/7 Triplet APO optics – 910mm focal length 2.5" dual speed rack & pinion focuser with 10:1 reduction 40kg instrument capacity StarLock automatic guider AutoStar II GoTo system Heavy-duty tripod Hard case for the APO OTA