Meade LX70 R6 6" EQ Reflector Telescope
Newtonian telescope. Primary mirror diameter: 150mm. Focal length: 750mm
The Meade LX70 R6 6" Newtonian Reflector is equipped with a high-quality f/5 parabolic primary mirror. This fast f/5 optical system provides spectacular wide-field images for the discriminating deep-sky observer and astro-photographer. Its 6" aperture allows it to resolve details down to 0.76 arc-seconds across and can be viewed using the two included 1.25" Plössl eyepieces (9mm & 26mm). The 6x30 optical viewfinder with cross-hair reticle makes locating faint object quickly and easily. The 2" Crayford-style focuser ensures smooth motion when focusing.
Meade LX70 German Equatorial mount. This high quality mount includes slow-motion controls for both RA and Declination and a heavy-duty, fully height adjustable tripod (33" to 46") with steel legs. Advanced features include including brass worm-gear drives on both axes for smooth tracking performance, aluminum setting circles and a built-in leveling bubble. The slow-motion control cables make it easy to track objects even on those frigid nights when wearing gloves is a necessity.
Precision push-pull adjustments in both azimuth and elevation make accurate polar alignment a breeze while the elevations built-in latitude scale will help you dial in your site latitude quickly.
The mount includes a vixen-style dovetail for mounting any Meade or third party optical tube having this common and standardized type dovetail rail and up to approximately 9kg in weight. Mount weight fully assembled is 9.5kg, including tripod, but excluding counterweights. Single 5.2kg counterweight included.
The Meade LX70 mount is designed to keep you looking up for many years to come.
Features:
150mm (6") f/5 Newtonian reflector – 750mm focal length
Fast F/5 parabolic primary mirror
Two 1.25" Plössl eyepieces (9mm & 26mm)
2" Crayford-style focuser
6x30 viewfinder
Meade LX70 R6 6" EQ Reflector Telescope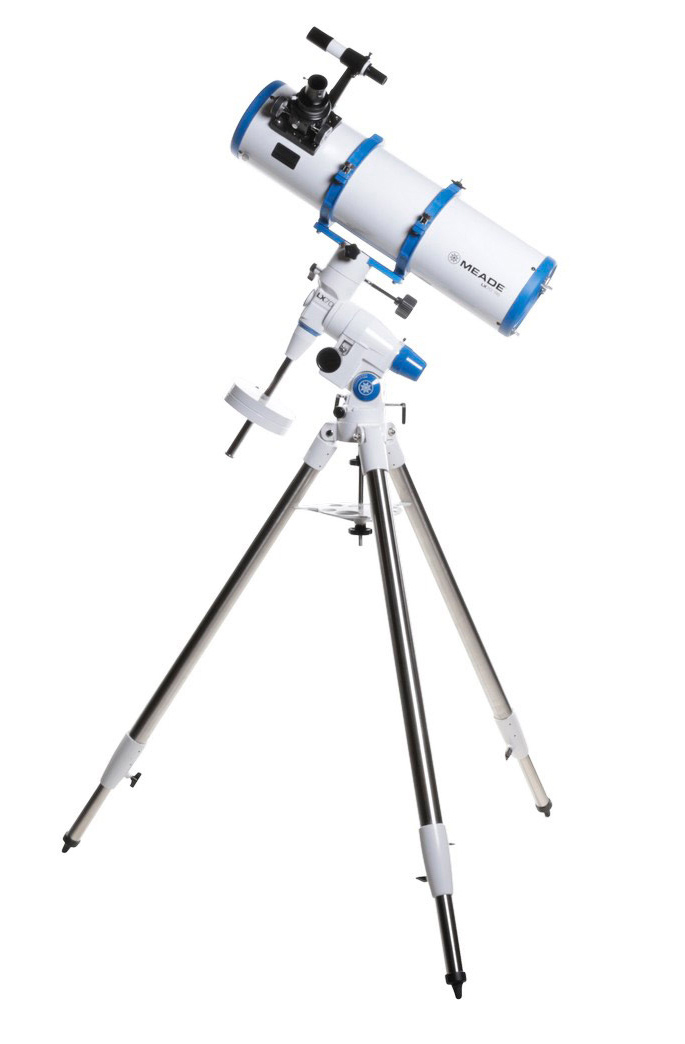 The Meade LX70 R6 6" Newtonian Reflector is equipped with a high-quality f/5 parabolic primary mirror. This fast f/5 optical system provides spectacular wide-field images for the discriminating deep-sky observer and astro-photographer. Its 6" aperture allows it to resolve details down to 0.76 arc-seconds across and can be viewed using the two included 1.25" Plössl eyepieces (9mm & 26mm). The 6x30 optical viewfinder with cross-hair reticle makes locating faint object quickly and easily. The 2" Crayford-style focuser ensures smooth motion when focusing. Meade LX70 German Equatorial mount. This high quality mount includes slow-motion controls for both RA and Declination and a heavy-duty, fully height adjustable tripod (33" to 46") with steel legs. Advanced features include including brass worm-gear drives on both axes for smooth tracking performance, aluminum setting circles and a built-in leveling bubble. The slow-motion control cables make it easy to track objects even on those frigid nights when wearing gloves is a necessity. Precision push-pull adjustments in both azimuth and elevation make accurate polar alignment a breeze while the elevations built-in latitude scale will help you dial in your site latitude quickly. The mount includes a vixen-style dovetail for mounting any Meade or third party optical tube having this common and standardized type dovetail rail and up to approximately 9kg in weight. Mount weight fully assembled is 9.5kg, including tripod, but excluding counterweights. Single 5.2kg counterweight included. The Meade LX70 mount is designed to keep you looking up for many years to come. Features: 150mm (6") f/5 Newtonian reflector – 750mm focal length Fast F/5 parabolic primary mirror Two 1.25" Plössl eyepieces (9mm & 26mm) 2" Crayford-style focuser 6x30 viewfinder