Meade LX65 6" MAK Telescope
Maksutov-Cassegrain telescope. Objective lens diameter: 150mm. Focal length: 1800mm
This telescope delivers sharp and extraordinary contrast images. This telescope with high magnifications is perfect for deep sky observations. This telescope comes with an internal single speed focuser and Ultra High Transmission Coating (UHTC™) that deliver bright images of star clusters, more fine detail of nebulae, and more.
This telescope features a newly designed single arm fork mount. This is a compact durable mount with Meade's AudioStar® Hand controller. What's more, you can install two telescope tubes on this mount. Its setup is easy and quick. It consists of three pieces and does not require tools for assembly. This versatile scope features two dovetail receivers that allow using two optical tubes at once! Attach up to a 7lb OTA on the secondary saddle for observing objects in the wide field as well as at high magnifications.
This telescope with the premium optics is an ideal high-resolution optical instrument. It is also suitable for astrophotography. You will be able to observe Saturn's rings, the surface of the Moon, and even the cloud bands on Jupiter in great detail. This smart scope features easy aligning system. You only need to enter data of the observed object, find level and North, and Easy Align picks two alignment stars for you and places them in your viewfinder. Center them to fine tune your alignment and enjoy the breathtaking views of the Universe. The Meade AudioStar® hand controller includes audio files and an internal speaker. This computerized celestial object location system plugs into the telescope's handbox port, allowing a quick telescope alignment. Its database contains over 30.000 objects.
Meade LX65 6" MAK Telescope features a 6" (150mm) aperture, 1800mm focal length, and f/12 focal ratio. Includes (1) 26mm, 1.25" Super Plossl eyepiece and a red-dot viewfinder along with a vixen-style dovetail. The OTA alone weighs 12.7 lbs and has dimensions of 7.5" x 18.1".
Features:
Ability to hold two optical tubes at once
150mm (6") Maksutov-Cassegrain
1800mm Focal Length
f/12 Focal Ratio
26mm Super Plössl (1.25") Eyepiece & Red-Dot Viewfinder
2 Vixen-Style Dovetail receivers
Built-in handle for enhanced portability
Meade LX65 6" MAK Telescope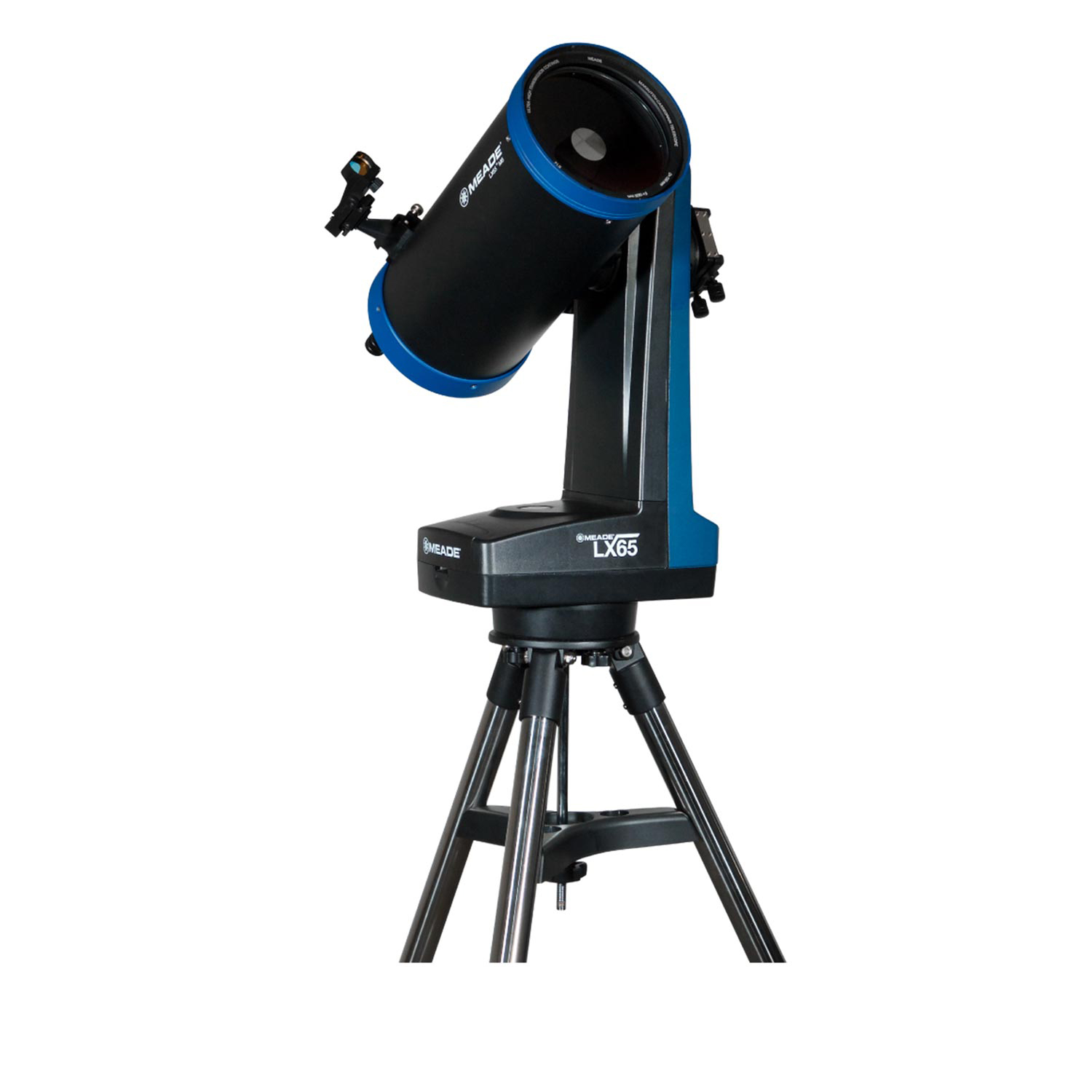 This telescope delivers sharp and extraordinary contrast images. This telescope with high magnifications is perfect for deep sky observations. This telescope comes with an internal single speed focuser and Ultra High Transmission Coating (UHTC™) that deliver bright images of star clusters, more fine detail of nebulae, and more. This telescope features a newly designed single arm fork mount. This is a compact durable mount with Meade's AudioStar® Hand controller. What's more, you can install two telescope tubes on this mount. Its setup is easy and quick. It consists of three pieces and does not require tools for assembly. This versatile scope features two dovetail receivers that allow using two optical tubes at once! Attach up to a 7lb OTA on the secondary saddle for observing objects in the wide field as well as at high magnifications. This telescope with the premium optics is an ideal high-resolution optical instrument. It is also suitable for astrophotography. You will be able to observe Saturn's rings, the surface of the Moon, and even the cloud bands on Jupiter in great detail. This smart scope features easy aligning system. You only need to enter data of the observed object, find level and North, and Easy Align picks two alignment stars for you and places them in your viewfinder. Center them to fine tune your alignment and enjoy the breathtaking views of the Universe. The Meade AudioStar® hand controller includes audio files and an internal speaker. This computerized celestial object location system plugs into the telescope's handbox port, allowing a quick telescope alignment. Its database contains over 30.000 objects. Meade LX65 6" MAK Telescope features a 6" (150mm) aperture, 1800mm focal length, and f/12 focal ratio. Includes (1) 26mm, 1.25" Super Plossl eyepiece and a red-dot viewfinder along with a vixen-style dovetail. The OTA alone weighs 12.7 lbs and has dimensions of 7.5" x 18.1". Features: Ability to hold two optical tubes at once 150mm (6") Maksutov-Cassegrain 1800mm Focal Length f/12 Focal Ratio 26mm Super Plössl (1.25") Eyepiece & Red-Dot Viewfinder 2 Vixen-Style Dovetail receivers Built-in handle for enhanced portability